According to the official information of the State Committee of Statistics of Ukraine economic indicators and dynamics rating was performed among 350000 enterprises of Ukraine in compliance with European Standard Rating. The aim of the rating was to identify leading enterprises in every domain of the industry of Ukraine.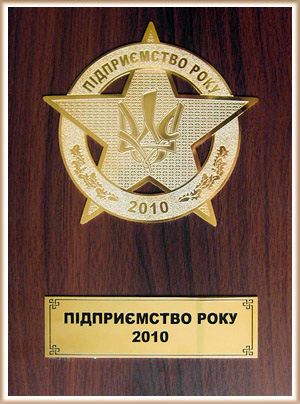 According to the results of such rating Program-Ace Company won the title of the "Enterprise of the year 2010". As of 2010 the Company was in the top fifteen in "Software development" industry among all the medium-sized enterprises of Ukraine.
One of the peculiarities of the rating is independence on financial and political preferences, complexity and total transparency due to the fact that it is based only on the official information of the National Statistics Committee. This fact totally corresponds to the international rating performance standards.
Among the founders and partners of the rating are such organizations like Ministry of Economy of Ukraine, Committee for Economic Development, Chamber of Commerce and Industry, Chamber of Commerce and Industry of the Russian Federation, Ukrainian National Committee of the International Chamber of Commerce, auditing company "Euroconsulting" and others.
Having worked more than 10 years at the IT market of Ukraine Program-Ace Company is not only one of the leaders but is Ukrainian IT industry veteran. Thanks to long-run development policy the Company which started as low-level outsourcing company became R&D. For the purpose to promote to a new business level the Company concentrated essential part of its sources on R&D and its own 3D technologies and products development.
The world economic crisis put the Company which was actively investing in the new technologies and developing market in hard financial situation. After performance of business optimization, management renovation and correction of business strategy the Company started active development in the second half of 2010.
The title of the Enterprise of the Year 2010 is the first evidence of the new wave of success of renovated Program-Ace Company and efficiency of its new strategy.
Want to get more stories to your email?