The entire VR thing has become a huge factor over the recent years, as more than 190 head-mounted displays (HMD) are currently offered on the market. Given this number, it can get quite confusing as to which gadget to choose for your own VR app development. However, knowing the customer's exact needs and the audience size of each HMD will help to indicate whether or not it's worth spending time and resources towards creating your own VR product.
According to Statista, Samsung Gear VR was a clear winner in 2016, managing to sell 4.5M units and promising to maintain the same numbers in 2017. PlayStation VR was another wildly successful HMD with more than a million units sold since its launch in October 2016. HTC Vive, despite a shy market performance compared to the devices mentioned above, managed to retain the leadership in the PC-based VR segment, selling 420,000 gadgets by the end of a previous year. Another contender, Oculus Rift from Facebook, garnered the attention of 243,000 buyers.
In order to elaborate the precise market share data, further sales numbers in the article will represent the first quarter of 2017.
Oculus Rift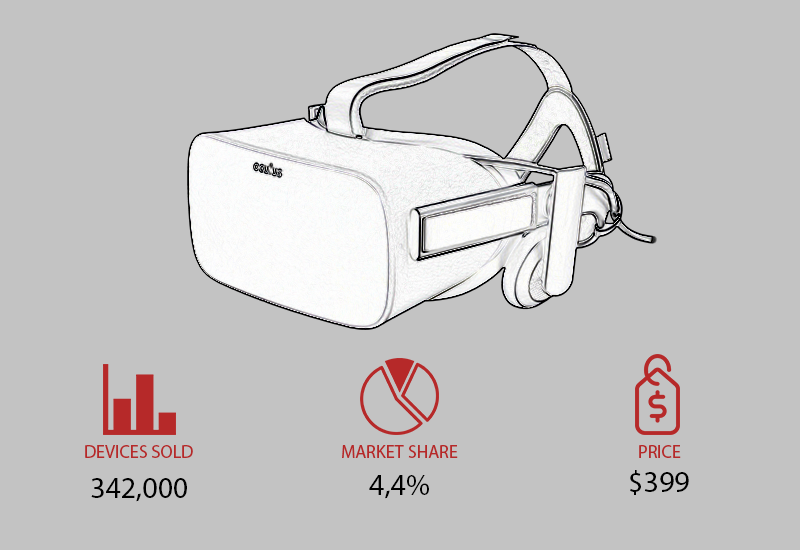 The Oculus Rift is an HMD developed by Facebook and released on March 28, 2016.
The project development took roughly four years and was initiated on Kickstarter, a platform that helps acquire money for aspiring groups of people via crowdfunding. After the project reached $2.5M with its backers, Facebook purchased the company for $2 billion.
The technology of Oculus implies displaying two images simultaneously and tracking the motion of users to produce the perception of presence in a virtual realm. The initial goal was to push the customers' demographics far beyond VR developers and tech enthusiasts who were used to using development kits (DKs) that had been available since March of 2013. Unlike DK1 and DK2, Oculus Rift was supposed to attract an audience with a casual interest in VR, to simplify the setup process, installing the applications, and troubleshooting the occurring issues.
Advantages of Oculus Rift
Oculus Rift possesses a great ergonomic design, and Oculus Touch controllers serve to increase the convenience level, not to mention it's quite light weight of 0.8 pounds. Also, thanks to the continuous price reduction, it provides more value in the cost-effectiveness ratio; therefore, it promises to reach and overshadow Vive's revenue in the future.
Disadvantages of Oculus Rift
Oculus Rift was supposed to reign supreme at the VR market since its launch; however, a number of other contenders have disrupted these plans. They were able to expose some of the disadvantages that Facebook's product has:
High overall price
The most important reason lies within the discrepancy between Rift's initial goals to make a social product for casual users and the pricing requirements. Even despite seeing a sizeable price reduction during its lifespan down to $399 bundled with Oculus Touch, there is still a necessity to own a powerful high-end PC in order for Rift to function. It will take you roughly $1,000 to purchase a suitable PC in order to have great graphic performance.
Relatively lower graphical capabilities
Compared to its main contender among the VR gadgets that utilize PC, HTC Vive is able to produce a slightly better image than Rift.
According to the International Data Corporation (IDC) that will serve as a source for other gadgets mentioned in the article, in the first quarter of 2017, roughly 99,300 units were sold, and the total number of devices sold is 342,000. Thus, Oculus Rift possesses 4.4% of the VR hardware market share, which isn't nearly close to what Facebook had initially projected. However, its sales numbers are steadily closing towards HTC Vive, according to Steam's Hardware & Software Survey.
As a result, we received a fair niche HMD that starts to grasp wider audience's attention with the most recent changes.
To boost Oculus' potential, Facebook is looking towards applying VR technologies as a new type of social network, specifically focusing on communication with friends and family.
HTC Vive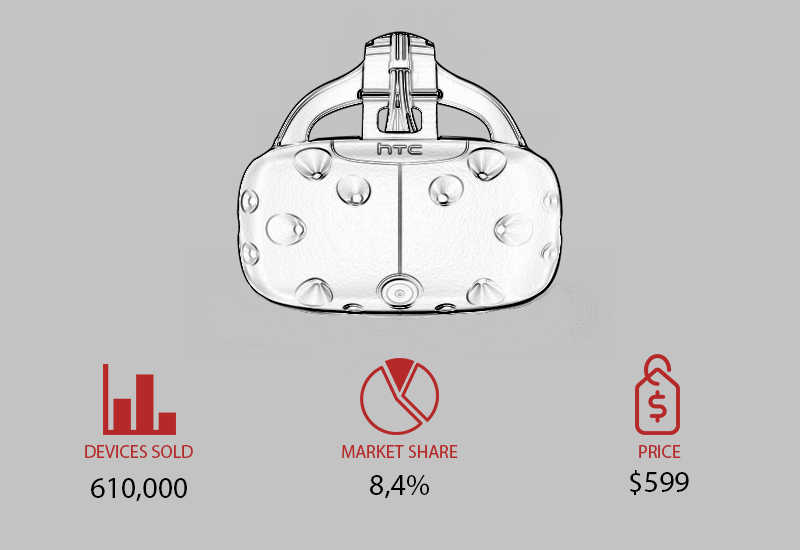 HTC Vive is an HMD developed by HTC in close cooperation with Valve Corporation that has lead to a high quality of the end-product. The device is a part of the SteamVR ecosystem, created by Valve, which presents a platform for different HMDs, including Oculus Rift.
Development kits were available back in August and September 2015 before HTC Vive Consumer version was released on April 5, 2016, and the bundle contained two controllers and two lighthouse base stations in order to support a room-scale VR experience. Despite having a bunch of competitors and a high price tag of $599, the HTC Vive has managed to perform decent sales numbers, selling 610,000 devices across the world, which is around 8.4% of the market share.
Advantages of HTC Vive
The main reasons for Vive to be praised among customers are the crisp intuitive controls, 110-degree field-of-view, movement tracking, and a good software array, thanks to Valve's partnership.
Disadvantages of HTC Vive
On the flipside, relatively low convenience standards may discourage a range of customers, as not only it isn't as comfortable to wear as Oculus Rift, but Vive is also considerably heavier with 1 and 1.2 pounds product models. Having to deal with intricacies when setting up the usage process and walking around when being connected to wires doesn't make it more appealing either.
All things considered, due to having to pay an additional $1,000 for a high-end GPU and other hardware, HTC Vive can't be aimed at the wide public. However, it offers the best VR experience so far, given the number of side gadgets that come in a bundle, including environmental cameras.
The future for Vive is expected to be bright as HTC has announced the development of an ambitious project: making a standalone VR headset that won't need to use cables and with overall simplification of usage and portability—by using Daydream and Worldsense. Another project announced will feature the Vive Standalone – a self-contained VR headset developed in cooperation with Quadcom exclusively to the Chinese market.
PlayStation VR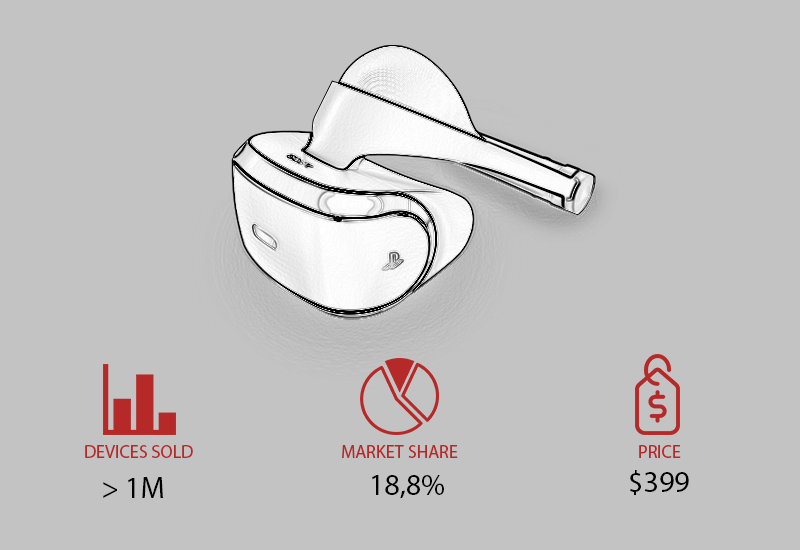 PlayStation VR is an HMD developed exclusively for PlayStation 4 (PS4) and PlayStation VITA (PSVita) released on October 13, 2016. The device can be purchased for $399; however, in order to make it function, a customer has to buy a PlayStation Camera. So a bundle with PS Camera, controllers, and PlayStation VR Worlds game looks the option to go for, but it will cost $100 more.
Despite being relatively simple and not requiring you to buy a costly PC, the headset has reached one million units in sales, which has transformed into 18.8% of the market share. Being a platform with a wide range of games available, like any other console, it was also very welcoming towards additional content, which played a sizeable role in its success. Thanks to the upcoming PS4 Pro release, the price for a regular PS4 version might be cut down from $399, which might only enhance the demand for the console and bigger sales number for PS VR respectively.
Advantages of PlayStation VR
PS VR currently has a wide range of games available and considering a huge PS4 audience size, it serves as a great platform for the publishers to grasp all demographic groups' attention.
Disadvantages of PlayStation VR
Despite being an excellent product, PS VR doesn't have an enormous potential towards the future prospects, given how limited its market is. As the VR market is subsequently approaching new areas of implementation, Sony's gadget can only serve to appease the gaming audience that already has bought PS4, missing dazzling opportunities for social VR.
Samsung Gear VR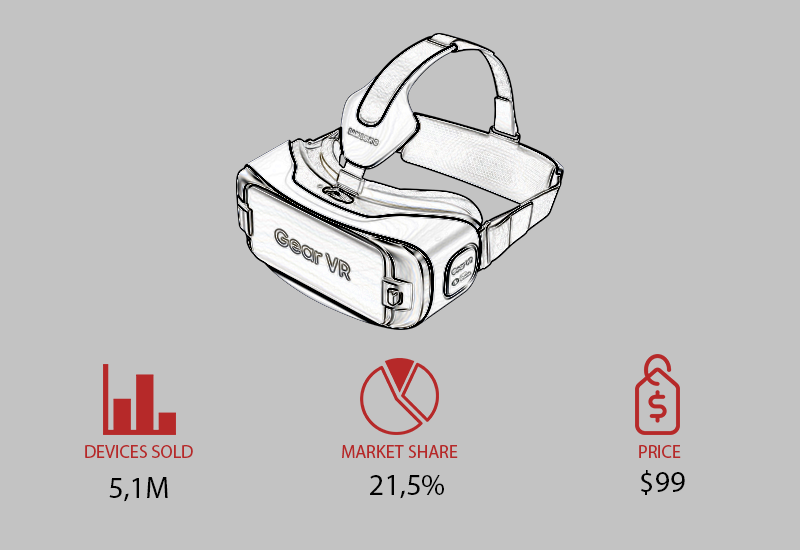 Samsung Gear VR is an HMD developed by Samsung and Oculus VR and released on November 20, 2015. To utilize this gadget, a user needs to have a contemporary Samsung smartphone that meets the technical requirements. Not only does it serve as a screen but also as a computer for the VR headset. Meanwhile, other mobile HMDs use smartphone capabilities for tracking, Samsung VR has its own rotational tracking system that enables precise and fast movements of the user's head. However, positional tracking is still a lacking feature of this device.
Given a relatively meager price of $99, it has also been distributed for free to those who pre-ordered the latest Samsung smartphones like Galaxy S7 and S7 Edge. This resulted in 485,000 sold units in the first quarter of 2017, which is 21.5% of the market share, according to IDC. The total number of gadgets sold is more than 5 million.
Advantages of Gear VR
Compared to other headsets mentioned above, Samsung Gear VR has an undisputable advantage in portability, which allows for using it under any circumstances; moreover, it has its own distinctive VR app store.
This HDM will be a great addition to those who already own or want to buy a modern Samsung smartphone and want to diversify their experience with cool immersive applications. It also has a lower price and thus, it is more available to the broader audience.
Disadvantages of Gear VR
High mobility comes with a limited performance —both the field-of-view and refresh rate are lower compared to PC/console-based gadgets, let alone the memory storage and the battery capacity.
Thanks to a huge Samsung customer audience, the Samsung Gear VR is projected to maintain high sales numbers, considering how potent it feels in the mobile market, narrowing the range between themselves and the iPhone. The latest adjustments of Samsung smartphones can also bring sizeable improvements towards its VR counterpart.
What's Next?
Speaking of the whole VR industry, it promises to make a huge leap forward as developers are moving towards standalone VR. Upcoming Oculus Go and Vive Focus serve as a clear indicator that portable devices will be the future of the market.
Given all the intricacies regarding the setup process and overall usage, Oculus Go will ask for moderate $199 and is among the most anticipated devices to be released on the market. Facebook and Oculus plan to engage a billion users across the globe in VR, and the 2560×1440 display resolution paired with a powerful hardware and good observation angle may serve a great deal to achieve this goal.
Project Santa Cruz, another standalone headset from Oculus and Facebook, was introduced in October onstage of Oculus Connect. It is going to be a mobile HDM with inside-out tracking and fully responsible controllers.
HTC Vive Focus is another prime example of industry moguls aspiring towards mobile VR. The gadget will feature a powerful Snapdragon 835 processor that will be enough to produce a high-quality image on an AMOLED screen. The price tag, as well as release date, and detailed specifications are still yet to be revealed.
Also, there is a large market bias towards social VR with upcoming Oculus Venus and Facebook Spaces. The first software is designed to watch on-air TV shows, live concerts, sports events, and movie premieres not only with friends and family but also with other like-minded people. Facebook Spaces is an experience that was announced nearly a year ago but is still in beta. To me, it looks a lot like an improved VR version of Facebook with all its avatars, videos, calls, and live messaging.
Conclusion
Choosing one headset over the other isn't that simple, and even though the market isn't saturated yet, there are still a wide variety of gadgets to pick from, depending on your needs.
Oculus Rift has a moderate price in its segment and is convenient to use, but it has not reached the top level of performance that makes the device a solid option for regular customers, especially if they already have a powerful PC. HTC Vive provides a better, more realistic graphic experience so far but may be too expensive and is hard to set up for a regular user. However, it is pretty attractive to VR enthusiasts, giving it another marketing advantage.
PlayStation VR combines decent hardware, a moderate price, and a set of popular games that makes it a clear winner among console gamers but can't really serve for the wider audience (at least now). Samsung Gear VR grants the best convenience level with great mobility and easy setup process but is only compatible with certain smartphone models, limiting the hardware and game quantity potential. But given the price of this headset, it is almost a must-have addition to a smartphone, which increases the product's value by a ton
If you are a novice developer who is looking for a jump-start with VR, my personal advice is to look towards Gear VR since it possesses the biggest market share. Also, mobile-based VR is considerably easy to develop and deploy, compared to its other market rivals. If you are ready to try something more significant, Vive looks much better now than Oculus, even though it has fewer sales. For the gaming market, PlayStation is an obvious choice since it has an incompatible advantage in terms of graphics and is specifically designed for gamers. Oculus, on the other hand, may give us mobile VR in a shape of Go which, according to Zuckerberg's statements, should beat Rift in performance and graphics capacities. So, developing for Oculus Rift probably makes sense in order to get familiar with a platform.
Want to get more stories to your email?