Healthcare is the maintenance or improvement of health via the prevention, diagnosis, and treatment of diseases.
The definition of healthcare can be broken into several problems or segments that today's technology, not the least of which is Augmented Reality, is actively trying to improve or solve. Some of the major problems of healthcare include:
Health awareness
Disease prevention
Diagnosis
Treatment or improvement
Health maintenance
In today's market realities, Augmented Reality (AR) in healthcare is yet at its infancy. According to Disruptor Daily's article, the report from Reportbuyer expects AR and VR in healthcare to reach $4,997.9 million by 2023 at a 36.6% CAGR.
While AR seems very promising, it isn't yet ready to solve complex issues in healthcare, so the technology is mostly used for educational or entertainment purposes.
However, AR already shows some great innovative potential which plants the first seeds of digitalization in healthcare and is going to develop even further.
The idea of AR is to visualize (display real-time vitals, visualize organs, etc.). In combination with computer vision and big data analysis, AR in healthcare can simplify and improve the everyday job of many experts:
Surgeons (including orthopedic surgery)
Dermatologists
Nurses
In the nearest future, AR is going to help bring awareness to the healthcare industry, but it's just a matter of time before it will be used globally on a day-to-day basis with the help of devices such as Microsoft Hololens, MagicLeap, and Meta.
Today, one of the simplest ways AR can be used in healthcare is for a variety of educational purposes from in-depth living organisms parts and processes demonstrations to fancy AR apps that can engage the younger generation to learn more about healthcare and medical services.
Learning anatomy in Mixed reality (MR)
Knowing the fact that medical students continuously learn insane amounts of information about the human body (206-270 bone names, 79 organs with all their counterparts, etc.), it's extremely difficult for students to visualize that information and see how it's actually applicable in real life.
One of the ways to ease the process of learning is to use MR for anatomy and improve not only the learning curve but the education in general.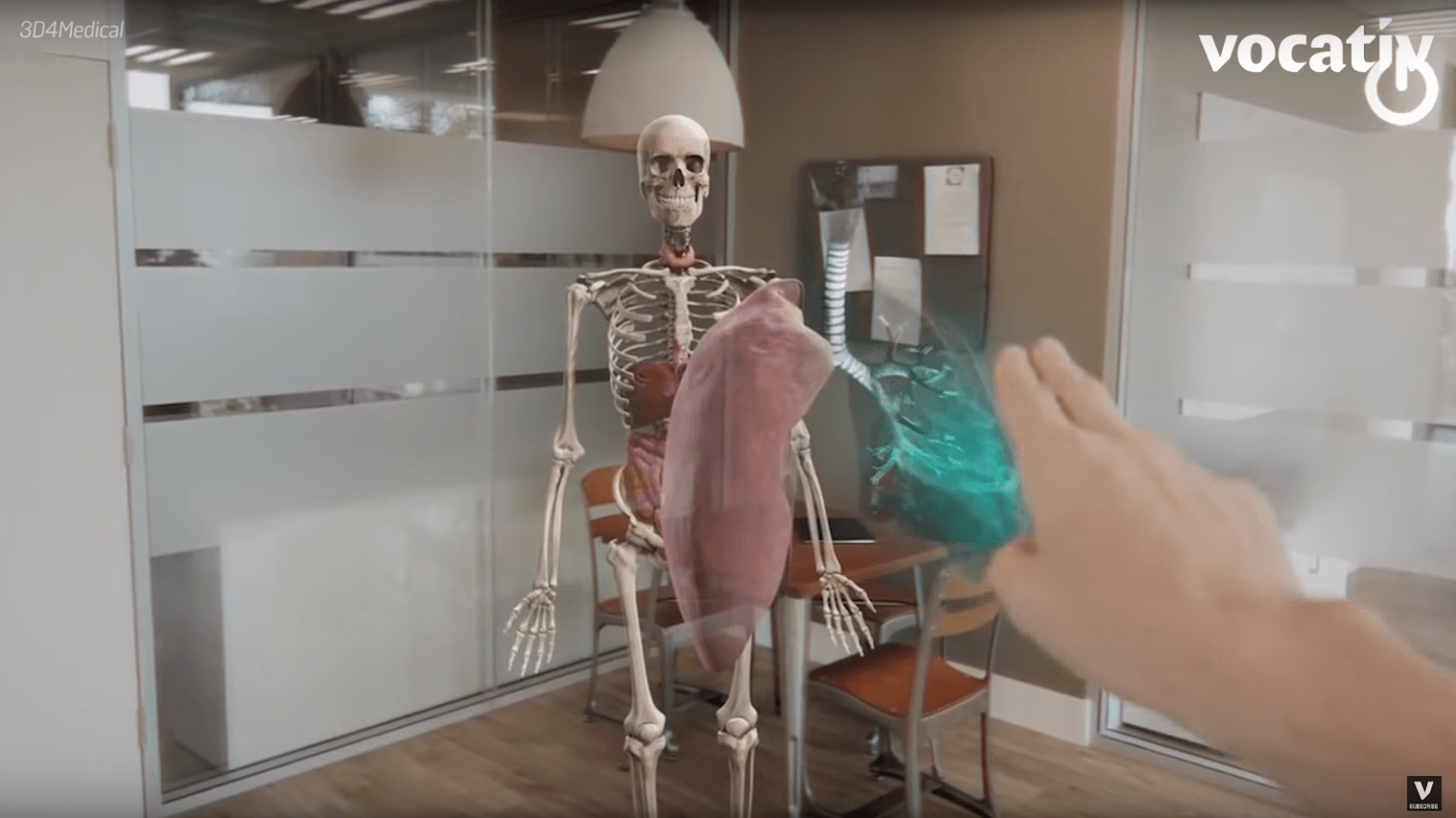 AR in healthcare anatomy
"Using Microsoft Hololens, users can pull the human body apart and investigate the organs and limbs piece by piece"
The MR application allows students to learn more about the human body and get in-depth information about a particular organ.
Leveraging AR for patient education
AR can also be used to enhance medical services making them much friendlier and trustworthy among people.
Doctors can not only use that information to teach their interns but also educate their patients during medical consultations and sessions.
By educating clients through a completely new technological approach leveraging the power of augmented reality, doctors will help patients develop more trust towards professionals and help them make decisions easier and more confidently.
AR will help patients better understand their problems and approach their health in a much more responsible way.
Using AR for vein detection
The AR vein detector is a portable device which uses laser light interaction with hemoglobin molecule and spectroscopic techniques to determine its concentrations.
The device then projects a high-resolution image onto the highlighted area and allows doctors to see the veins of a patient.
This device should not be confused with full-field digital mammography which uses X-rays waves that are converted into electrical signals. The digital mammography system also creates a digital high-resolution image which can be seen on a computer, but the system uses low dose radiation to detect breast tissue and small tumors.
The AR vein detector is completely safe and can be used to help nurses to detect the barely noticeable veins of patients.
AR in-hospital navigation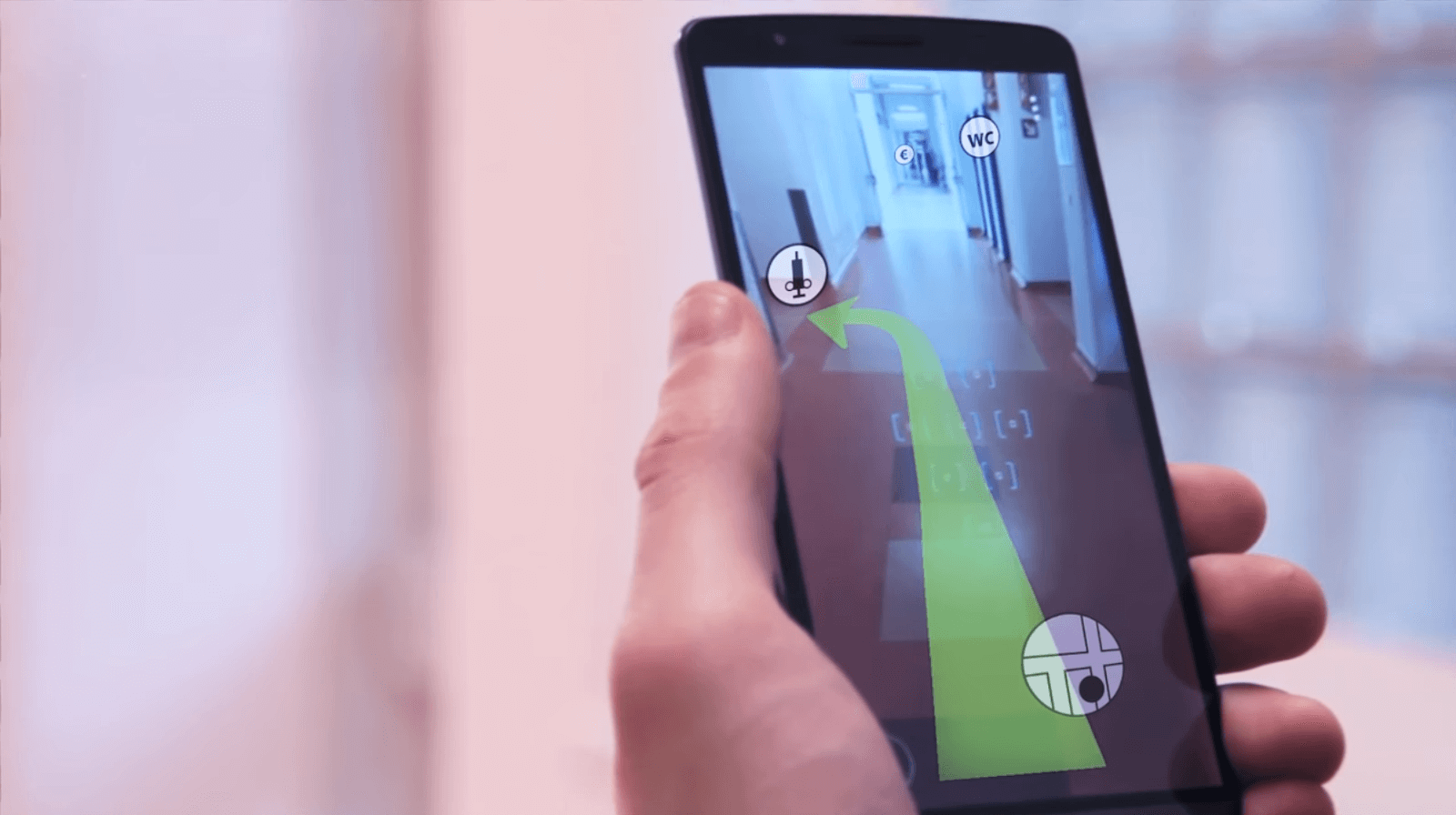 AR navigation in hospital
AR navigation is one of the classic examples of AR usage across the globe. It has recently been implemented into Google Maps and already enhances everyday navigation and traveling experiences.
In healthcare, AR can be used for in-hospital navigation to help nurses quickly find the right room and equipment in an emergency situation for example. While stressed, it's hard to think clearly and a simple AR mobile app can help to navigate within the tangled hospital corridors.
Depending on the hospital, the AR application can be distributed locally to help patients find the right room quickly or book a meeting with a doctor through the app.
Combined with a hearing aid, an AR app can track the surfaces and routes and send voice signals to the hearing aid helping the blind to navigate easier within the hospital.
AR clothes in healthcare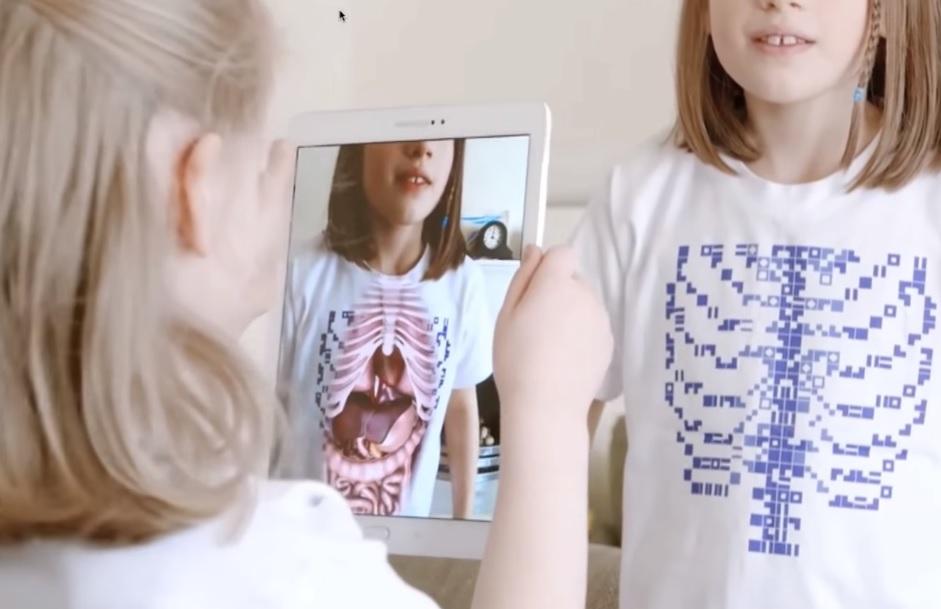 AR clothes in healthcare
One of the cool ways to learn more about the human body and organs is to have a stylish AR-enhanced T-shirt.
The T-shirt has a printed code on it which is recognized by an AR application and allows users to have a lot of fun exploring realistic-looking organs on a real person. This AR app for anatomy learning is a very friendly and entertaining analog for kids who want to learn biology or become doctors.
This AR anatomy application can help to increase health awareness and support various healthcare movements which promote self-help, medical courses, or medical services.
Such an application can be used during the biology classes to enhance the information consumption by visualizing vital aspects of the human body and drive the education towards practical knowledge usage.
AR for marketing and advertising in healthcare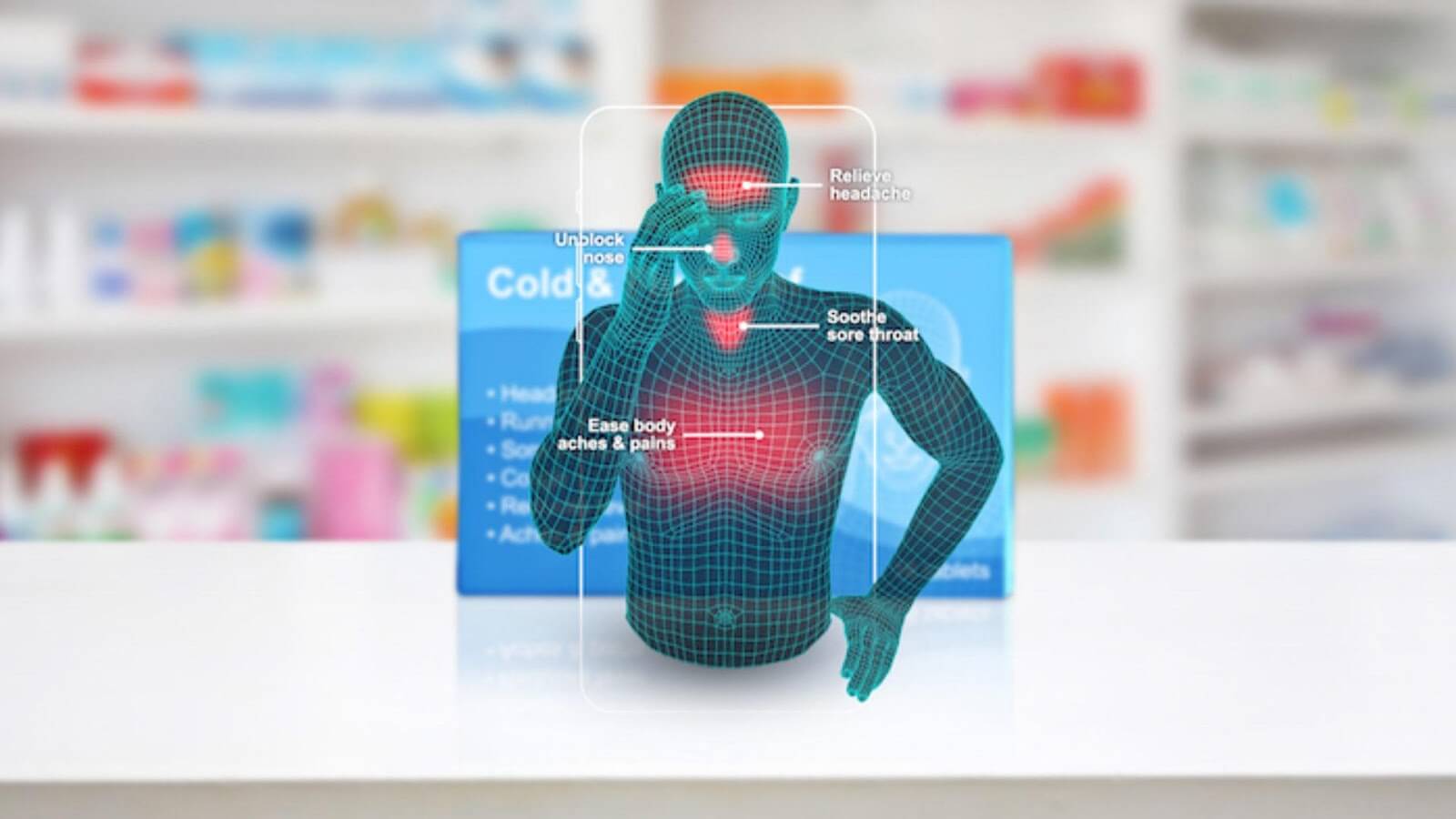 AR in pharmaceutics
Today, AR and MR for advertising in healthcare, and more exactly in pharmaceuticals, is growing insanely fast.
An AR app is the best choice for sales reps to make a quick emotionally-bound "Wow" effect which helps them get doctors and healthcare specialists interested.
Here are a few examples of how you can use AR to boost your sales performance in healthcare:
Show pre-built "flow-animations" of how a particular medicine works in a human body.
Display animations on hover. Just point your mobile device at the medicine and the animation will be shown.
Introduce different products to your target audience using the technologically advanced approach.
Conclusions
Augmented reality in healthcare is getting its momentum and soon will be broadly used by many educational institutions and healthcare practitioners. So far, the technology is used for spreading health awareness (thus preventing diseases) and diagnosing health issues.
However, in the future AR has great potential to be used for treatment and health maintenance.
At Program-Ace, we help you explore your healthcare app potential by providing full-cycle augmented reality app development services which include documentation creation, planning, prototyping, A/B testing, development, QA, and support.
We approach each of your projects as our own, so we provide business analysis services to make sure your project is successful.
For any questions related to AR healthcare app development, as well as any other requests, feel free to contact us here.
Author: Philip Volna
Want to get more stories to your email?