It is incredible to learn that, until quite recently, what seemed absolutely impossible has become commonplace for many people and industries. Not so long ago, it was hard to imagine that futuristic technologies like augmented and mixed reality would enter everyday life and prove their value in industrial processes.
The earliest useful possibilities of augmented and mixed reality, like any other innovative technology, have been tested in secret corporate labs and, after showing great potential, have been adopted by multiple enterprises and businesses. AR and MR have come close to everyday reality and are gathering momentum in production, maintenance, and other industrial processes. Much of this success is due mainly to the success of Microsoft HoloLens and its quick acceptance within the industrial sector. And as you know, today almost all modern smartphones and tablets are equipped with powerful processor power. With it, their precise sensor technology allows the production of high-quality augmented visualizations.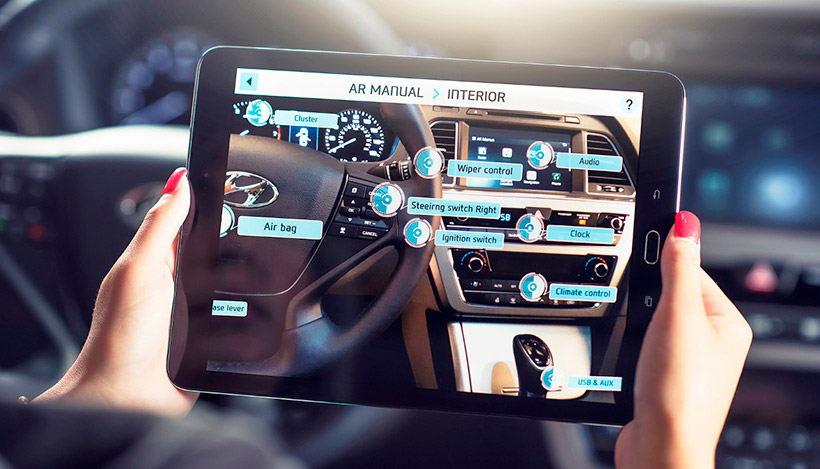 Fascinating possibilities of AR and MR technologies are found in industrial application and are widely used in digital manuals and user guides. Thick paper manuals and cumbersome Internet searching will soon become a thing of the past. Presented as digital step-by-step instructions, AR manuals explain precisely each step, allowing one to maintain, repair, and install complex units. By just overlaying a smartphone or a tablet camera over a real object or printed material, the required information is augmented and lets you solve any complex problem quickly and without external assistance. Mixed reality manuals require a head-mounted display to blend the physical and digital worlds and perform maintenance, repair equipment, or assemble machinery easily and quickly.
Benefits of Augmented Reality User Manuals
Full replacement of printed manuals or the possibility to use them as an extension of printed materials to ensure precise and easy-to-follow guides.
Can be used as user guides, maintenance apps, unboxing apps, or in problem solving.
Ability to use on most modern iOS and Android smartphones or tablets, HMDs such as Microsoft's HoloLens, or AR glasses like Meta.
Possibility to complete complex maintenance operations without any prior training.
Availability at any time.
Reduction of the safety risk to the employee.
Reduced maintenance time.
Improved results.
How to Develop an AR Manual
Professional software development companies specializing in the development of augmented reality solutions use different tools and approaches to create AR manuals that are easy to use, effective, and interactive at the same time.
In fact, an AR manual is an application based on 3D object recognition and image matching technologies. The most important requirement of AR manuals is the ability to provide interactive AR instructions and training materials to help users perform self-maintenance processes. To develop an AR manual, a technical team requires full information on the equipment, the processes, and a detailed technical specification with scripted descriptions of actions. Usually, a standard set of features includes the possibility to highlight different parts, grab and move items, assemble and disassemble equipment, rotate, zoom in and out, etc. AR manuals use augmented 3D models and animations to better demonstrate the equipment in question.
Along with standard features like interactive step-by-step instructions in augmented reality, such manuals can capture metadata, gather analytics, and even evaluate workers' performance. The possibilities of custom AR  manuals are truly endless. But the development of a tailor-made 3D solution that fits the needs of a single operation is associated with relatively high cost; that's why we have come to offer our clients the development of scalable AR platforms that can be used for a variety of products by means of a lightweight system. The significant advantages of this approach include scalability, reduced development time, and cost.
And furthermore, when developing mixed reality user manuals, we often integrate AI technology that allows one to recognize the user's gestures and superimpose them in the HUD with previously-recorded video sequences to effectively show the next work action. This approach significantly decreases the time required to create AR user guides. Moreover, AR manuals with integrated Artificial Intelligence technology encourages widespread use because their development process is far less complex.
We believe that in the foreseeable future AR how-to guides will become mainstream so that even private users can obtain help with AR manuals, e.g. when assembling furniture or operating household appliances.
AR Manuals in Business
The power of AR technology is really great, and every day new usage opportunities are discovered by different businesses and industries. This technology, first developed for a consumer sector, is now widely used by industry giants. Industrial usage of AR apps has proven its efficiency in maintenance and operation as well as training processes, and we believe that this concept will soon be integrated into daily operations.
Let's check some most vivid examples of how industry giants use AR manuals to optimize their training and maintenance processes.
Here is an example of how the manual can be used: if you want to refill the fluid reservoir, the app will provide augmented instructions on the process after pointing your smartphone or a tablet at the engine bay. The same works for some in-car functions. If you are not sure what the buttons on the dash do, just point your iPhone or iPad at the car dash and watch how the AR app identifies the controls and provides further instructions. It can also help to maintain, repair, or just learn more about cruise control, fuses, air filters, as well as some other car parts. The Genesis team says the main purpose of their AR manuals is to make common maintenance tasks like changing a flat tire quicker and easier.
A Gerhttps://program-ace.com/success-story/wheel-replacement-training/man company, a leading manufacturer of vacuum pumps – Leybold GmbH – is the first in its industry segment that has come to use Augmented Reality solutions for the training and maintenance. The Leybold Smart Service Assistant is a HoloLens training and repair manual that allows one to look inside complex machinery with high-quality 3D visuals. This is a cost-effective method that is used by hundreds of Leybold clients all over the world to repair and maintain complex pumps. With HoloLens on, service technicians get useful visual support and step-by-step instructions in 3D within arm's reach. The high-resolution 3D imagery appears exactly on the pump parts that need to be repaired. Another benefit of this AR manual is that AR glasses allow one to work and train hands-free, which minimizes the error rate, reduces the risk of injury, and improves performance.
Hyundai Motor Company is one of the first car companies that integrated AR technology into the owner's guides and launched an AR manual for its cars. There are 45 different parts of a car that can be examined with this AR manual. After pointing your tablet on a certain part, the user sees either a 2D or 3D overlay showing the inner components and what goes where. The app includes AR overlays, videos, and guides for engine oil, dynamic cruise control, the air filter, and brake fluid, as well as some other in-car features. The first vehicle with the AR manuals, available on both Android and iOS devices, was the 2015 Hyundai Sonata sedan.
The maker of luxury cars – Genesis Motors – has developed AR manuals for its 2017 G80 and G90 models in addition to traditional printed guides. AR manuals by Genesis have more than 100 "how-to" videos with integrated AR features that allow one to identify certain car parts and make use of augmented instructions. To develop the AR manual with features useful for car owners, Genesis Motors used the data from its user surveys.
Another car manufacturer, the second largest automobile company in South Korea – Kia Motor Corporation – has designed their official service application using AR technology for its environmentally-friendly cars (EV, HEV, PHEV).
The Kia AR Owner's Manual provides how-to guides that improve the driving experience and offers tons of useful information on the vehicle in the innovative AR format.
Key features of the Kia AR Owner's Manual include:
General information and videos on the vehicle's interior and engine space.
AR guides on how to control and use different switches and knobs, self-maintain and repair the engine area (e.g. refill fluids), and detect the warning and caution indicators.
Ability to use the AR manual without the actual vehicle by clicking on the pictorial AR manual and watching the video clip.
Conclusion
Let us be honest and accept that augmented and mixed reality technologies are far from being mature and are still in their infancy. However, despite this, they are gradually winning their position on the market. Augmented user guides have become proven tools for the optimization of existing industrial processes for many businesses, and this is just the beginning.
Today, smartphones and tablets, along with HMDs like Microsoft's HoloLens are considered the most feasible devices for the industrial use of augmented reality manuals. And it's really great knowing that both AR and MR hardware are being optimized further to reproduce the visual content of even better quality.
Apart from the hardware, the content of AR manuals is crucial. The functionality of new AR applications amazes users and opens up the possibilities for their use in everyday operations. Being a reliable technical partner for companies from diverse fields, we are proud to have delivered turn-key AR user guides, as well as AR/MR training tools, that help different businesses improve their day-to-day operations in the most innovative and effective manner. Get in touch with our technical team to take your business processes to the next level with a tailor-made AR solution.
Want to get more stories to your email?