On October 11, 2017, Mark Zuckerberg, CEO of Facebook, announced a new standalone VR headset in his keynote speech onstage at Oculus Connect 4 in San Jose.
Virtual reality is about imagining the world as it could be. VR puts people first – it puts us in the center of the experience, – said Mark Zuckerberg.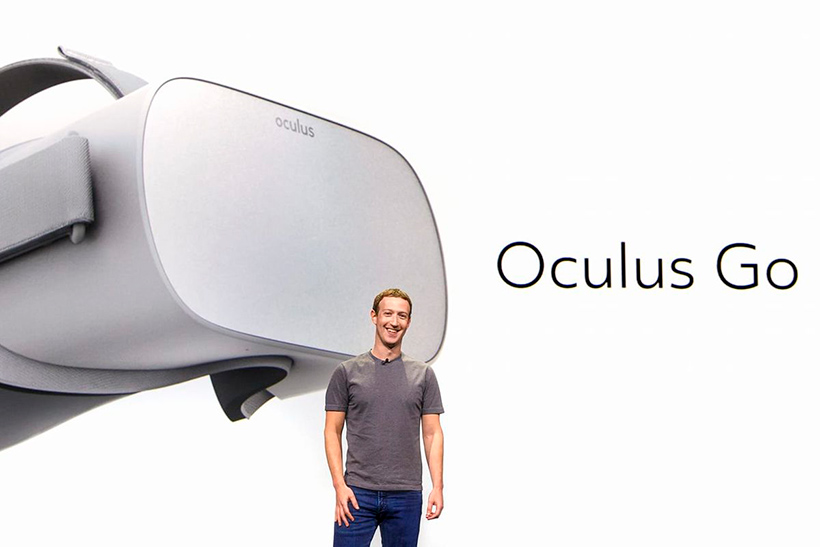 Previously we were familiar with only two types of virtual reality headsets: mobile- and PC-based. Both of them require an external computer (typically) to quickly process incoming information. Mobile-based types like GearVR and Google Daydream designed compatible with mobile smartphones, while Oculus Rift and HTC Vive need to be plugged in into the computer which helps to capture real-world data and enhance human-machine interaction. Each of those types has its pros and cons. Mobile VR is moveable – you can take it with you anywhere and anytime, – but it is not that powerful because the experience depends on the smartphone's hardware quality. PC-based VR, on the other hand, is extremely powerful, but a user is limited to cord tethers or wires, so he/she is unable to move around a lot. And what is more important, PC-based headsets are very expensive ($499 for Oculus Rift and $799 for HTC Vive) and are not that much exciting without audio system and controllers that you should, of course, buy separately.
So, these are two challenges to work through – affordability and VR experience quality. Oculus engineers introduced Go as a solution to the current limitations of virtual reality industry. As a standalone device, the headset will not require plugging in a computer or a smartphone to function. Moreover, in order to make virtual reality affordable to everyone, Oculus will start shipping Go early in 2018 starting from $199. The headset is claimed to be perfect for gaming, watching movies and concert, or just hanging out with friends and foes in VR. We composed a quick Oculus Go overview to understand its capacities and competitiveness on the modern virtual reality market.
Hardware
Virtual reality is all about delivering the right set of photons and sound waves to sensory organs in a way to convince the brain the experience is real. Assembling a virtual reality headset requires a completely different approach and skill set than creating any other electronics. First and foremost, engineers and developers should consider how human brain perceive the reality and ways of changing its perception.
Immersion plays a critical role in a concept of virtual reality, and, in order to provide a greater immersion, Oculus Go brings a matchless visual clarity that has not been seen yet. Engineers worked on the optics (improved the lenses, reduced glace, etc.), saving the same wide field-of-view as in Rift. They combined a bespoke pair of lenses with a fast-switch LCD WQHD 2560×1440 display in a 16:9 aspect ratio. Furthermore, the display was specifically optimized for virtual reality featured a higher pixel pitch fill factor than other available headsets. This visual clarity almost completely diminishes the fixed-pattern noise (FPN) or so-called screen-door effect (SDE) that refers to display's artifacts where the lines between pixels are visible to a human eye. All of this has a dramatic effect on a visual component of VR experience, making closer to physical reality.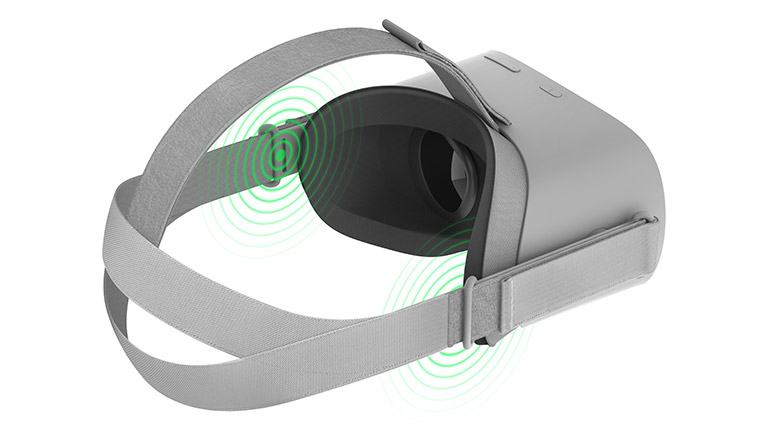 Another fundamental element in building immersion is audio and touch. During an overview at the event, it was revealed that Oculus Go has a built-in spatial audio system (no headphones and additional hardware finally!) Now, you can much easier and faster dive in and out of VR world or share the experience with friends and family. And, if you need privacy, there is also a 3.5mm headphone jack. Oculus Go will also probably ship together with remote controllers (judging from promo photos they are similar to Gear VR ones.)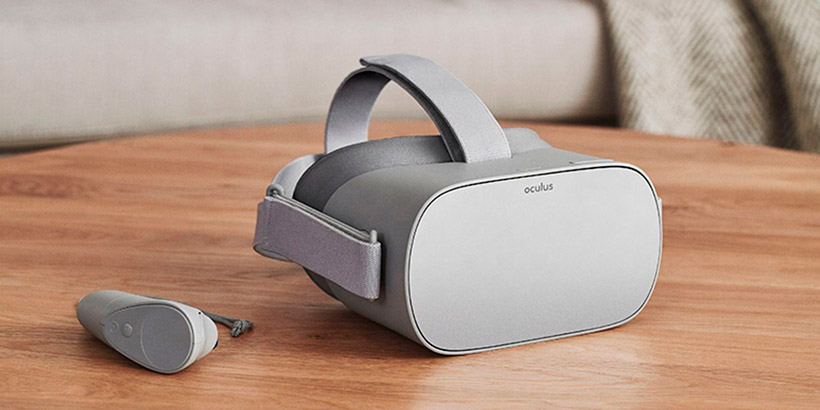 For those who aren't very comfortable wearing some heavy crap on its face, Oculus designers made Go super lightweight with soft elastic straps made from breathable fabric with high adjustability.
Compatibility
One of the most exciting announcements at Oculus Connect 4 was the news that Gear VR and Oculus Go are binary compatible and share the same controller set, which means that all applications that are running for Gear VR are suitable for Go as well (hooray, cross-platforming, we have been waiting for you!) As a bonus, all applications currently built for Gear VR will run on Go and the library of featured VR app is going to be available from day one.
Another good news is that two most powerful graphics engines are compatible with the new headset. Unity Technologies and Epic Games are long been known as a partner of all VR/AR/MR innovations and Oculus Go is not an exception. Developers will be able to build for Go in Unity and Unreal Engine as soon as developer kits will be available to masses in November.
Why Facebook Bets on Virtual Reality?
Whenever people say that we are not satisfied with a virtual reality because we are not satisfied with a world we live in. Of course, we are. We just believe, that the future can be a lot better. So when we extend the limits of traditional reality, our life could be that much better, says Zuckerberg in his speech.
Virtual reality has invaded into almost every aspect of our life. VR applications are developed for anything from gaming and aerospace to healthcare and military training. Maybe one day there be doctors or nurses who were trained in VR instead of real people.
This is probably the future that Facebook and Oculus intend to bring. And certainly, it is the right thing to do. There are many aspects of life and business that will only benefit from a usage of VR – remote meetings without the interference of communication, military trainings in dangerous terrains with no risk to life and health, or exciting experiences for disabled and retired people – the sky's the limit. However, it today's realm, the perception and popularization of VR may not be as prompt as Facebook imaging. Unless there is a necessity in a society for portable VR devices, it will probably not go further than gaming, education, and remote experiences no matter how low the price is. In due time, smartphones became such a necessity. That's a moot point, could VR hardware at least repeat their success or not. We guess, soon enough, the community will agree on that.
What's Oculus Planning Next?
1 billion people in virtual reality – this goal was set for Facebook and Oculus by Mark Zuckerberg on Oculus Connect 4. To achieve this, they need to build a safe environment (no VR sickness, eye-safe, and safe for hearing for the very least) and make sure it is accessible for everyone.
Besides Oculus Go, Facebook's CEO also announced Oculus Venues – a new experience they gonna release in 2018. It specifically designed for watching live concerts, live sports, premiers of movies and TV shows with friends and thousands of other people in real time. At the presentation, people could take a look at the early developments of Oculus Venues.
Project Santa Cruz, a point of many speculations in the VR community, was also introduced at the event as a fully-featured experience: a standalone headset with an inside-out tracking and fully-responsible controllers.
I honestly can't wait to get a hands-on experience in using Oculus Go and Santa Cruz and start building VR applications for these devices. We will keep you posted for more updates and research on a topic.
UPDATE
HTC has released an "answer" to Oculus's Go, introducing HTC Vive Focus exclusively for the Chinese market in November 2017. 
Want to get more stories to your email?