The global industry of mobile applications is huge and continues to develop at a rapid pace, experiencing remarkable economic growth, as the global income of the mobile market is forecast to reach $189 billion by 2020.
Next year will make it ten years since the launching of today's most favored app stores (read: App Store and Google Play) that are the basis for the market of mobile games and applications. An increased amount of companies and indie devs publish mobile content daily in the hope of reaching the top and carving out their piece of the pie. According to Statista's research, there are about 3.3M apps on Google Play and nearly 2.2M on App Store available to download by year's end.
While some apps make billions, such as Pokemon GO, many others remain unnoticed. Today, we analyze the most efficient money-making strategies and which work best for a particular type of apps. Moreover, our research provides an overall idea of the contemporary market tendencies and the direction in which it is heading.
Mobile Applications
In 2016, 59% of gaming apps for iPhone and 54% of Android games used in-app ads to earn an income. As of 2017, not much has changed — the most prominent and well-established ways to generate a profit with mobile-based apps, as before, are integrated advertising and in-app purchases (IAP) . Other mobile app business models — paid installs, subscriptions and affiliate deals, — though bring some profit, are not as effective as one would like them to be. The data below shows how the worldwide revenue is distributed between different monetization channels.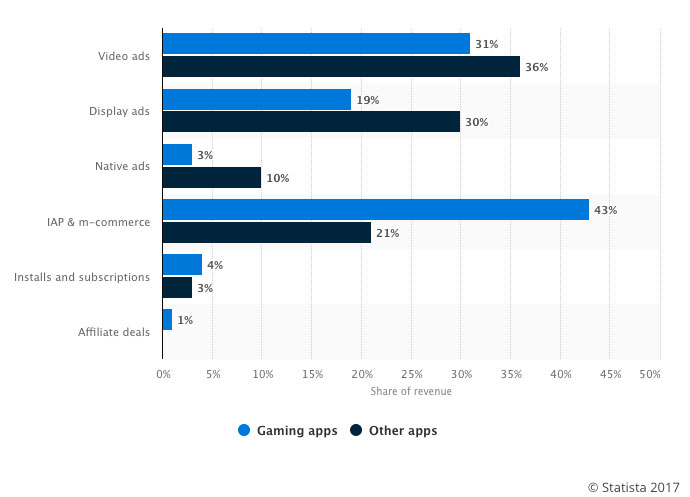 Integrated Advertising
Integrated advertising, often shortened to "in-app ads," is the most universally-adopted monetization strategy for mobile apps.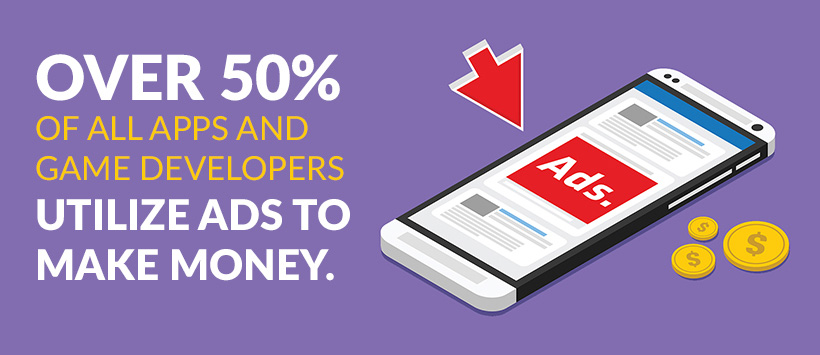 Over 50% of all apps and game developers utilize ads to make money.
The reason they choose it is quite obvious: people like free stuff, so they are more excited about free apps, not the paid ones. It is that simple; the more installs the app has, the more money it could bring to the developer.
But it is not as simple as it may seem at first sight. Developers can earn a hell of a lot of money using integrated ads only if their app is used daily by a lot of users. If there is not much interaction with it, then the advertisement, in any form, is probably not the best way to go.
Experts predict that in-app ads will become the main source of income for the industry of mobile apps. To be specific, in 2015, in-app ads earned $40.5b for its adopters and are forecast to reach $117b in 2020.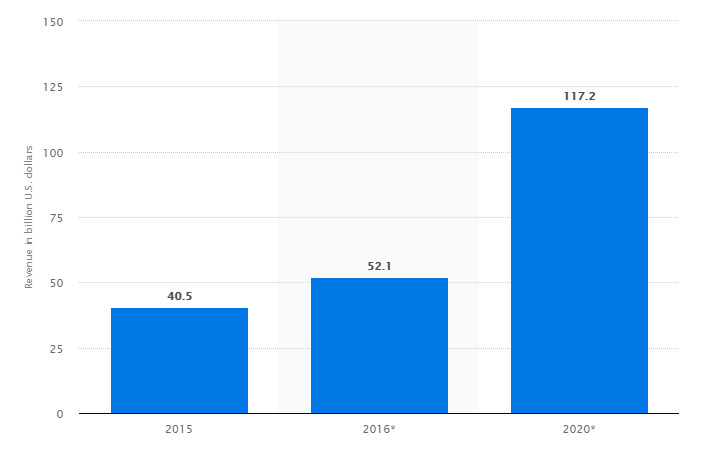 Today, video and display ads are the most widely-used types of content in this monetization strategy. However, according to the IHS Technology research, by 2020, more than a half of all ads will be native , bringing more than $53 billion profit.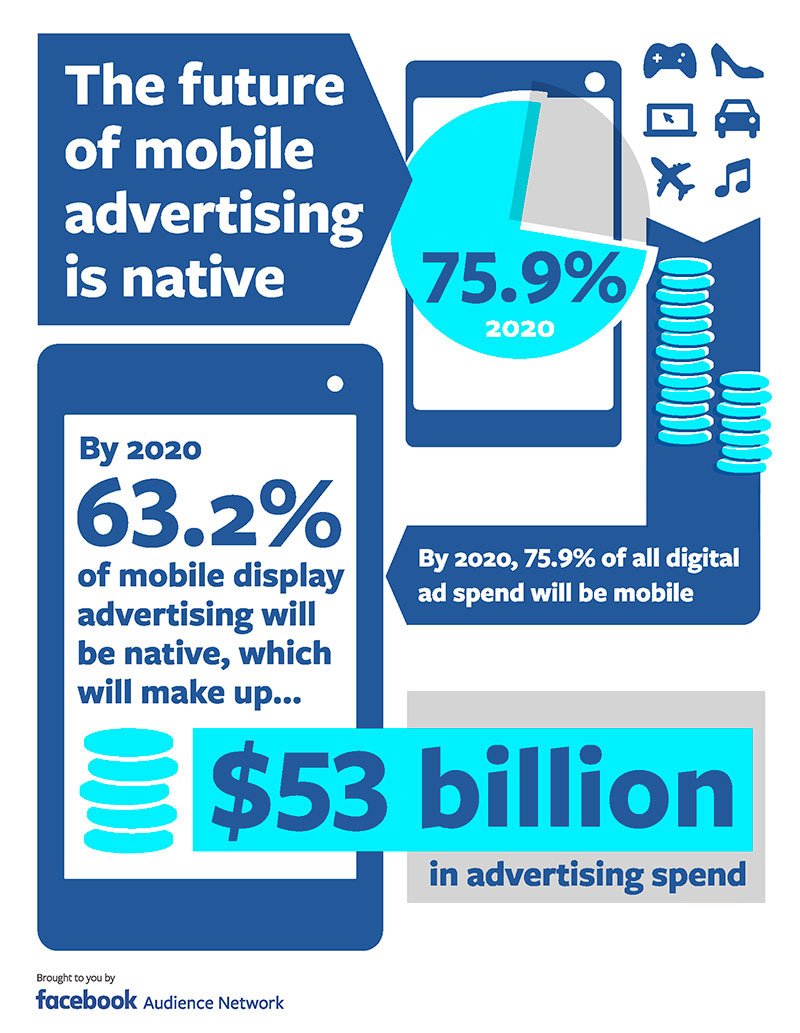 The numbers look pretty promising. However, when choosing in-app advertising as a fundamental business model for a mobile game or app, do not forget that seeing too many ads is extremely annoying for users and eventually forces them to hate the app immediately. But anyway, the majority of the audience is more tolerant towards advertisement and prefer to endure your videos in order to cut out the billing part.
IAP
The so-called "freemium" business model implies downloading and using the basic app's functionality free of charge, while a premium account or some extra options can be unlocked for a certain fee. In other words, it looks like a try-before-you-buy version of an application. Some mobile apps have enough free content to get along, while others give access only to a very basic set of features that leave the audience wanting more.
A free-to-play strategy with integrated IAP is one of the most popular revenue models used in mobile applications. Almost one-half of mobile games and a fourth of non-gaming apps offer additional content for an extra charge.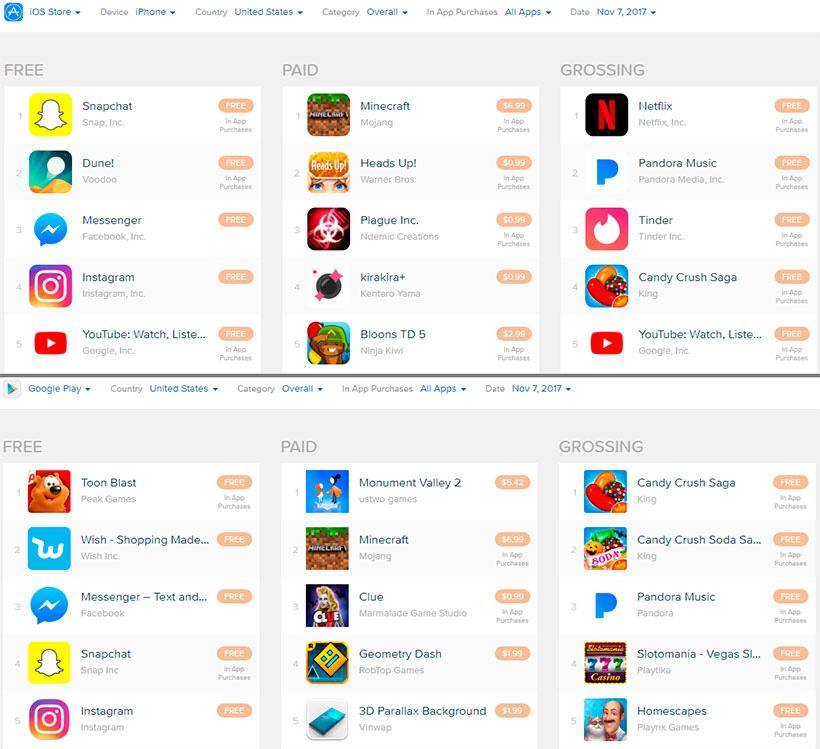 Tinder, a popular swipe-tastic dating app, is a good example of a top-grossing mobile app. Tinder can be downloaded for free, but if you want to use additional options like the possibility to undo the swipes, change your location, or make your profile featured, you can upgrade to premium plans — Tinder Plus and Tinder Gold.
Match Group (NASDAQ: MTCH) reported that the total revenue of Tinder amounted to almost $310M in the 2nd quarter of 2017 only.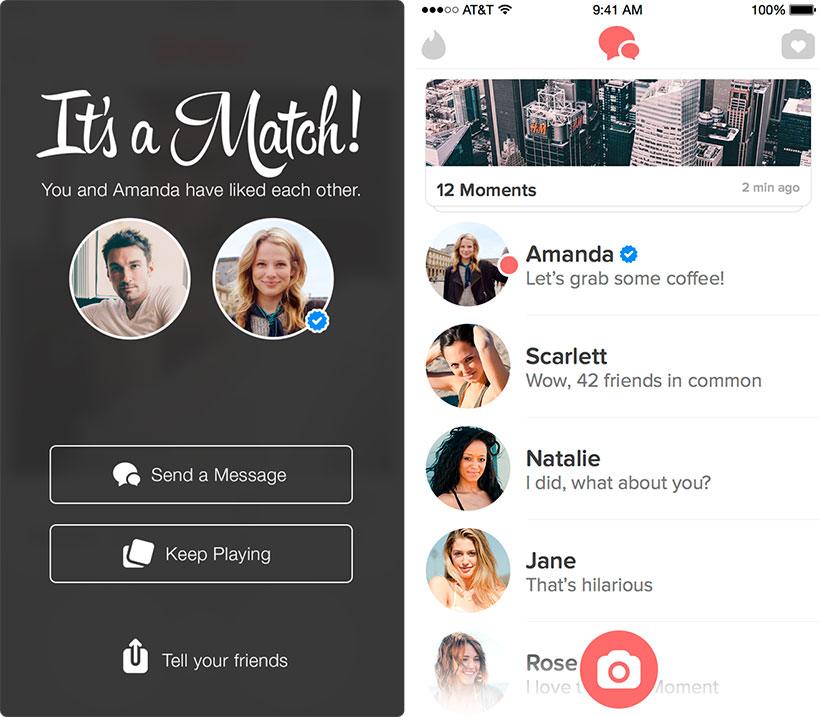 Paid Apps (Paymium)
While the free-to-use apps get more and more attention from developers and publishers, the "paymium" model is losing its share on the international market. The research shows that paid apps (both gaming and non-gaming) earn only 7% of the world's mobile app income. This year, the income from paid apps has amounted to $29 million, which is over twenty times less than one from in-app ads. Besides, the revenue from sales is shared between a distributor and a developer.
Across app stores, paid apps usually have a broad description, many screenshots, and usually a video or two so that the user can get an overall idea of the app before purchase. This approach is a bit ineffective because none of the paymium apps became the top grossing one. In most cases, users are not interested in spending money on something that cannot try first. Users prefer free apps with integrated ads or free-to-download with IAP because they can actually experience what they are buying. However, sometimes, this way of monetizing brings a significant profit.
Take Minecraft Pocket Edition, released in 2016, as an example, which is ranked as the 2nd in the top paid games and has brought over $5M to the publisher Mojang. Millions of fans of the original video game have already downloaded this mobile cut-out, and the mobile version continues to lead the rating of paid apps for about a year now.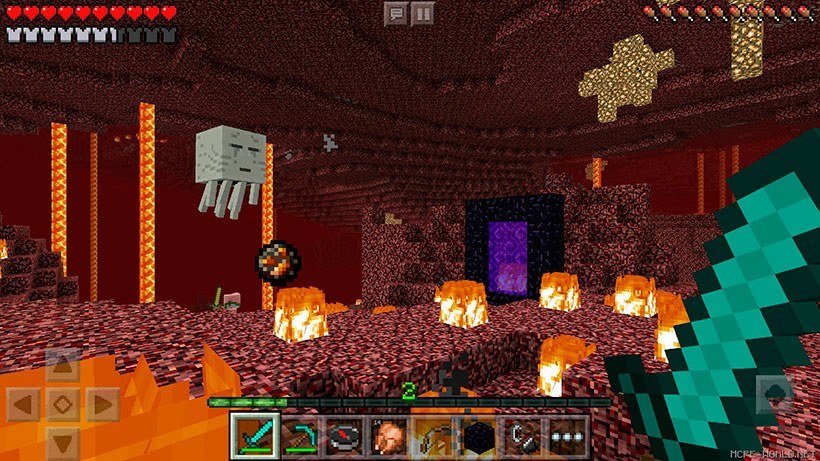 Along with paid installs, there are multiple paid options that make the game even more financially rewarding. A combination of two different revenue models (for instance, paid installs plus IAP) is typically more effective than one.
Virtual Reality Apps
If you consider investing in a VR product, it is reasonable to think ahead of the ways to make money from it (Captain Obvious says hi). Along with IAP, advertising, and paid installs, VR applications have some specific monetization models to consider. Let's discover what other options we have for VR and read a few success stories as proof.
Free-to-Download with IAP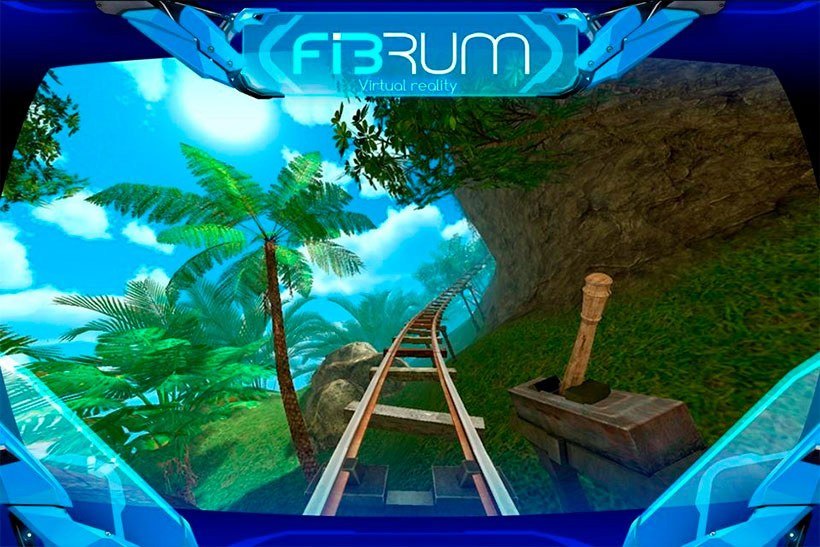 Just like with mobile apps, many publishers and producers of VR content prefer IAP over the other monetization models. Many great virtual reality apps can be downloaded freely, and in case a user wants the party to continue, the app has some features or experiences that can be purchased for a decent price. For instance, Roller Coaster VR has over 5M downloads across stores and allows users to enjoy its basic functionality for free. Meanwhile, you can unlock more exciting VR experience for only $1.99.
Paid Installs
Though most users do not hurry to part with their money and pay for downloading an unknown app, there are still a few examples that yield good results through paid installs. TrinusVR, for instance, is available for both iOS and Android for $9.99. With about 50K downloads across both, the app lets users play VR games on a PC without buying expensive hardware. It is very popular among VR fans, even in spite of the cost, thanks to many additional features.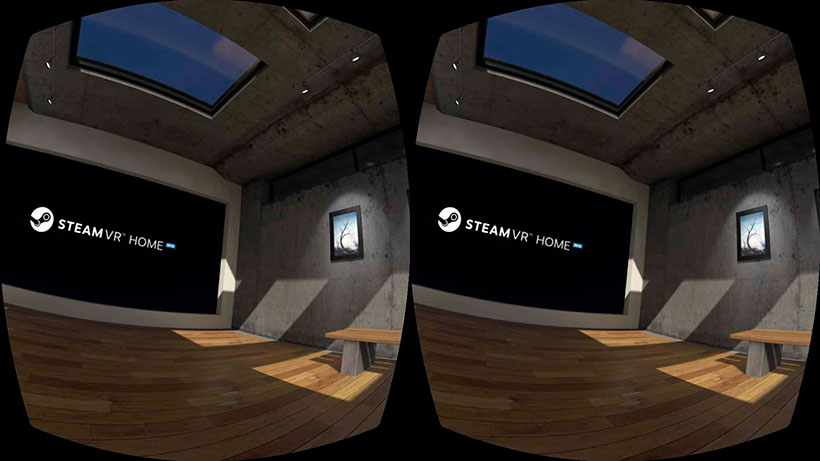 Advertising
Being probably one of the most commercially successful business models, in-app advertising is also globally adopted in the VR industry. The majority of entrepreneurs and business owners prefer this monetization model and allow users to access their VR experiences for free. As soon as the app is installed, the advertising comes to light to help publishers or developers pay off their efforts and earn a few million extra.
One of the most successful examples is VR Cave. This real-life VR simulator opens terrific 360-degree views and animations of caves and has not only 1M+ downloads but also a lot of positive reviews across VR stores.
Marketing and Branding
Every year, more and more world-famous brands take advantage of VR technology to bring innovation and the "wow effect" to their marketing campaigns. The majority of international corporations, including McDonald's, Jaguar, Coca-Cola, and Volvo, along with their market competitors, use VR to advertise their brands and products. A presentation of products in VR doesn't bring a direct profit, obviously, and can be afforded only by large companies with a flexible budget. But, this revenue strategy has great potential, because it helps brands attract a new audience and let them experience the company's story in the most interactive way, not just hearing or seeing it.
One of the main examples of marketing in VR is product placement . Merrell TrailScape – Virtual hike, for example, was one of the first companies to take advantage of the technology. Their VR experience was designed as a part of the Merrell Capra launch campaign to fully showcase the capacities of their hiking shoes. This marketing move has reached about 500K people globally and received a positive response from the Merrell fans.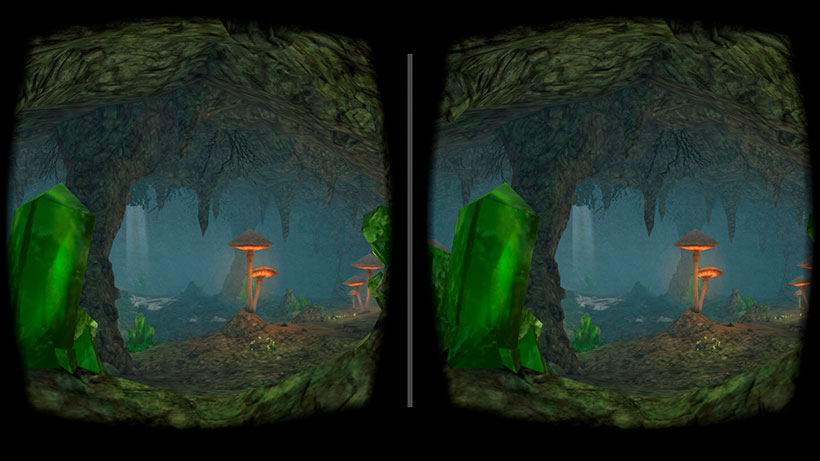 Desktop Apps
While mobile applications are holding their market-leading position and gradually squeezing out other platforms, many businesses still prefer using desktop solutions in daily operations. Although the majority of companies choose mobile platforms to advertise their products and services, for some advertisers, desktop apps are still a primary consideration.
If you faced an issue of making money with your desktop app, you should consider in-app advertisement first, because it allows for generating the highest income not only for mobile and VR products but the desktop solutions, too. With ads appearing in desktop-based programs, advertisers significantly boost the outreach across the users. Desktop app developers and publishers make a significant profit from ads appearing within their desktop solutions from relevant clicks – the more clicks, the more money it will bring.
Also, there are many platforms available on the market that help to monetize desktop apps through advertisement. Being a reliable technical partner for many businesses, we always help our clients to make the right choice and integrate the best matching ad monetization platform into their product.
Which Way to Go?
App developers are mastering new monetization strategies and use a mix of different business models to provide the best user experience and generate an extraordinarily large ROI. There is no such thing as ineffective revenue models. Each product requires a specific monetization strategy that can make it extraordinarily lucrative. The choice is always yours to make, and, of course, we can give you a few tips to consider.
Internal ads are a solid choice for almost any application regardless of a platform and a category it belongs to.
IAP are most profitable for games, entertainment, and educational apps.
Paid applications that actually bring significant profit are often serious desktop apps used in everyday operations, e.g. financial or medical software.
Subscriptions and IAP can also be used to generate a profit from games, communication, and music applications.
Turning to a conclusion, the profitability and success of an application depend not only on a monetization model; however, these are still key success factors that should be selected carefully — long before the development starts.
When developing mobile, VR, or desktop solutions, our team always delivers a product that is designed according to customer's requirements and meets the highest quality standards. If you'd like to make your app a remarkable success story, feel free to tell us about your project.
Want to get more stories to your email?