On February 2016, Ukrainian Digital News published a report with a  far-reaching overview of the current state of IT industry in Ukraine. The report called Ukraine the best country for IT outstaffing that has great energy, strength, and potential for success. Ukraine managed to create one of the most fast-growing communities of IT professionals amounted to one hundred thousand.
Along with the need for qualified IT specialists, the global market share occupied by the Ukrainian workforce is growing every day. Despite the political situation in the country, Ukraine has become home for more than a hundred R&D facilities of global corporations in a vast gamut of industries, together with thousands of local IT companies that provide qualified outsourcing services worldwide. Among the most popular areas of IT outstaffing gaming, e-commerce and software industries are leading.
Ukrainian developers demonstrate high-level proficiency in a wide range of technical expertise. A significant part of them work on mobile, game, web and software development projects. However, by working with Ukrainian companies, clients can receive a broad spectrum of services from IT consulting to full-cycle development using a variety of programming languages. Moreover, a great number of companies recently started to focus on complex engineering solutions for enterprises.
The report encloses the valuable information about Ukrainian IT ecosystem and special aspects of doing business in Ukraine. Over the years, our country has considerably improved its status at the international market and became the center of interest of multinational companies. Thanks to huge amount of the workforce with a strong technical background and comparatively low taxes for IT businesses, Ukrainian IT sector continues to be an attractive playground that provides favorable conditions for cooperation to both companies and employees. The most alluring Ukrainian talent pools according to the report are Kyiv, Kharkiv, Lviv, Odessa and Dnipropetrovsk.
In addition to an exhaustive collection of data, the report is featured with enchanting case studies of universal collaboration, clients interviews and testimonials from all over the world. Representatives of software R&D companies shared stories of successful cooperation with Ukrainian developers who have found affordable solutions to their specific problems. Moreover, the report provides a detailed overview of IT outsourcing companies across different regions of Ukraine. Program-Ace was mentioned as a #1 mid-size local company with headquarters in Kharkiv.
The report states possible difficulties that may arise while building a fruitful partnership with Ukrainian companies and working under outsourcing projects.  The most commonplace issues are covered from both Ukraine-based service providers and international customers points of view. These people have made bold to share their experiences and give recommendations for further elimination of these problems. Furthermore, the report includes far-reaching advice from finest legal experts for multinational companies about how to organize a business in Ukraine and protect their rights. Finally, it also contains draft contracts and agreements that should be signed by all parties that are participating in the collaboration.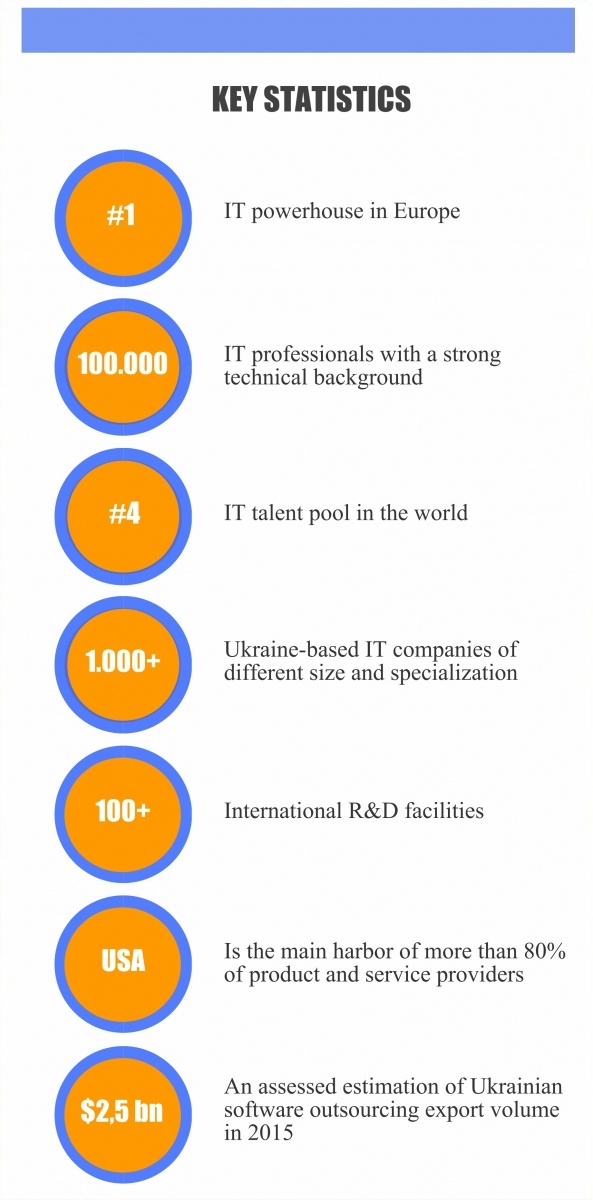 Program-Ace is delighted to observe that Ukraine is turning into a multinational globally-integrated country which is recognized as an honorable member of the worldwide IT market. Our company is a trustworthy representative of Ukrainian developers diaspora and provides a broad range of qualified IT services, including, but not limited to the creation of complex enterprise web systems, 3D solutions, game and software development.
Want to get more stories to your email?