IT outsourcing has become a common practice for businesses of any size and industry: for example, around 90% of G2000 companies outsource some of their IT operations to third-party vendors. The range of outsourcing services is huge, allowing enterprises to leverage external expertise to solve their critical problems. At the same time, the variety of technical challenges companies face pushes IT vendors to come up with different engagement models and cater more precisely to the specific needs of every client.
Software development is one of the most popular requests businesses have. When a client comes to a software development outsourcing company, they usually encounter several options on how to cooperate with a vendor. So how to choose an engagement model for software development that will suit your business? This article will help you find an answer to this question and comprehend better the alternatives that your company has.
What is an Engagement Model?
In software development outsourcing, an engagement model definition stands for a framework that determines the relationship between the client and the vendor during their cooperation. Over the years, the industry has come up with a range of engagement models that have become a common standard adopted by software outsourcing vendors. Of course, every company adjusts the details of a particular model according to its capabilities and specifics, but in general, the majority of vendors use the same system of engagement models when offering their services.
Engagement models for software development services define the next aspects of vendor-client collaboration, as responsibilities, obligations, standards of execution, control, accountability, flexibility, ownership, and terms of project implementation — basically everything that establish the level of vendors' involvement and allocate responsibility between parties.
Software development services imply a wide set of initiatives, and every company's needs differ in terms of what gap in their internal expertise or resources they want to fill.
Therefore, it's almost impossible to reduce software outsourcing merely to the point where a vendor just gets a confirmation of cooperation and gets to work. To ensure that a client is satisfied with the services provided and that delivered solutions are up to superior quality, vendors leverage engagement models. They allow for generating more value for customers, as well as clarify the cooperation conditions at the very beginning and set correct expectations of collaboration.

Different Types of Engagement Models
The list of engagement models is pretty extensive, and this variety allows businesses to choose the most comfortable type of partnership. We gathered the most common engagement model examples to help you find the most suitable one for you.
Time & Material Model
Time & material is one of the most popular models you can find on the market of software development services. It is often opposed to fixed-budget contracts, which suggest that a price for software solution development is determined from the start and won't change. In turn, the time & material model implies that a client is paying only for the work done at an hourly rate.
The time & material model will be a good fit for companies conducting long-term development projects with unclear scope and dynamic conditions. At the same time, to get a proper result, a client needs to invest their time and efforts in cooperation, engage in development planning and synchronize with a vendor for a common goal vision.
Pros of the T&M model:
enhanced flexibility and ability to implement changes to the project scope without losing money;
high level of control over the project's progress and decision-making;
an opportunity to shape software requirements along the way and with the help of industry experts.
Cons of the T&M model:
low budget planning, as you can't predict the final price of the solution;
high level of vendor involvement and the need for constant communication with a vendor;
unclear deadlines, as the timeline and scope aren't definitely established.
Dedicated Team (Outsourcing)
A dedicated team is a model when an outsourcing company provides a specialized development team exclusively focused on your project. Within it, the selection of software developers is based on the specific requirements of the client and they are managed directly from the outsourcing company side. A client pays a monthly fee that covers compensations for the full-time team members as well as a vendor's fee for administrative expenses.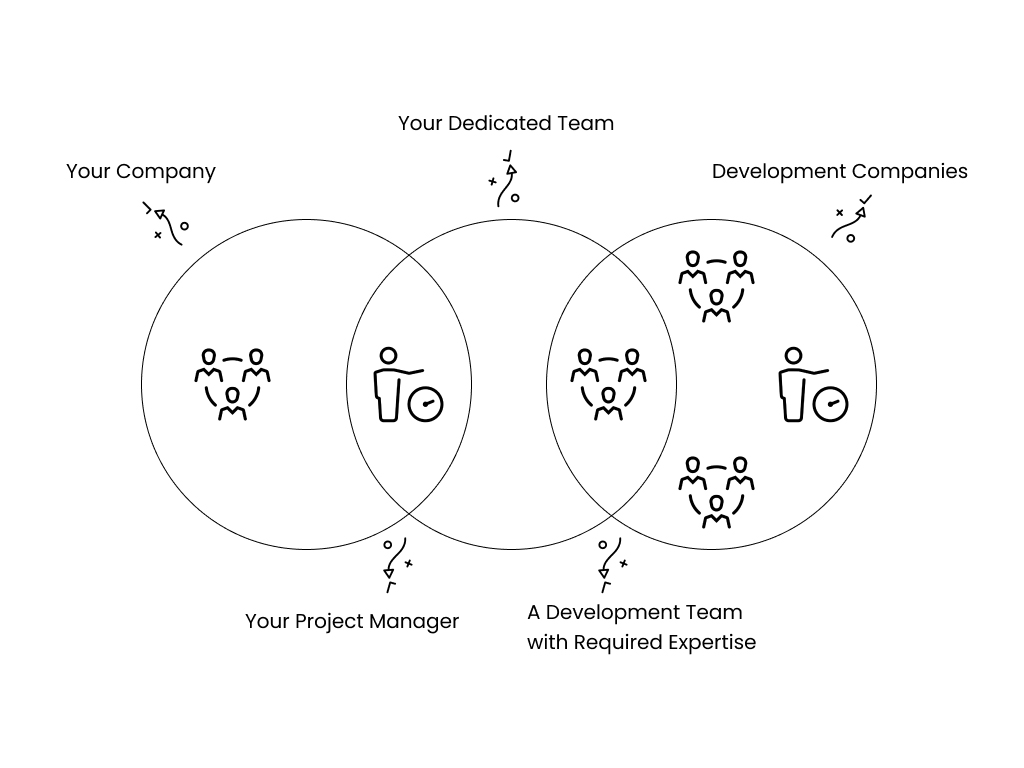 Dedicated software development teams can include various specialists, namely front- and back-end developers, UI/UX designers, 3D artists, QA specialists, DevOps engineers, business analysts, project managers, etc. A service provider can pick up the necessary people from their pool or recruit new ones for you and supplement the team with the required expertise. In the dedicated team model, the client doesn't recruit the necessary specialists, as this responsibility goes to the selected outsourcing partner. Your vendor might already have a talent pool they can onboard to your project, or they start hiring and interviewing potential employees on the client's behalf.
The dedicated team model is typically suitable for long-term projects or ongoing development needs and entails the service provider taking on the responsibility of project management and all administrative issues, eliminating the need for hands-on management by the client.
Pros of the dedicated team model:
stable and predictable budgeting;
high speed of software development life cycle, as the team fully focused on your project;
high level of control over project management and progress.
Cons of the dedicated team:
prolonged project start, as the vendor might need time to staff a team accordingly to the client's needs;
not applicable for short-term projects;
the client needs to have a detailed vision of its final product to get the maximum value.
For example, Program-Ace has a pool of 120+ experts across a wide range of skills and competencies. This wealth of expertise enables us to create dedicated development teams that are precisely tailored to meet the unique requirements of our clients.
Outstaffing Model
Outstaffing, also sometimes called staff augmentation, is the model that allows businesses to quickly expand their team with necessary specialists through cooperation with a vendor. Instead of going through the traditional hiring process, a company can sign up for an outstaffing contract with a software service provider and onboard outstaffed specialists into its in-house team.
In the outstaffing model, tech specialists work as full-time employees on a client's project, while being employed by a vendor. The latter takes care of administrative aspects of developers' employment, like compensations, benefits, equipment, etc., while a client only pays an agreed-upon fee. The outstaffing contract can be valid for any period and will be a great aid to companies that need to onboard specific tech experts into their team as soon as possible.
Pros of the outstaffing model:
quick scale-up or scale-down of your in-house development team;
access to a wide range of specialists with different industry and technology knowledge;
full control over the outstaffed developers' work and an opportunity to manage them on your side.
Cons of the outstaffing model:
language and cultural barriers in case of hiring specialists from other countries;
high level of responsibility for the success of cooperation;
the challenges of remote work, namely the difference in time zones between your in-house team and outstaffed specialists.
In an outstaffing model, the client has full control over the team's composition, roles, responsibilities, and project priorities. The outstaffed software developers are under your direct supervision, and it is your responsibility to use their skills to suit your business goals best.
Hybrid Onshore-Offshore Model
While researching the phenomena of outsourcing, you can encounter terms like onshoring (outsourcing to a company located in the same country as a client), nearshoring (outsourcing to a company located in a neighboring country), and offshoring (outsourcing to a company located in a distant country). Every option has its upsides and downsides, but the IT industry has come up with a hybrid onshore-offshore model which minimizes the disadvantages and generates the most value.
This vendor engagement model works the next way: a service provider handles strategic tasks and management onshore, whether by posting its employees to the client's site or from their onshore location. In this manner, a vendor helps its client to identify requirements and build a plan on how to cater to clients' needs. Then, the development process goes to the offshore part of the vendors' team, thereby optimizing expenses.
Pros of the hybrid onshore-offshore model:
smooth and reliable communication with a vendor;
a perfect balance between cultural fit and cost optimization;
higher software quality and faster time-to-market.
Cons of the hybrid onshore-offshore model:
increased need for a reliable partner with strong management capabilities.
What Engagement Models does Program-Ace Recommend?
Program-Ace strives for providing a superior customer experience and helping our clients reach their goals through custom software development. Therefore, we offer several business engagement models that allow us to cater more precisely to the unique requirements our clients have.
Project-based model: you have defined the requirements or scope of your project, and we provide you with a development team to implement this part of the work.

Dedicated team model: we assemble a team of hand-picked developers and other tech specialists who dive into your project on a high level, while you remain in control over the team's capacity, project management, working hours, and deadlines.

Outstaffing model: we provide you with required tech specialists who join your in-house development team as full-fledged team members to fill the expertise gaps you have.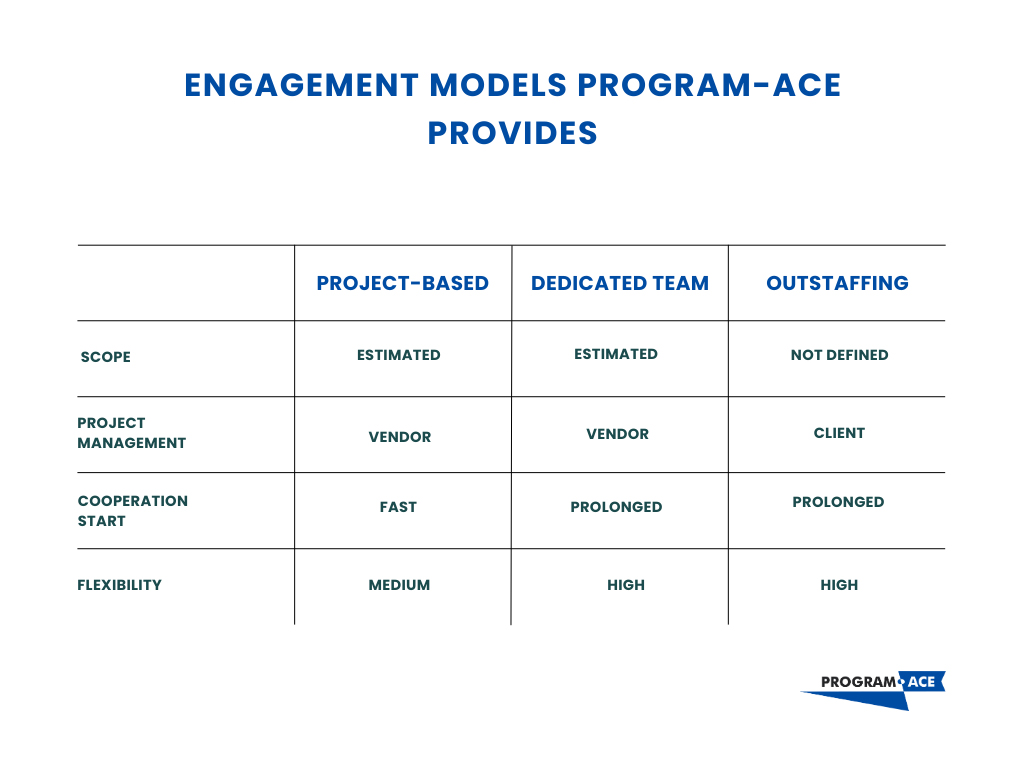 Program-Ace Approach to the Engagement Process
As a leading custom software development company with decades of experience, we know how to establish cooperation to deliver maximal value to the client. Our wide industry and technology expertise allow us to suggest the most suitable tech stack for your project, as well as tailor the development process to the specifics of your business and your development.
Contact us to initiate a partnership and strengthen your business with the help of our technical expertise. Our managers are ready to provide you with the necessary info on the variety of engagement models we offer.
Want to get more stories to your email?
FAQ