If we were to browse through the vacancies on a popular headhunting site, there is a fair chance that at any given moment, a large portion of them would target Angular developers or specialists that know this framework. Considering the massive improvements that Angular has brought over the highly-respected AngularJS, it's no wonder that Angular + (or version 2, as it is also known) has taken off like a rocket. With the increase in demand, the number of such specialists has also skyrocketed. And so, with countless companies looking to hire Angular developers and thousands of developers ready to lend their services, how do you make the choice?
This is precisely the question we want to answer. To get the best combination of cost and quality, you should go into the hiring process with relevant and helpful knowledge, which we are here to provide.
Best Business Models to Hire Angular Developers
Developers can be hired for a wide variety of needs: from simple tasks that need to be carried out to long-term employment on major projects. To accommodate all these changing needs, multiple business models have been popularized.
Individual specialists
Full-time hires. As the name suggests, these hires will be putting full work hours into your projects and working towards long-term goals. If your company is predominantly focused on software engineering, it might make sense to hire such experts for planned months or years, but they are hardly the best choice for a company with fluctuating needs. Given the amount of effort and paperwork that traditionally goes into hiring full-time, it is recommended to reserve this option for people you expect to stay with the company for years to come.

Freelancers. Freelancers are among the most scrupulous people on Earth. That this, when it comes to time. Everything is either tied to hours or a set amount of work. Thus, they are brought onto projects in a limited capacity. Though freelancers tend to be the most flexible in terms of what they are expected to do, they are also the most unreliable. Thus, any freelancer agreements that are not backed up with contracts or paperwork run the risk of leaving one party at a loss if the other decides to quit a project.

Dedicated specialists. In terms of commitment, dedicated experts are just a tad lower than full-time hires. Although they are not contractually bound to work for your company for an indefinite period of time, they are committed solely to your project's success. This means that they do not have any projects on the side which they split their hours to, and are solely focused on delivering your project(s). This is a very flexible model that allows businesses to release specialists the moment that they become unneeded.

Contact Us
Team models
From a practical perspective, it makes much more sense to hire several specialists at once in a team. This way, you do not need to negotiate salaries and work conditions individually, and can quickly fill positions with true professionals.
Team extension. Even when you have a base assortment of specialists for a project, you will often need team extension as a project grows and its scope also grows. Thus, a team extension is an addition of several specialists to an existing team. They may be chosen to fill a gap or carry out a majority of the work, but their success will always hinge on effective communication and interaction with present team members.

Contact Us

Dedicated team. the name suggests, dedicated teams have a sole commitment – to the project. Thus, they are hired to work towards a unified set of goals, with no deviations or distractions along the way. For a better understanding of this approach, we can look at the dedicated business models offered by Program-Ace:

Time + Material
Fixed cost
Hybrid
Time/budget cap

Contact Us
What Knowledge Should Angular Developers Demonstrate?
Experience is obviously a very important factor to consider when choosing a candidate, but a list of where a person has worked and how long does not give an accurate picture of their qualifications. Thus, it is a good idea to also test their knowledge in some way. Here are some key things that programmers in this field should know:
Core JavaScript and Web technologies

Apart from the obvious need to know the framework, coders should also have profound knowledge of the other building blocks of the web. The biggest of them is JavaScript, the language that powers much of the internet and which Angular was tailored to. HTML and CSS are also indispensable in this regard.

RxJS

RxJS is a library that should be known to all Angular developers worth a damn. Not only was it used to build the framework, but using it, programmers can make their code easier to read and shorter. It includes over 125 operators, but a basic understanding of Angular only requires about 12 of them.

NPM

NPM is a popular package manager closely tied to Node runtime and used extensively by developers. It provides them with numerous coding tools and helps them publish libraries and components. NPM is also used to package Angular and its many components.

TypeScript

Typescript is a programming language – the one used to build Angular. In fact, it is a version of JavaScript with several advanced features suited for the framework. Programmers often choose to write their code with TypeScript as it provides a smoother experience, but the code must be transpiled into JavaScript before it can run in a browser.
Costs to Hire Angular Development Experts
Given the difficult work of coding and the long period of training for professionals, you can expect big costs when it comes to paying developers, but there are ways to minimize them. Firstly, you can apply different business models, such as establishing an Angular developer hourly rate and handing out the work in increments. However, the most effective and large-scale way of cutting costs is hiring from a labor market with low average rates. Below are the average annual salary levels for these specialists in different countries:
| | | |
| --- | --- | --- |
| 1. | USA | $95,000+ |
| 2. | Germany | $50,000+ |
| 3. | UK | $50,000+ |
| 4. | Poland | $24,000+ |
| 5. | Ukraine | $15,000+ |
It's important to note that rates are higher for developers with more experience, so the figures above are the low end of the spectrum. As you might have noticed, Eastern Europe has very affordable rates, with Ukraine being particularly lucrative. Indeed, this country has an incredible amount of skilled specialists, and hundreds of operating studios and IT companies. These factors make it a great choice for both hiring individual experts and teams.
Steps to Hire Dedicated Angular Developers at Program-Ace
Our company puts great value in transparency and keeping customers informed with any and all information that might be helpful to them. Thus, we can describe how the process will go if you choose to partner with us to add Angular developers to your project.
Contact us
Every great partnership begins either with prior acquaintance, a surprise meeting, or one side reaching out to another. Thus, you can reach out to us with a short message to get the ball rolling. There is no commitment in a message, and you can just send a question or let us know that you want to learn more and we will 100% respond. If you prefer a phone call, Skype message, or another communication channel, it can certainly be arranged. We have multiple contacts available on the company website.
Discussions
Once our companies have made contact, we can start looking for common ground – areas where partnership is possible. In the context of hiring developers, this means discussing which types of specialists are needed and what they will be working on, the team structure, project duration, etc.
Finalizing a deal
If we agree upon terms of cooperation, the deal can be finalized through paperwork. We will make sure that the wording is clear and the terms match those that were discussed. Furthermore, we are prepared to supply additional agreements beyond contracts, such as NDAs and privacy waivers.
Onboarding
You can trust us to choose the right candidates for your project or opt to actively participate. For example, you can get a roster of available candidates and conduct interviews or share specific criteria if the existing selection is insufficient. In this case, we will be sure to quickly find more suitable specialists from our local market. Once the final selection is made, the candidates will go through onboarding and prepare to take on your project needs.
Development
Once the work begins, you can count on our specialists' dedication to quality and achieving results. We know very well that most projects have a lot of moving parts, and any individual factor can cause delays and bottlenecks, so we try to be flexible to accommodate changing conditions. Thus, if you need to extend the timeframes of work or rehire specialists, we will do everything we can to make it happen. For full projects entrusted to us, we will continue providing maintenance and support even past release.
Why Choose Program-Ace?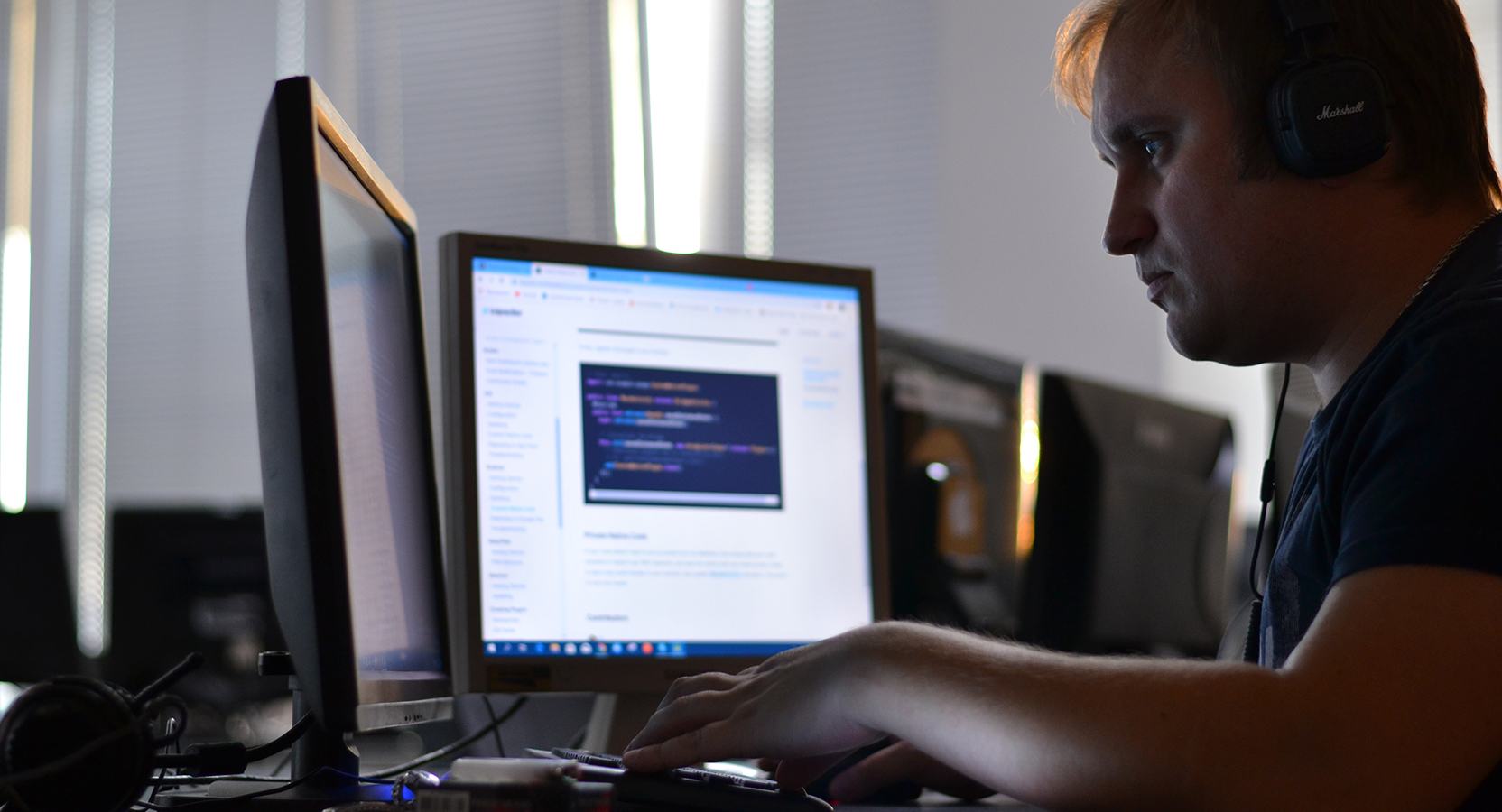 You might be wondering, what makes our company special and sets us apart from others on the market. Well, we have several answers for you:
Decades of experience. Our company has been operating since 1992, and these decades have allowed us to branch out in many exciting directions. Our specialists have tackled various forms of software development and created applications for over a dozen platforms.
A flexible approach. We are very customer-focused and ready to adapt to changing project needs, whether this means extending the duration, adding new team members and specialists, drastically changing the vector of development, or catering to other major changes.
A large selection of specialists. With over 120 specialists in our staff, we can provide a wide range of specialists – developers, PMs, QA engineers, designers, and many more. We can even assemble whole teams to handle projects from start to finish.
Protection of your privacy. We make it easy to keep our cooperation private and confidential. With NDAs and other documents, anything produced by specialists will be your intellectual property and the affiliation of our companies can be kept secret.
Business development assistance. We have a talented team of business development managers who can analyze your business and competition, come up with strategies and recommendations, and otherwise lend a helping hand for your project's success.
If we have caught your attention and you want to discuss possible cooperation, just contact us. We look forward to hearing from you!
Want to get more stories to your email?