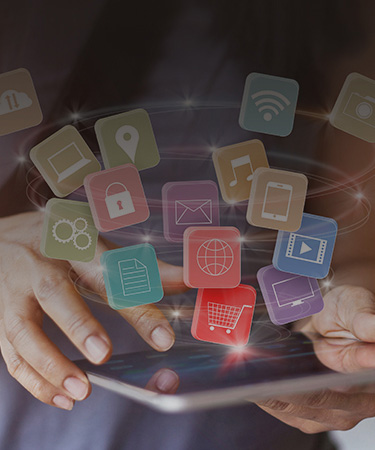 Mobile Development Services
Drive the enhanced customer experience and increased business efficacy across mobile devices
Program-Ace is determined to help businesses implement an effective enterprise mobility solution that allows for taking advantage of connectivity and accessibility. We build a multi-platform strategy that addresses company's pain points, using a pool of both native and hybrid mobile developers, UI designers, testers, and one of the largest Unity development teams in Eastern Europe. Our all-around experience with most popular mobile platforms, extensive expertise, and unique talent allow us to make your mobility idea come true.
Why Choose Program-Ace for Mobile Development?
Custom development for iOS & Android
We create top-of-the-line mobile apps with innovative thinking and solid teamwork. This includes creating native apps with amazing performance, versatile cross-platform apps, and even hybrid apps designed to take full advantage of browser capabilities. Besides fulfilling business goals, they are built with performance, reliability, and efficiency in mind.
Broad experience with enterprises
We work closely with businesses to understand their needs and create tailored app experiences for them, whether the users are employees or ordinary consumers/other groups. Our enterprise apps are built based on years of experience, input from business development experts, and of course, the company itself. They can be truly game-changing in modifying and improving various business processes.
Fast, secure & scalable approach
Working with us, you will surely be impressed at the speed and efficiency at which development progresses. That is not to say that the speed will cause any loss in quality: we will go above and beyond to provide the mobile experience you need and make it highly secure. It will also be crafted with future changes in mind, so you can scale and add new features at any time.
Groundbreaking UI/UX design
Our company shares many of the same values pertaining to design as the most prolific tech companies around today. Thus, our talented team of UI/UX experts will make it a top priority to ensure intuitiveness and ease of use in your app. We put our extensive knowledge to the test in each project, and craft user experiences that leave truly spectacular impressions.
Maintenance and support
One thing that differentiates our company from most others is our dedication to projects even past their release. We offer long-term support for projects whenever needed, and do not hesitate to perform updates and perform maintenance. Some of our clients have been cooperating with us for over a decade on their app-related projects. In fact, long-term support is something that we routinely provide.
Custom development for iOS & Android
Broad experience with enterprises
Fast, secure & scalable approach
Groundbreaking UI/UX design
Maintenance and support
What We Can Do For You
What We Can Do For You
Mobile App Development
Development of high-performance, cross-platform apps with rich, intuitive UI and fast backend has become one of Program-Ace's key activities. Our mobile development department provides consulting, development, and testing services for mobile projects to introduce high-end mobile applications with a scalable architecture and optimized performance for businesses.
UI/UX Development
Platform independence, when an app does not depend on a particular device or platform but is adjusted to fit your business needs, implies a highly-scalable UI and superb user experience. Handling visual and interaction design and mobile app branding, Program-Ace makes your mobile application stand out in the supersaturated market. Besides, we know for sure what button, icon, font, or style will be perfect to place in that corner.
Enterprise Mobility Consulting
We help businesses develop and realize the most beneficial mobility strategy addressing their most critical pinpoints, helping them improve internal operations and ensuring solution flexibility.
Platform Strategy
Program-Ace helps enterprises build a flexible and effective platform strategy, which targets smart mobile devices and connected gadgets, embracing the company's contemporary and potential business needs. We specialize in cross-platform development (Unity, Xamarin, HTML5, Cocos, etc.) and build native applications (Objective-C, Swift, Java) for popular mobile platforms (iOS, Android.)
Custom API Integration
Our rich technical background and extensive programming skills allow for helping enterprises take advantage of public and private APIs, customizing them to fit their business. By developing mobile-friendly mobile applications with SOAP and RESTful APIs, Program-Ace will augment your internal operations and embellish the customer experience.
Mobile App Porting
Give your customers a familiar feel of your application by porting it to emerging and popular platforms. From envisioning to adapting to engineering, Program-Ace's porting services is a professional and impactful add-on to your mobility strategy.
Technologies We Use
Objective-C
Swift
Java
JavaScript
Unity
Xamarin
Cocos-2d
Program-Ace In Numbers
1992
Headquarters established
in Kharkiv, Ukraine
TOP 3
AR/VR Developers
(by Clutch)
TOP 100
Outsourcing
Companies (by IAOP)
TOP 10
Mid-sized
IT employers in Ukraine
800+
Successfully
delivered projects
What industry are you in?

Time to benefit from Enterprise Mobility Solutions!
Manufacturing
Manufacturing
Flexible and scalable mobile solutions designed for global manufacturers to facilitate digital transformation
Read more
FinTech
FinTech
Secure, mobile enterprise solutions that meet the evolving needs of the financial sector
Read more
InsureTech
InsureTech
Increase overall business efficiencies and productivity of insurtech with Program-Ace's mobility-powered solutions
Read more
AgriTech
AgriTech
We provide enterprise mobility solutions for agriculture to reshape crop production and cattle management
Read more
Education
Education
Comprehensive iOS and Android mobile applications that facilitates digital learning and improve student engagement
Read more
Automation
Automation
Custom mobility solutions for automation that include data integration and synchronization
Read more
Tourism
Tourism
Cross-platform mobile apps for trip planning, real-time booking, online reservation, and travel management
Read more
Hospitality
Hospitality
Cutting-edge solutions for leading and mid-sized players of the hospitality market
Read more
Management
Management
Enterprise mobility solutions for management help organizations secure and manage apps and content across mobile devices
Read more
Healthcare
Healthcare
Mobile apps for doctors and patients, online hospital managers, and multiplatform solutions for better care delivery
Read more
How We Did it Before
4.7
out of 5, according to Clutch.co, based on existing and past clients' reviews
The success of our clients and partners is our success
Program-Ace were a pleasure to work with throughout the development process. Even on our first project together, we were able to quickly establish a strong working relationship.

Ryan Courtier
Senior Producer, Hopster
GSN Games is completely satisfied with Program-Ace's technical expertise and the quality of services they provide. One of the projects we worked on together exemplified Program-Ace's attention to detail and extensive technical knowledge.

Stuart Lewis-Smith
Senior VP and General Manager, GSN Games
I would highly recommend Program-Ace for anyone, as their level of service is of the highest standard, and more importantly, people behind the company are an absolute joy to work with.

Ilias Vartholomaios
CEO & Co-Founder at Owiwi
Program-Ace and iQU work very closely together. It goes beyond a partnership; it is more like friends working side-by-side. Thanks to Program-Ace, iQU is able to perform and reach the goals month after month.

Reinout te Brake
CEO at iQU
Start A Project With Us
Tell us more about your business needs to help us serve you better. The more detailed information will allow us to route your inquiry to the most appropriate person in our team.
By sending this form you agree to our Privacy Policy. The information you provide will be added to our CRM system for further communication.
Let's work together
Tell us more about your business needs to help us serve you better. The more detailed information will allow us to route your inquiry to the most appropriate person in our team.
Program-Ace is an R&D and innovation-oriented software development company with 26 years of successful track records and vigorous growth on the IT market.
Contact US
Ukraine
+38 095 752 98 38
+38 057 712 21 80
3 Prodolna St., Apt. 47, Kharkiv, Ukraine
2, Kharkivs'ka embankment, Kharkiv, Ukraine
Subscribe
Stay ahead of the curve and get weekly updates on the lattest industry trends, tips, and news.
Thank you for subscribing!
You are now subscribed to the Program-Ace newsletter.
Discover more on our website:
Download the Full Case Study
Stay ahead of the curve