When you find yourself in dire need of Angular developers for your projects, there are a lot of options available to you. Certainly, you can make some quick hires from the first people you find, but you will be better off making a considerate choice based on the exact needs of your business, the state of the hiring market, and multiple other factors. If you take the choice seriously, it will help you get your project done quickly and with a high level of quality. We are here to go over all of the questions you may have and provide some guidance in your choice.
Looking to hire angular developers?
Which Hiring Model Will Be Best for Hiring Angular Developers
One of the biggest considerations in your choice of developer is what kind of terms they will be working under.
Full-time hires are specialists that you expect to need in the long-term and keep on your payroll for months and years at a time. While they are a relatively safe choice and used regularly by large software development companies, they are not a common choice, unless the company develops software on a continuous basis. If you operate on limited financial resources, there is little sense in hiring someone full-time when they will only be needed for a single project or task.
Freelancers are people who are there one moment and gone the next. They are paid to fulfill a measurable amount of work, and typically charge their own Angular developer hourly rate. While freelancers are generally easy to find, they are not the safest or most reliable option. Because most labor arrangements are made without contracts or paperwork, freelancers can back out of a project at any time with few repercussions. Additionally, their efforts may be divided between several projects at a time, so they may not deliver the best results in terms of quality and time.
Dedicated hires are an alternative model typically associated with outsourcing. According to this model, a business finds a developer partner with capable experts in their staff and hires the experts they need for as long as they need. These specialists do not divide their time and attention like freelancers and work exclusively on your project. There is also a contrast between them and full-time hires: though both models involve paperwork defining workers' responsibilities, the dedicated model is more flexible, allowing the workers to be released when they are no longer necessary or more workers to be added to the arrangement if the project demands it.
Additionally, development partners can offer whole dedicated teams, which include multiple developers and other specialists necessary to deliver a project. If your business constantly deals with changing staff needs and financial cutbacks, the dedicated developer/team models offer you the perfect way to remain flexible in hiring while cutting costs.
How Easy is it to Find a Dedicated Angular Developer?
It's no walk in the park. Though Angular is easily one of the top 3 JS frontend frameworks and tens of thousands of developers use it, the overwhelming majority of them are not looking for new work or work in freelance. As for dedicated developers, there are hundreds of companies that provide them, yet finding the right ones for your business needs can be a challenge. Hopefully, the tips we provide for your search will make the process smooth and easy for you.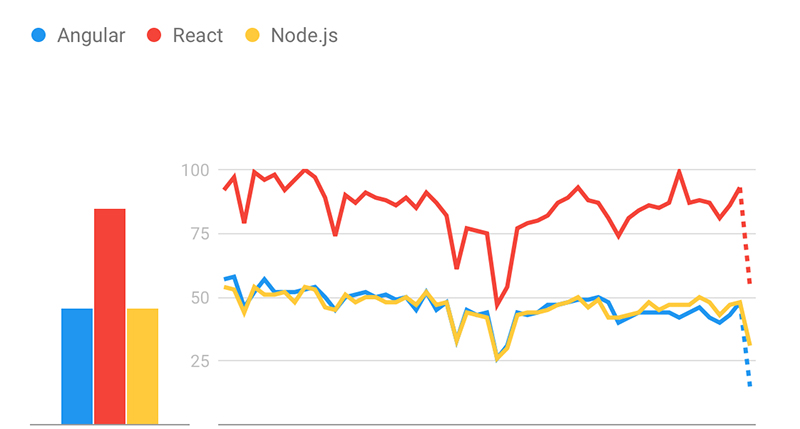 Follow the link to know the full list of differences between Angular and React.
Where can you find the top Angular developers?
You can look for dedicated Angular developers with good qualifications in multiple places and websites. One key point to remember is that you will need to contact and come to an agreement with the development partner that employs the developers before you hire them, so it will be easier to just look for a partner and proceed from there.
1. Recommendations and referrals
Though some businesses are hush-hush about cooperating with outsourcing companies, this is more a matter of what they share with the public than something they hide. Thus, if you know any other businesses that released or developed software recently, you can ask around about reliable offshoring development partners, and might just pick up a handful of good recommendations.
2. LinkedIn
This social network for professionals is an invaluable tool for connecting with colleagues and business partners. It also has numerous built-in features to help find Angular developer partners, represented by talented specialists and companies around the world. A lot of the information about a company (staff size, location, expertise) is available just from its profile, so you can effortlessly whittle down candidates and save loads of time.
3. Google
This might be a lazy suggestion, but it is useful nonetheless. Although a general search will generate thousands of relevant results, Google can be very helpful if your request is very specific, to the point where candidates need to have an unusual set of coding skills or a very niche characteristic (like working only on the weekends). With a very narrow Google search for unusual requests, you will have a much easier time finding candidates than anywhere else.
4. Research agencies
Some research agencies are focused on keeping track of offshore development companies, and they provide a wide variety of information that could be helpful to anyone looking for a reliable partner. They track customer reviews, showcased products, and news about thousands of customers, and often provide rankings of the companies that customers have rated the highest. Two of the biggest research agencies in this field are Clutch and IAOP. Both of these organizations announce annual awards of the best outsourcing companies across various categories and industries, but Clutch also features a convenient search interface and regularly-updated ranking system for thousands of companies all over the world. Based on the rankings, awards, and feedback gathered by these services, it can be much easier for you to learn about the reliability and reputation of development partners.
How Can You Tell Whether an Angular Developer is Good?
If you opt for the dedicated model, your development partner should provide you with an assortment of candidates that they believe meet your requirements. You can accept these candidates as-is, but it is recommended to take a look at their qualifications and become involved in the selection process, possibly even conducting interviews. So how will you be able to tell whether a candidate is a good choice? Just pay attention to a few things:
1. Qualifications
Qualifications are the easiest to assess, since most of the relevant information can be collected from a resume. Take a look at the candidate's work history – which companies they have worked at and the size, reputation, and specialties of those businesses. Naturally, it is also important to consider the duration of their work in certain positions and their achievements during that time. Finally, education, courses, and certifications in a resume can give a better understanding of a candidate's knowledge.
2. Personal qualities
If you get the chance to interview and talk to potential developers, this should help you get a reading of what kind of people they are. Personal qualities and characteristics are very important to the selection process, as they will determine how well the person works and how well they cooperate in a group setting. The attributes and qualities to look for are good focus and attention to detail, effective communication skills, honesty, creativity, and passion for problem-solving.
3. Knowledge
Although a resume can give you a first impression of a developer's knowledge in Angular or other languages, it is only a collection of words. You can verify the level of knowledge and mastery of a specialist by talking with their previous employers and coworkers, or even better, by testing them yourself. These tests can be theoretical or practical in nature, depending on what type of knowledge you want to verify. A skilled Angular developer will have good theoretical and practical knowledge of the following:
Core JavaScript, Angular, HTML, and CSS
RESTful API
RxJS
NPM
CLI (Command Line Interface)
TypeScript
What are the Steps to Hire Dedicated Angular Developers?
Although hiring dedicated developers is typically a speedy affair, there are multiple steps to the process:
1. Contact and discussion
Once you have found a development partner that might work for you, you can contact them and open discussions. The partner learns about your business needs and the conditions under which the new developers will be working. If both sides come to an agreement, they can move on to the next step.
2. Candidate selection
At this stage, the outsourcing company can pick out suitable candidates from its existing staff or quickly hire an Angular developer from the job market if they stay within the agreed timeframes. In turn, you can choose from the experts they like, possibly conducting interviews or calls with the top contenders.
3. Finalizing paperwork
When the developer(s) is chosen, the terms are finalized through a signed agreement, and the partner providing the experts organizes their future working hours. In some rare cases when relocation is necessary, they take care of the travel and living arrangements.
4. Onboarding
Developers learn everything they need to know about a project and prepare to dive into the work. If they are to work in a team, this is also the time when they meet new team members and start using the communication channels approved in the terms.
5. Start of development
Once the developer starts working, their stay on the team or project can be extended or shortened based on your changing business needs. Furthermore, the number of dedicated devs can be changed in either direction, or a complete dedicated team can be brought onboard. Their participation in the project can be halted at any moment.
Angular Developers for Hire at Program-Ace
In your search for the right Angular experts to join your project, we hope you will consider Program-Ace. Our company is focused on research and software development in many niches, including web applications, mobile gaming, AR/VR/MR solutions, and through the dedicated model. With over 120 people working at our company, we are able to accommodate the needs of any company working with different technologies and platforms, including Angular. This includes providing individual dedicated developers or an entire team that can deliver a project from start to finish.
Program-Ace has been involved in this field for over 26 years, and it has allowed us to become a true market leader. For example, our status as one of the best partners in outsourcing and development has been recognized by Clutch, IAOP, and other research agencies for many years in a row, and we are still growing fast. We have great experience in working with companies of any size from startups to large enterprises, and providing them with extra-mile solutions that not only bring projects to fruition, but also help their businesses thrive.
| | |
| --- | --- |
| Issue | Solution |
| Looking for a product development on Angular? | Hire us to develop your product from scratch. |
| Looking for developers to join your team? | We are ready to plug-in remotely with our dedicated team. |
| Looking for a team with experience of startup development? | We have a team dedicated exactly for this needs. |
| Having another issue? | We are waiting for the description of your issue to start solving it. |
If you want to learn more about our services or discuss how quickly we can get developers started on your project, just reach out to us. It will be an honor for us to contribute to your success!
Want to get more stories to your email?