We are happy to announce that Program-Ace was recognized as one of the Top 100 outsourcing companies in the world by IAOP. It is a visible acknowledgment of the hard work we invested in 2019 and the success that followed.

This is the fourth consecutive time that Program-Ace is recognized as one of the 100 best companies in the world for outsourcing. We are incredibly proud of maintaining such a level of excellence from year to year and making a visible impact in the world of software development.
The awards were given out based on a thorough analysis conducted by IAOP, and the final list contains some of the biggest companies in the world, such as the giants Deloitte and KPMG. Since 2009, IAOP regularly published two Top-100 lists – one for advisors, and one for service providers, before opting for a unified list in 2020. Thus, the companies listed in it are the cream of the crop in advisory and providing outsourcing services.
The evaluation of companies for this award was based on various criteria, including the companies' recognition in their industry, programs and practices that create value for customers and an optimal working environment for workers. Several factors have pushed us to the head of the outsourcing pack, including our dynamic work ethic and dedication to meeting customers' business needs. However, the biggest factor was likely innovation. Our focus on new technologies and emerging markets has allowed us to broaden our expertise and branch out in new directions.
"Program-Ace is not just a company, it's like a huge family that works together every day to build on past work and accomplishments, as well as to help our clients build their business and grow. These efforts by the whole Program-Ace team have allowed us once again to stand among the finest software development service providers", – said Oleg Fonarov, CEO at Program-Ace.
The Program-Ace team wants to express our everlasting gratitude for such a distinction, and will do its best to continue achieving new milestones and remaining at the top of global software development for many years to come.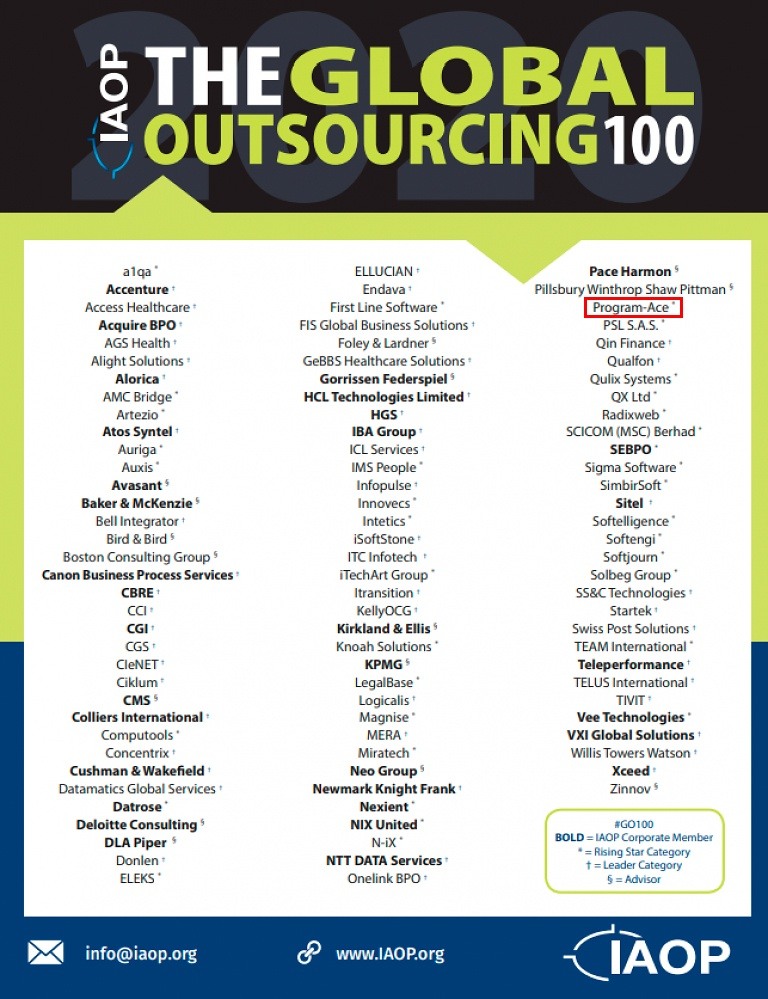 Want to get more stories to your email?