Program-Ace recently attended the ITEC annual international conference that focused on military training, simulation, and education. Our company also exhibited at this world-class event and had the opportunity to demonstrate our virtual and augmented reality solutions.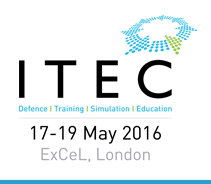 We have found great excitement when showcasing our fully-immersive educational simulations and military training created by means of virtual and augmented reality and discussing the capabilities of working on upcoming projects. The Program-Ace team is delighted to be recognized as the crème de la crème among vendors of military training solutions. We were happy to make a lot of new friends and business partners among the reputable forum attendees and our colleagues from the ETSA community.
The ITEC conference was a great opportunity to plunge into such an incredible atmosphere and be introduced to advanced development technologies, top-notch virtual and augmented reality solutions and innovations for defense and military markets. Program-Ace reporter Anastasiia Bobeshko asked our representatives, Kate Luzhyna and Oleg Fonarov, to share their impressions from ITEC international.
Oleg Fonarov, our CEO, remarked:
The industry of virtual training is now experiencing extraordinary growth and is considered to be one of the most promising. Representatives from military and educational facilities gathered at ITEC to discuss new industry trends and share the latest developments and innovations. We have been amazed by the quality of products and solutions presented on the market for training and simulation. On the other hand, Program-Ace representatives were surprised that we were among a few AR/VR training development companies at ITEC.
Kate Luzhyna, our Business Development Manager, also stressed:
This event is a perfect opportunity to see the future of the training & simulation industry, learn about new development tendencies and, of course, to demonstrate the company's products and find new clients!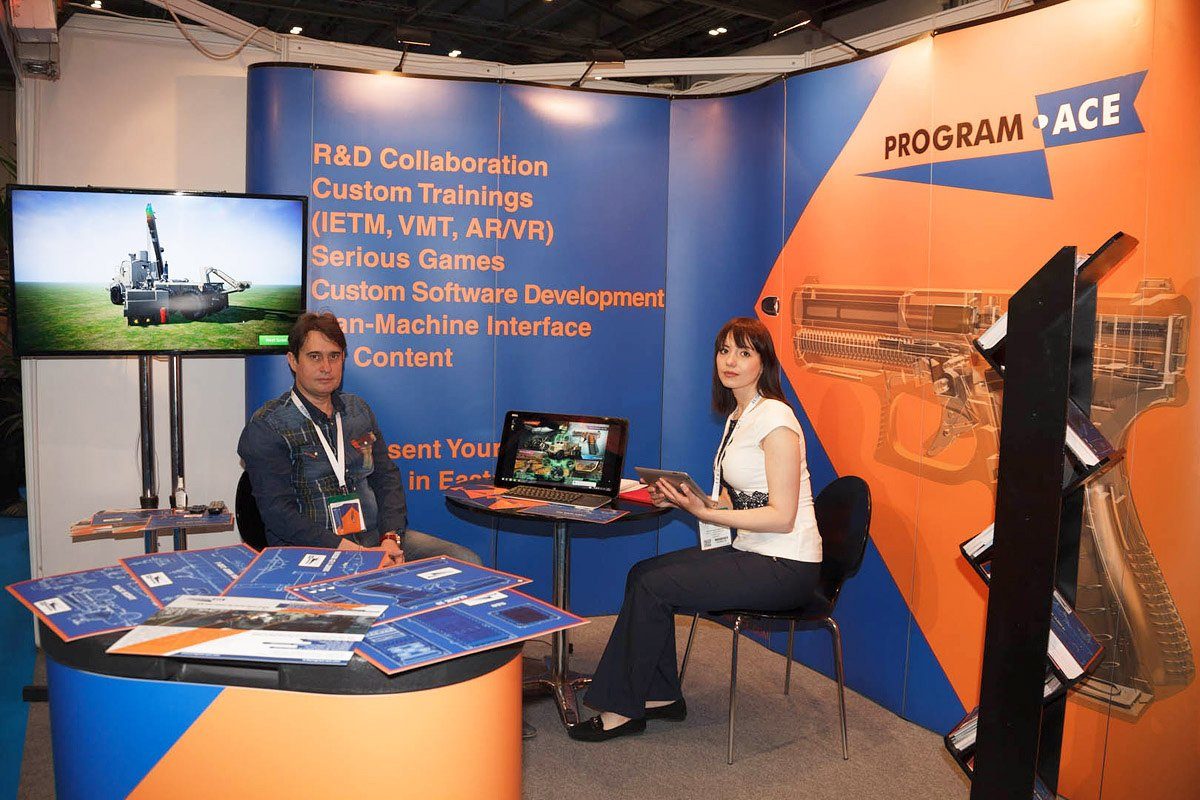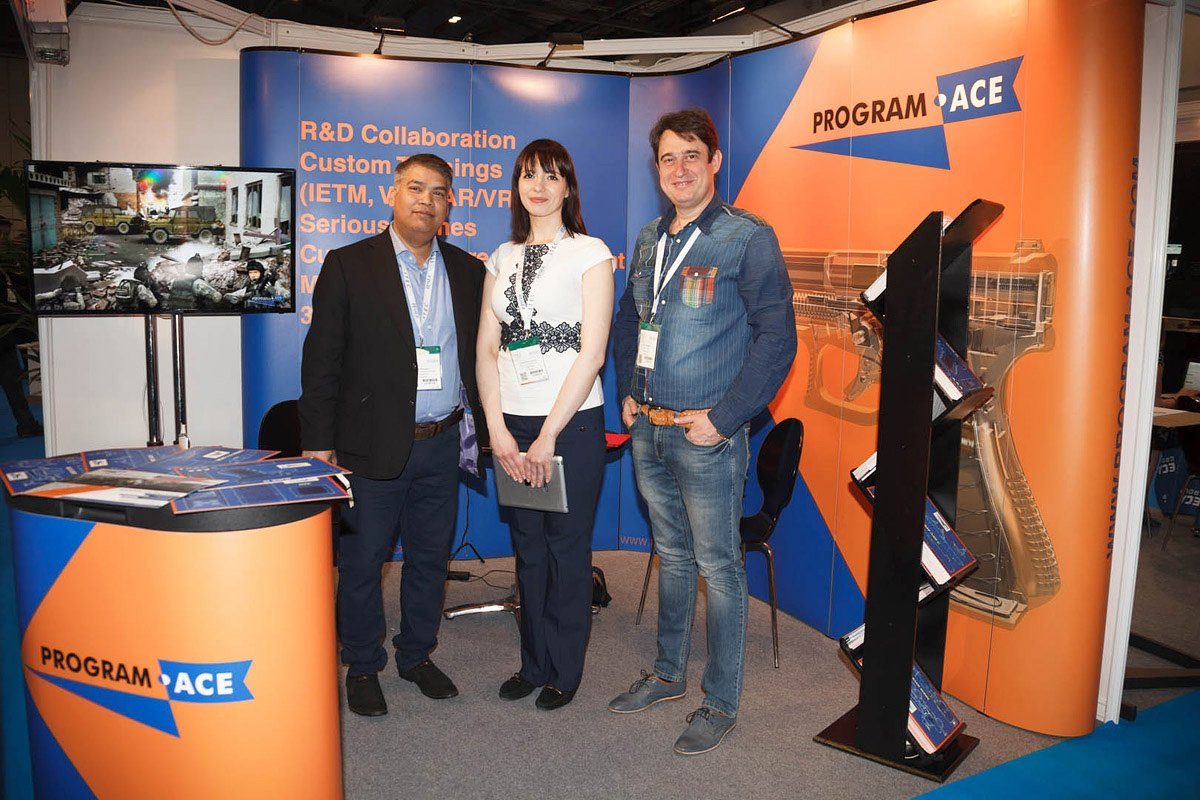 In addition, Oleg Fonarov commented on the current state of the training industry in the following way:
AR/VR still has a pretty limited practical usage in virtual training and simulation because it is still expensive and requires a lot of custom development. For that reason, Program-Ace is a great AR/VR development partner as the company has the skills and technologies that are necessary to increase the efficiency of the development of both Interactive Electronic Technical Manual (IETM) and large-scale training systems.
Furthermore, Program-Ace had been acknowledged by a lot of military and government organizations, and our stand had an endless stream of potential clients. The ITEC attendees have appreciated our augmented reality solutions and our demo videos of military and industrial training. Mr. Fonarov commented this success:
I think that ITEC 2016 that was held in London gave Program-Ace a good base for further development and improvement.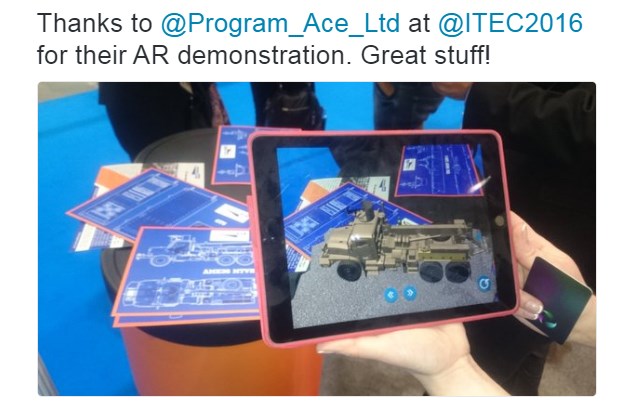 We have been honored to be a part of the International Training and Education Conference and had an opportunity to feature our innovative virtual training solutions. On behalf of the company, we are grateful to all the participants, organizers, and visitors for such a warm welcome. See you next year!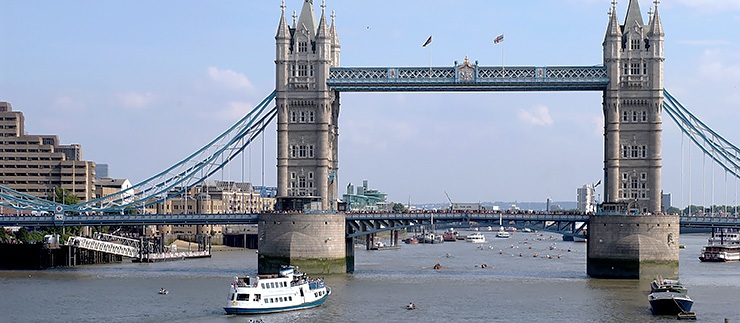 Want to get more stories to your email?