This is the third of our proprietary research that emphasizes the prominent examples of usage of gamification in education and simulations. The first two parts (part 1, part 2) of our study feature twelve options of how to transform a traditional training into a powerful educational tool by adding gamification features. The talented team at Program-Ace, an experience gamification company, pointed out important gamification trends and highlighted the efficient examples of using gamified training in business based on practical experience the team has gathered over the years in the industry. The third part of the gamification research will summarize the main points and draw the conclusion in some universal advice that will allow for applying gamification strategies in simulation and training in an effective and persuasive manner.

Gamification typically involves applying game design thinking to non-game applications to make them more fun and engaging, – Gamification Glossary
For the past months, the topic of gamification has been getting the increased attention of the press. Thanks to an ability to add something unusual to something familiar, this technology is used by – without exaggeration – all popular brands and companies not only as a part of different trainings but as an inbound element of promotional and marketing campaigns, social interactions, community involvement, and so on. Companies often come up with innovative ways of applying game elements in different activities to increase employees' motivation, create healthy competition among team members, encourage customers to engage with the company, etc. However, to be honest, even if you chooses to use the standard techniques of gamification in business, it will still get better results, while being mindful of the goals. Below, Program-Ace has collected a list of solid recommendations for bringing fun game elements back to business training.
#1 Overcome Old Prejudices and Welcome New Changes
Nowadays, traditional training and the educational system have already admitted to being outdated. However, the industry is full of prejudices and misconceptions and, therefore, its reform occurs bit by bit. The very first step to gamify business training is to break free from all superstitions and accept the fact that in order to be effective and engaging, education should change. The training should not destroy human's natural curiosity, but the way around, it must support and encourage it. So, why would one design a training in a way it actually kills any intensity and interest? Do not be afraid to revolutionize the industry – even if your ideas might sound weird for someone, they still can make the education process immersive and effective – and this is what we all are searching for.
#2 Impact the Intrinsic Motivation
Probably the most powerful and beneficial gamified learning creates compelling scenarios with game features to ensure an immersive experience while teaching them the necessary lesson. Program-Ace recommends training and development professionals to choose a technique that will refer to the inner motivation of company employees and focus on how to motivate them. The perfect start is to consider training as an actual game, as well as all participants – instructors, trainers, and trainees – as actual game characters — like sages or heroes, according to their role. This simple approach is a first step on the way to revolutionizing traditional assumptions of practicing by applying gamification in education in order to provide an exceptional experience for trainees.
#3 Develop an Incentive (Reward) System
If your training, for instance, gamification app, involves several stages, courses or lessons, you can gamify the education by allowing trainees collect small achievements such as badges, prizes, coins (or other in-game currency), unique items for special collections, etc. — in other words, visual representations of a skill or achievement. This practice not only helps you to engage trainees in the learning process but also increase their faith in his/her own strengths and encourage his/her aspirations. Moreover, among other gamification techniques, it will be useful to allow learners see the full picture of the path ahead of them.
All of that is being done to create a ranking that can inspire learners to practice more in order to unlock more challenges and be ahead of other trainees. At this point, this incentive (reward) system provides guidance and supervision throughout the educational process.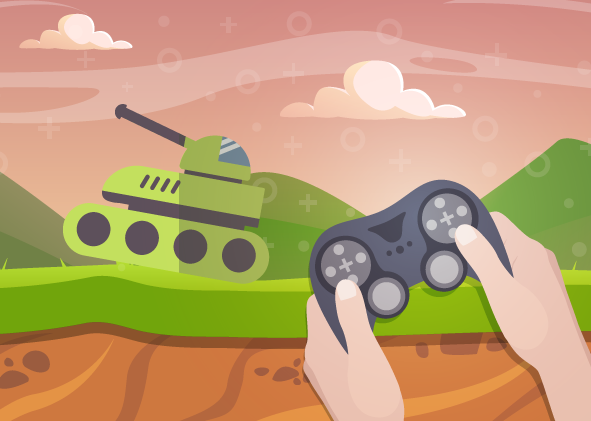 #4 Empower Learners to Be Heroes
Trainers and educators know firsthand that a game is the most effective way of memorization, education, and development. Typically, gamified education involves certain tasks of different complexity that requires intelligence, dexterity, skill, and persistence to fulfill. And in most cases, users are treated as protagonists, when the whole gamified world revolves around them. It is a good thing, though, it is not enough for the practicing to be educative, engaging, and thrilling. By using game-like thinking, training engages learners and solve certain problems. In other words, trainees should feel like they can fully control the learning process – set personal goals and objectives, analyze the failure and feedback, etc. Learners should be given the maximum possible influence on the training so they can feel like heroes and the creator of their own destinies.
#5 Let Trainees Challenge Others
We suggest that there is nothing much to be said here. It is a well-known fact that by competing with other people, trainees become more engaged and inspired and master the training program much faster and be much more effective. By illustrating their progress and showing how well they perform among others, you efficiently educate trainees and elegantly get them involved and to come back, again and again, in order to strengthen their knowledge. Gamified education provides a unique ability for humans to gain and advance their skills while doing their favorite thing – play games.
#6 Concentrate on Tacit Knowledge
Play is an absolutely natural way of learning. For instance, in the animal world, little creatures learn how to hunt, survive, and defend their territory through a game organized by their parents to teach them about adulthood. In general, games provide a perfect structure for training and explain the rules in a way that will be clear and understandable. Moreover, it helps learners to stay motivated and engaged.
Practically speaking, tacit knowledge is something that you cannot explain because it is not the part of traditional learning as we used to understand. Nevertheless, for companies and businesses, this knowledge is the most important thing that helps increase the overall productivity and efficiency of workers. Games ensure the engagement of learners into the business processes, facilitate the acquisition of the essential education, and encourage employees to stay motivated and professional.
Of course, every business needs a special approach when it comes to applying gamification into its traditional training. Sometimes, it is not always easy to make the education engaging and efficient by using business's proprietary resource. Program-Ace, one of top gamification service companies help our clients find perfect solutions even to the most complex training issues. We hope this set of articles and our out-of-the-box gamification services will help you to explore new company horizons and make your business a stunning success.
Want to get more stories to your email?