This is the second part of an article that features fruitful use cases of gamified elements in training. In the first part, Program-Ace experts explained how game-based characteristics can change the effectiveness and immersiveness of training and transform the learning experience into something deeply engaging. Our professionals share the company's personal and industry-specific insights about effective ways of using game elements in the learning process. The second part of the article will continue just below the line the first part drew.

Option 8: Use Engaging Games to Resemble Real-Life Experiences More Practically
Even though it might sound weird, the application of popular game genres such as RTSs (real-time strategies) and MMORPGs (massively multiplayer online role-playing games) can help developers to create an unbelievably real and immersive 3D world that allows for safe and effective training. This environment provides an opportunity to practice lifelike situations in a threat-free surrounding. Although learners train within a safe environment, simulation makes them believe they are in a real world and the emotions they experience are real (which they are.)
Basically, any military training uses this method to design an effective virtual simulation and teach soldiers how to behave in different situations. For the most part, these virtual trainers contain all the essential elements of gamification such as competition and rewarding of the winners, goal-setting, and the abilities to track trainees' actions and to "level up" within the simulation, for instance, be promoted.
Of course, there are a lot of custom elements to meet one or another training objective, but, in general, by using virtual simulations, soldiers obtain skills necessary in a warlike situation and improve the ability to communicate with other team members.
Another great example of applying an engaging game in order to facilitate the learning process is Marriott hotel's game to recruit management staff. Gamification elements allow for learning of main processes and operations inside the hotel, checking how far they can go up the career ladder. Employees experience the challenges and difficulties that hotel managers are faced with on a daily basis. Thus, they learn through playing and are more likely to show good work performance after having played the game.
Option 9: Use Gamification to Increase Productivity
Games not only teach us how to behave in certain situations, thanks to our inner competitive spirit, but they also help us boost our performance and achieve better results. Marketing and Sales like no one else know how important efficiency is and how hard it is to manage several projects at once.
In order to help the marketing and sales community learn how to manage time, resources, and projects effectively, Baydin created a special email tool that provides a perfect platform to master how to handle massive email flows and develop decision-making skills. This online platform uses game-based elements to advance productivity. For instance, the service has a 3-min time limit that you, as a trainee, have to spend responding to emails. Moreover, the tool has an algorithm that follows your actions and determines how you are figuring out what email requires an immediate answer and what can wait. In the end, you can be rewarded if you have managed to maintain your workflow quickly and effectively and answered all emails. Using this tool is good practice for employees in order to boost team productivity and develop time-management skills.
Option 10: Reward Users for Even the Smallest Achievements
Despite conventional wisdom that praises spoils people, the practical experience of combining games and training proves this wrong. The perspective of prizes, badges or accomplishments is so enjoyable that it motivates trainees to continue learning how to earn these rewards. As soon as they collect some of the prizes, they feel proud. But not too proud, to be honest, because there are more rewards waiting.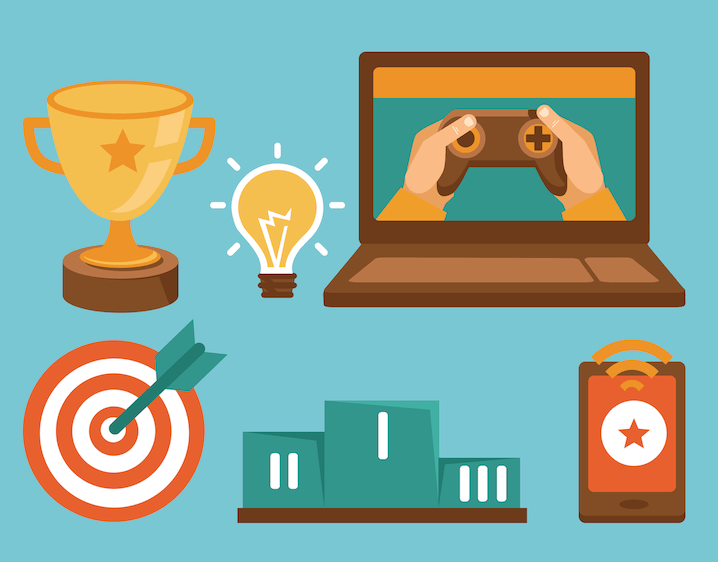 This technique is universally applied across the majority of the virtual training software, eLearning apps, and serious games. What would you like to have as an example? From eLearning, it is almost every application such as Duolingo, Udemy, Skill Pill, and Slyng. Serious gaming, for instance, for the military applies the reward policy to honor the soldiers that completed the mission or achieved outstanding results in some activity. The same story with virtual and online training. Pick any, and you will see that the budgets and rewards system is used everywhere.
The reasons why it so widely-used lay in the understanding of human nature, and Program-Ace advises you to use this nature to improve your virtual training. In most cases, mastering some skill is not a matter of two minutes or even one day. It is a long and difficult process (if we want to do it effectively) that can take months or even years. That is why training apps and software are designed the way they divide the learning process into small sections, each of which provides a certain amount of necessary information that our brain can absorb at a time. In order to keep the trainee focused on the task and keep him or her interested, after each of these sections, there are rewards, prizes, and badges that everyone can earn. That way, trainees look forward to continuing to learn and achieve new heights.
Option 11: Motivate Customers to Be Loyal to Your Company
For enterprises, companies, and even small studios, it is important to keep customers interested in their business and get them engaged in the company's activity. Moreover, they need to capture user-generated content to support the 'life' of the community and generate more profit. Exactly for that reason, enterprises use gamification elements.
Samsung, for instance, increases a customer's loyalty by rewarding them for being engaged in the community's activity (for example, reviewing and rating products or commenting in the Q&A section). Users can be awarded new achievements or badges that allow them to be more respected by other users and acquire the premium status that provides a lot of benefits. And this strategy has already yielded quite good results. Samsung Nation has already had millions of followers and around a million visitors per day; most of which register to become users after their first visit. The company inspires users to participate in company life and popularize it in society. Furthermore, users create quality branded content for Samsung, which has great value to potential buyers and search engines. In exchange for their social loyalty, the company allows members to have access to special offers, big discounts, unique content, and other community benefits.
Another bright example is Recyclebank that gratifies its users for doing environmentally-friendly activities on a daily basis, for instance, plant a tree or purchase a greener product. The service not only encourages users to take care of nature but also educates users by proposing them to complete a tiered test of Q&A, so they can acquire the necessary information about greener living practices. By working their way through the service, users earn points that they can later exchange for superior discounts in shops, supermarkets, cafés, and other public places.
Option 12: Implement Gamification to Improve the Business in the Long Term
We guess this is what everyone is looking for – to enhance all business processes – however, sometimes it is so hard to achieve. Program-Ace has a bit of advice on how you can implement gamification to improve the workflow and optimize the company's internal operations. One of the possible ways to insert gamification into your business is to ask your employees who work directly with customers, such as sales managers, project managers, etc. to listen carefully to their needs and complaints and without transferring them to another specialist to try to resolve the problem. Add a competition feature by introducing reward points. Choose the rules on how these bonus points will be awarded: for instance, give two points to those who resolved the customer's problem right away; give one point to those who transferred the client's question to the right person, and so on. Top performers can receive impressive bonuses, such as an additional paid day off or a certificate for any relaxation procedure (massage, facial, etc.). Those who are at the bottom of the leaderboard can have special lectures or courses that can help improve their performance and enhance their skills. Thanks to these gamification projects, a couple months afterward, a company can receive more positive feedback from satisfied customers, observe improved communication and friendly relationships within the team, and gain more profit since customer retention will increase.
Certainly, there is a universal panacea. The examples we collected comes from our company's experience and world-best practices. However, we did make the list of comprehensive tips that will be useful for every company that desires to implement gamification elements into their workflow or education or both. To explore new business opportunities, read the third part of the article, Gamification Elements in Training: Trends, Techniques & Strategies.
Want to get more stories to your email?