You've probably heard of such products as the Oculus Rift, Hololens, Vive, Gear VR, PSVR, and Cardboard. These are major Augmented/Virtual/Mixed Reality platforms that are popular today and available to consumers. As you might expect, some of the biggest tech companies in the world (like Microsoft, Google, Facebook) are behind them, but there is another name that would be fair to include among the platforms, and that is the Vuzix Blade. The Vuzix platform and company are hardly at the level of size and popularity as the other aforementioned platform, but it is making big waves in the AR/VR/MR market.
What is the Vuzix Blade?
Vuzix Blade is a set of eyeglasses with a built-in display and augmented reality features, among others. Augmented Reality (AR) works by overlaying digital elements and objects over real objects and settings in a visual interface. Thus, the glasses (labeled Smart Glasses by the creators) allow anyone wearing them to see the world around them through the glasses, but the display integrates digital elements into the field of view, which may be logically linked to objects in the field of view.
This product was created by the American company Vuzix and released in January 2019. Apart from Blade, the company has also developed several similar headsets in its M-Series of products, as well multiple related accessories. Vuzix Blade augmented reality smart glasses come in 2 variants – a default model (for everyday use) and an impact-resistant "Safety" model for industrial application.
Vuzix Blade review
"The Vuzix Blade sunglasses are excruciatingly close to achieving what Google set out to master years ago… truly augmented reality that not only keeps you connected but tells you more about the world around you."
Vuzix Blade Specs
At first glance, Blade looks like a pair of ordinary (if somewhat bulky) black sunglasses. Still, appearances can be deceiving, and there is a lot more to this product than meets the eye. Hardware-wise, it is quite impressive how much tech Vuzix has managed to pack into a pair of glasses. The ends of the glasses' temples house their batteries and haptic feedback device, while the side shields house a touchpad and the display engine. Accordingly, the lenses feature a transparent display and a camera. Finally, the frame around the lenses contains a MicroSD slot, noise-canceling microphones, and the operating system hardware. All in all, the Vuzix Blade Weight adds up to 90 grams (3.17 ounces).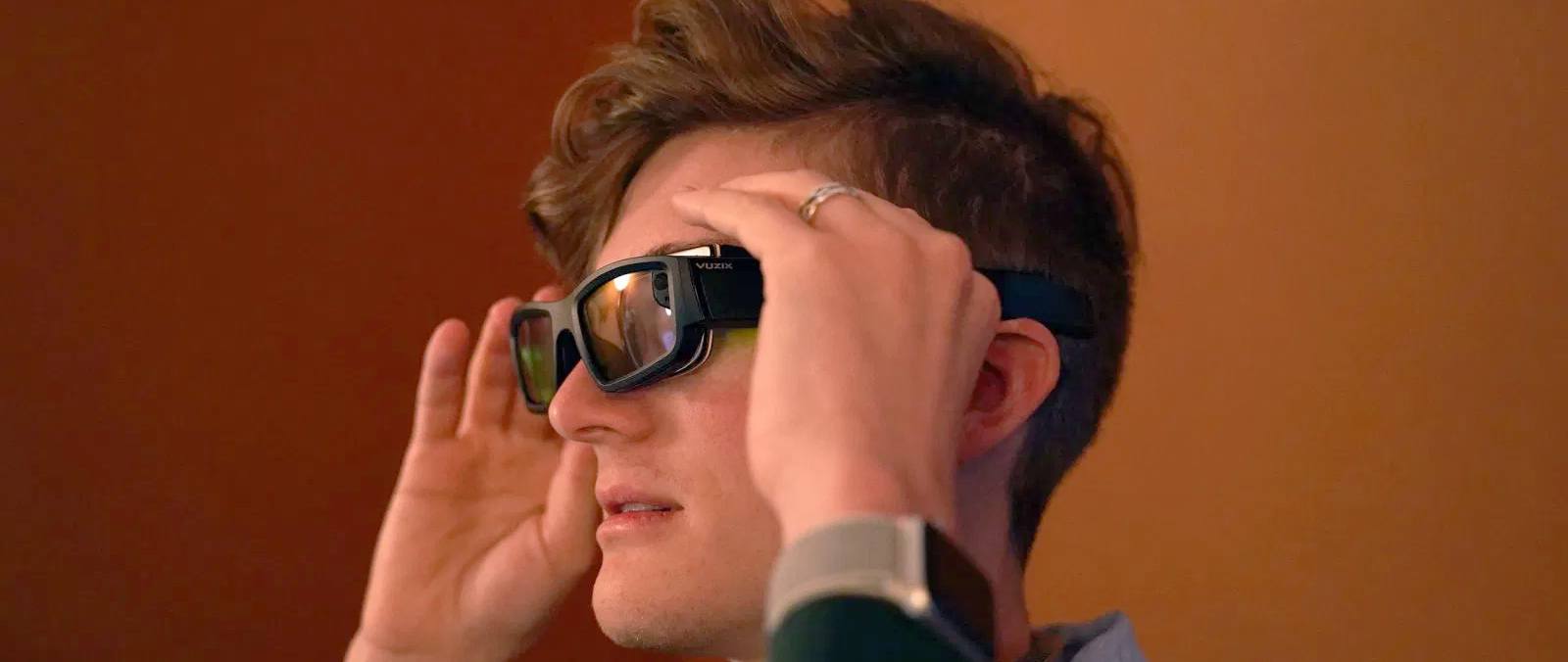 At the time of writing, the base-model Vuzix Blade Smart Glasses price is €912 (approximately 1013 U.S. Dollars). If a user has any sort of vision condition or problem, they can also buy customized prescription lens for an additional €190, which will suit them most comfortably and efficiently. The price points can be quite hefty for someone just jumping into the world of augmented reality, so finding a used Vuzix Blade for sale can be a viable alternative.
Looking past the hardware and price, we get to the real selling point of the glasses – their features.
Vuzix Blade Features:
The Vuzix Blade display resolution is easily one of its best features, as you can open a variety of top-notch apps and media files and view them in great detail. This is further aided by the impressive Vuzix Blade FOV, as the display can be moved around to different points on the lens, expanding the typical 19-degree FOV to a whole 28 degrees. Furthermore, apart from the standard functionality made possible by the hardware, the Android system and Alexa assistant software allow users to do so much more with the application.
| | |
| --- | --- |
| Screen resolution | 480 x 853 |
| Display | transparent |
| Camera | Fixed-focus |
| Field of view (FOV) | 19*-degree |
| Voice assistant | Alexa |
| Ecosystem support | Android |
| Control | By smartphone |
| Other features | Head detection |
Vuzix Blade AR Smart Glasses Development
The operating system running on the glasses is Android 5.1.1, so developing software for it is possible with 4 programming languages compatible with Android development – Java, Kotlin, C, and C++ . The company recommends developing software with the general Android Studio program, but has plenty of its own tools for developers, including a Speech SDK, a connectivity SDK, and HUD API. Potential developers can find all of the relevant documentation on the company's Developer Center pages.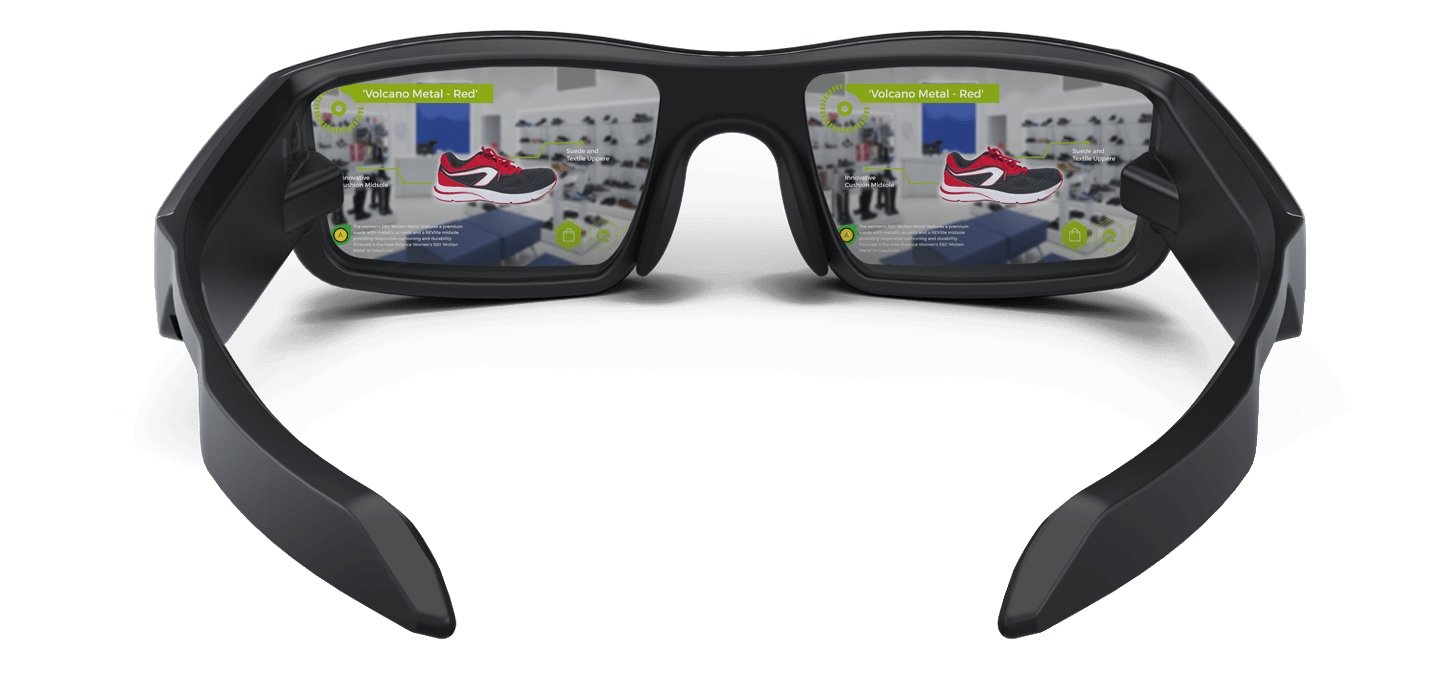 It is also important to mention that several other service providers have developed their own development kits for building applications for Vuzix Blade AR glasses that are compatible with their platforms. For example, Unity and Wikitude freely offer SDK downloads. Vuzix has also built proprietary applications (Commercial Edge Suite , the Companion App) to make it easier for users to manage the glasses and use them properly with their smartphones. All other applications currently approved for use with the glasses can be found on the company's App Store.
Finding a Vuzix Blade Developer
Over the past 10 years, Vuzix has been consistently developing and releasing new augmented reality products, and it's in good form to keep doing so for years. While not all of its projects make a big splash in the world of technology, nobody familiar with the Blade and previous models will deny the innovation and creative thinking that the company brings to the world of AR.
The company App Store already features hundreds of applications compatible with the glasses, but it is never too late to create more. If you are interested in developing a Blade project but lack the expertise to do it yourself, you shouldn't hesitate to hire a developer for the task. Program-Ace is one of the top augmented reality companies with a long history of software development. Our experienced developers have built applications for many platforms and devices, including those rooted in AR/MR/VR. Thus, you can count on us to develop your Blade application with the highest level of proficiency and dedication.
Want to get more stories to your email?