As recent events have shown us, in-person shopping is severely overrated. Any time there is a virus outbreak or other kind of crisis that challenges societal order, picking up groceries in a store becomes a chaotic and sometimes dangerous affair. In contrast, online and mobile grocery shopping was answering the needs and prayers of millions of people even before the current crisis, and has become a global trend now. Of course, the role of mobile devices in such solutions should not be downplayed, as grocery app development is at the vanguard of this rising trend.
Interested in grocery app development?
What is a Grocery App?

Although a grocery app can refer to any application connected to groceries, most of the time it means software intended for purchasing groceries remotely. Sure, you can find plenty of niche grocery shopping list apps, apps for analyzing products, grocery price comparison apps, etc., but we will be focusing on mobile applications that can be useful to anyone and help them purchase and/or deliver food items without ever visiting a store. While many companies have already developed such software, the process is not as easy as it may seem. Let's take a look at what makes these programs successful and how they are built.
Main Grocery Delivery App Types

In order for a grocery purchase and delivery service to participate, at least two sides must participate – the vendor (supplier) and the customer. Sometimes, there is even a third party – the delivery agent. Let's examine the main types of apps based on who hosts and provides these services:
For small/solitary stores

Most small businesses and stores that develop such software do it to provide convenience to their existing clientele rather than attract many new customers. The catalog of items tends to be highly accurate, with products matching exactly what you would find on the shelves and featuring detailed descriptions. Given that small businesses like these typically have a client base only in the hundreds, delivery is usually quick, yet limited to certain hours of the day.

For large store networks

Large store networks tend to be much more organized in their approach to online shopping, and they have several major advantages that make it easy. For one thing, the multitude of store locations makes it easy to provide top-notch availability for all items sold in the stores. If a product runs out in one store, it can just be shipped from another. Given the size of the store networks, these businesses can usually afford to keep a dedicated delivery team and deliver throughout the day via the app.

For diverse markets

Large marketplaces with many different vendors and shops sometimes unite to give their customers a unified shopping experience. Thus, several business owners will partner to build the program, and it will include purchasing features for several vendors rolled into one. Traditionally, the delivery service is also performed by a single person/group on behalf of the many vendors.

Couriers

Courier apps are not tied to any particular business or store. They are simply a service that lets you hire someone to do your shopping for you, regardless of the location. The couriers may be freelancers or work for the software owner who will receive your list of products to buy, do it for you, and get them to your door as soon as possible.
Benefits of Using a Grocery Shopping App
There are quite a few benefits that grocery apps offer to customers, making them a very appealing target for developers. We will be looking at these benefits in contrast with traditional in-person shopping and shopping through a website.
Speed

When you go to a store, it customarily takes 10-15 minutes (if not more) to get everything you need and check out. However, when you have an application, there is no need to walk the aisles or wait in line – you can make all of your purchases in the span of a few minutes. This also applies to delivery, as you do not need to spend time driving to and from your destination, and will only need to wait for someone to bring the stuff from the store to you.

Convenience

You can place your order from any location, provided that you have an internet connection. For example, if you're walking your dog in a park and suddenly realize that you forgot to buy some meat for dinner, you can make a few taps on your phone and have the food delivered by the time you get home or soon after. There is also the factor of time. You can place an order at any time, and will not need to adhere to working hours, though getting the food might take longer if you order during non-working hours.

Customization

Some retailers with their own apps have added cool customization features for users, allowing them to order specialty products that are not typically found on shelves. For example, this may be a custom cake for a birthday or some product that often runs out and is difficult to find. For large retail chains, the mobile catalog can include even more products than any single location, instead featuring products from all locations in the local radius.

Low risk

By shopping remotely, you are eliminating close contact with people, and everything that comes with it. You will not catch an infection from another shopper or get into any altercations about the last bottle of spring water. You will not need to fight over parking spaces or face the hazards of driving down busy speedways. Everything can be done in the comfort and safety of your house.

Organization

Programs are much more efficient at collecting, retaining, and organizing data than we are, so not using them for daily errands and tasks amounts to wasted potential. In food purchasing programs, you can often find your order history and look at the assortment of products (and total costs) that came from your past purchases. This makes it much simpler to compile lists for your next purchase and plan your budget.

Special offers

Ordinarily, it takes a keen eye to find active discounts and promotions when you are walking through a retailer. You have to look at the price tags or find promotional materials (such as coupon books or promotional stands) to find the items being sold at the best price point. Mobile software streamlines this process, and usually allows customers to find the complete list of discounts and promotions with just a few taps in the menu.
What are some of the Typical Features of Grocery Apps?
Every company that builds a grocery application puts its own spin on the project, but we can still point out some of the most popular and common features that appear in them. You can examine these features and choose which (if any) you want to implement in your project.
Typical features of grocery apps

| | |
| --- | --- |
| Feature | Description |
| User account | Each user logs in to an account with their name, phone number, address, and other details saved for quick order placement. |
| Multiple payment methods | Ideally, users get the option to pay immediately after placing an order (e.g. with a credit card or PayPal) or with cash upon delivery. |
| Delivery options | Sometimes, users can choose a specific time and date for their food to arrive, or pay extra for an extra-fast handoff. |
| Shopping Cart | Instead of placing multiple orders and getting items one-by-one, customers can place orders with many foods at once. |
| Order history | Clients can easily check their past orders and how much they amounted to. |
| Map | A map feature can show the nearest shops and track the arrival of their order. |
| Notifications | Smartphones and smartwatches can easily let shoppers know when their order status has been updated or action from their side is necessary. |
| Feedback | A rating system allows customers to leave product reviews for others to consider, and use others' reviews for their own choice. |
| Support | If any issues with the service come up, the software will usually include some support feature or way of contacting representatives of the company. |
What are the Best Grocery Shopping Apps Currently Available?
Before you build your application, it can be helpful to make sure that your approach to the business is original and different from competitors. For example, you can do this by downloading and trying out some of the top apps in this field:
Beelivery

Beelivery is an app centered on quick delivery (advertised within 60 minutes). It connects users to drivers who make purchases in your local area and track them in real-time.

HappyFresh

HappyFresh is an online marketplace in Asia that encompasses over 8 supermarket chains and 500 locations, presenting a unified catalog with promotions and convenient payment options.

Shipt

Shipt is a U.S.-based service owned by Target that allows customers to order from dozens of American retailers large and small, with shipping handled by a crew of over 50 thousand workers.

Peapod

Peapod is another U.S. service in this field. It offers hand-selected groceries, professional meal kits, and hundreds of discounts every day.

Prime Now

Operated by the online commerce behemoth Amazon, Prime Now offers blazing fast (1-2 hour) deliveries, courier tracking, and an unparalleled assortment of foods that can be purchased.
The Grocery App Development Process
Software development is no trivial task, as the process involves multiple stages, requirements, and substantial costs.
Stages
Every project of this kind begins with an idea and vision. You figure out what kind of product you want to make, and how it will be different from others of its kind. Afterward, you would normally sit down with a team of business analysts and discuss a business strategy for the project. Once the initial planning stage is complete, development and design can begin. This stage can take up several months, with the work done by developers being tested and revised.
Finally, the completed grocery home delivery software is released and marketed to the public. Please note that every business can have a unique approach to development, so there may be big fluctuations and differences between companies. For example, startups will also have stages of securing funding, while many companies will also add recruitment or hiring a dedicated team to the timeline.
Requirements
The biggest requirement that applies to the development of projects like this is good talent. You will need a team of qualified specialists to deliver a product of high quality in a tight timeframe. This includes developers, artists, QA Engineers, at least one Project Manager, and a range of other experts varying from project to project.
If you face a shortage of experienced specialists, you can always hire them or find a development partner that will bring a whole group or team on board. Additionally, you will need various hardware (computers, testing devices, hosting infrastructure) and software (coding, design, testing, etc. programs) to create your product.
Costs
Costs are quite difficult to generalize because each project is unique, but we can at least mention some of the things that go into the costs: salaries for staff, software licenses, marketing, hosting services, and presentation materials. Generally speaking, most small-scale projects add up to at least $10,000 in costs, while large-scale ones easily start at six figures and can reach millions.
Hiring Grocery App Developers
If you choose to hire a company to handle development for you or even assist with your project, it is vital that you make the choice carefully. Though there are hundreds of companies that do software development, few of them can boast of a sterling reputation, certified experts with years of experience, and prior work in the sphere of shopping applications. Program-Ace is one of the rare few that meet these criteria.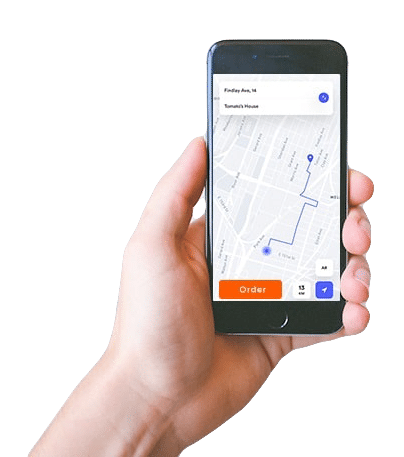 Our company has been building software for over 2 decades, and we have gained valuable expertise in multiple industries, including retail. For example, or past project Magrabi VR Store applied VR technology to provide users with a virtual shopping experience. Our developers are skilled at developing programs of various size and scope, so any project you have in mind will be interesting to us. If you want to see what we can do for each other, don't hesitate to contact us.
Want to get more stories to your email?