Program-Ace has released the new arcade-style game King of Juice for mobile and computer platforms. Using the latest mobile and motion tracking technology, it provides a twist on standard casual games by allowing players to use their hands – unattached to screen or controller – to adroitly push, slap, and flick fruit.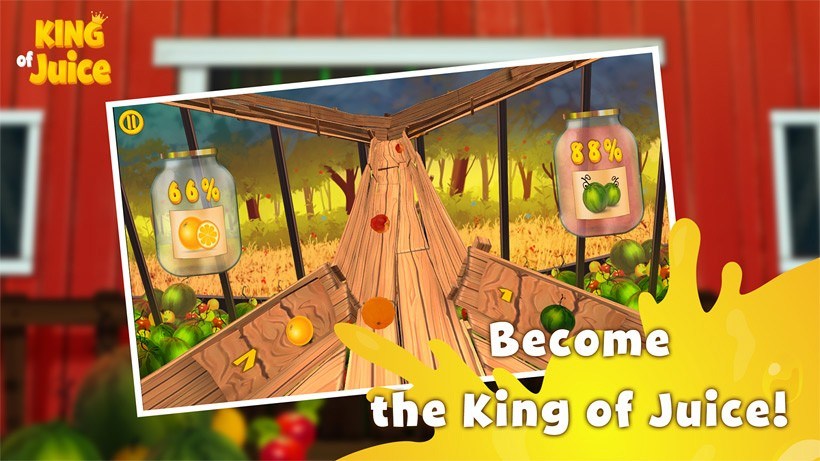 Our hero, Farmer Joe, was collecting fruit in his garden and orchard. Unfortunately, he was in quite a hurry and mixed them all together without paying attention. Worse still, among the ripe fruit, several rotten ones snuck their way in. The village where Farmer Joe lives holds a competition every year for the best fruit juice. The winner is crowned the King of Juice. Help our hero fix his mistake and become the fair lord of sweet bliss!
In order to get back on track and make prize-winning juice, Farmer Joe has built a contraption that allows the fruit to roll down to him so he can sort them. Your job, as the player, is to swipe them into the correct trough as they fall toward you. Designed for use with smartphones, tablets, and motion tracking devices, this "chore" is fast-paced, addicting, and utterly unique.
Motion tracking devices allow a computer to track a player's hand movements in 3D space. This, in turn, allows programs to attach significance to the gestures. This means that instead of clicking and dragging the fruit, you are actually swinging your hands through the air in order to smack the fruit into the correct trough. The higher levels of King of Juice become an almost acrobatic spasm of dexterity.
King of Juice can still be played on mobile devices and tablets without motion tracking devices. When played on these platforms, players sort the fruit using a finger-swipe gesture. In keeping with Program-Ace's specialty in cross-platform solutions, this game is available for iOS, Android, and Leap Motion.
Want to get more stories to your email?