Why Outsourcing Software Development to Ukraine is Safe
When it comes to full-cycle software development services and maintenance, custom world-class solutions and other high-standard IT services it's vital to appeal to strategic planning and smart resource allocation.
Time and financial resources are some of the most important assets that a business has. Allocating these essential resources wisely defines the future success of a company. In contrast, making poor decisions that are either time-consuming or expensive can run a company out of business.
There are many ways to gain access to industry-standard and world-class software development capabilities for a competitive price. One of these ways is outsourcing. Several countries have already proved themselves the best outsourcing countries of software development such as Poland, Ukraine, Romania, Hungary, the Philippines, and India.
In this article, we will focus on Ukraine as one of the most cost-effective and high-quality outsourcing countries of software development services.
Ukrainian IT market overview
Ukraine has one of the biggest outsourcing market potentials and is among the top outsourcing countries of 2018 in the IT industry. The outsourcing software development market in Ukraine is expected to grow consistently due to lack of effective demand for IT services inside Ukraine, according to the Kharkiv IT Cluster research report.
In Kharkiv, Ukraine, the relationships with foreign clients generate 95% of revenue for Kharkiv IT companies and freelance software developers with 65% of total sales related to North America.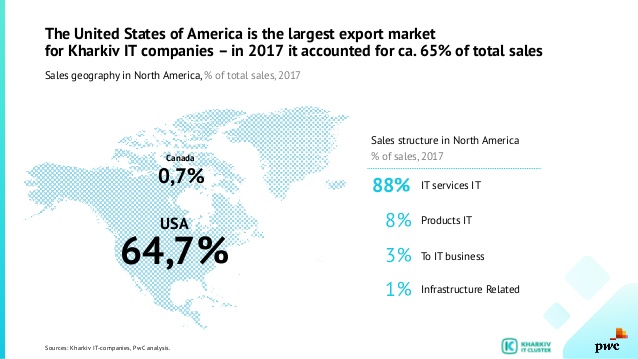 Kharkiv is one of the five leading centers in the IT industry in Ukraine. Other major IT cities are Kyiv, Lviv, Dnipro, and Odesa which have the biggest amount of IT specialists. There are more than 25,000 specialists in the IT industry of the Kharkiv region.
Kharkiv holds the second place by the most qualified IT specialists and makes up 14% of the Ukrainian IT market where Kiev constitutes 29%, Lviv 9%, Dnipro 8% and Odesa 5% of the market.
Education of IT specialists
Higher education in Ukraine is one of the most affordable in the world which helps the country to sustain an incredibly high level of literacy of 99.9%, according to UNESCO. It's 28% higher when compared to India, for example. In 2015, the literacy rate in India was 71.9%, according to Statista report.
Ukrainian universities produce over 640,000 graduates annually, 16,000 of which become specialists in information technology related subjects.
In Kharkiv, around 95% of specialists have a graduate degree. However, the university program constitutes only 46% of professional knowledge sources whereas self-education makes up 71%, according to Kharkiv IT Cluster research report. Because of the high-level of self-education among IT developers, they have developed one of the most diverse sets of interests and skills which is crucial in solving various development tasks and issues.
Ukraine puts a great focus on education this is why there are many world-famous scientific schools, a well-established system of specialized research institutions and technology development centers. For example, in Kharkiv, there are 3 leading universities which produce the most qualified IT specialists. The major universities are Kharkiv National University of Radio Electronics, National Aerospace University Kharkiv Aviation Institute and The National Technical University Kharkiv Polytechnic Institute.
Language proficiency and culture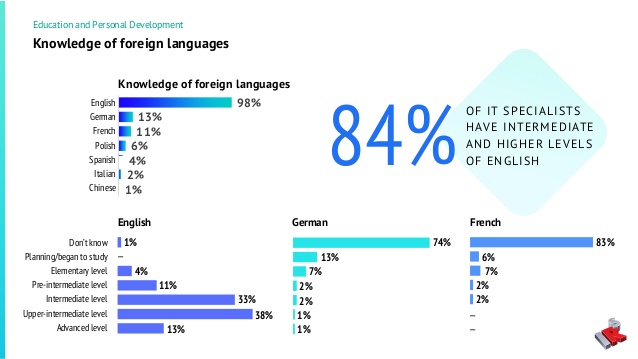 The English language proficiency among all people in Ukraine is 51% as of 2017. However, the situation among IT developers is different. In Kharkiv specifically, only 1% of IT specialists do not speak English at all while 84% have intermediate and higher English proficiency.
Outsourcing to Ukraine is a comfortable process because the culture mostly resembles the Western Europe culture and it's very easy to find a common language with Ukrainian IT companies. Another peculiarity of Ukrainian culture is that Ukrainians love to solve problems; most importantly, they love to take all the risks into account beforehand which is a key aspect of their responsibility.
Ukrainian IT companies continuously invest in internal and external educational programs, courses, training and other initiatives. In fact, the vast majority of the IT companies in Ukraine have in-house training programs to enhance specialists' knowledge so that developers qualify to meet the industry standards.
Keeping up with world-class standards is not an easy thing to do; it requires a lot of research and resources to build and sustain relationships with clients. When looking for an outsourcing company, it's vital to pay attention to their capabilities and project history.
Key advantages of outsourcing to Ukraine
Ukraine is the number one outsourcing destination in Eastern Europe because of the quality of the offshore and nearshore software development services.
There are several advantages of outsourcing full-scale development projects to Ukraine because of the geographical location, time zone, transportation, and other features. Here are some of the top reasons why you should outsource to Ukraine:
Suitable location. 2-3 hour flight from any major European capital. In Kharkiv, for example, a new airport was built recently which enables direct flights with Europe.
Easy access. A breakthrough for Ukrainians was the approval of visa-free travel to the EU countries which made Ukrainians closer to the EU. Also, no visas are needed for visitors from EU countries or the USA.
Equal standards. Business culture and management style has a similar mentality to that in Western Europe.
No language barriers. IT-specialists have a high proficiency in technical English.
Program-Ace is among the top 100 outsourcing companies worldwide
Program-Ace is a Ukrainian R&D company that provides software development services for a variety of industries using AR, VR, IoT, blockchain technologies. Program-Ace has two offices located in Kiev and Kharkiv, some of the major leading IT cities in Ukraine.
Program-Ace was named one of the top 500 leading B2B service providers in Ukraine and top 5 virtual reality and augmented reality developers by Clutch. Program-Ace was also featured twice in the list of the top 100 outsourcing companies worldwide by IAOP in 2017 and 2018.

We here at Program-Ace have been in business for more than 25 years and our expertise goes beyond full-cycle software development. We provide IT consulting services, business analysis, full-cycle market and technology research. Our clients and partners are happy with the services we provide and we are proud to cooperate with them. Some of our clients are Wargaming, Hopster, GSN Games, Digimation, Pixomondo, and Smart Eye.
Want to collaborate? Don't hesitate to contact us.
Let's stop talking business for a minute. Come closer, take a cup of tea, sit back and enjoy the beauty of Ukraine. Well, you haven't tried Ukrainian borsch yet. That's a whole different story…
Author: Philip Volna
Want to get more stories to your email?