Virtual reality, 3D virtual walkthroughs, and 360-degree apartment tours have already proven to be an effective part of a real estate marketing strategy. Despite the fact that 48% of brokers report that "keeping up with the technology" is the biggest challenge their agents face, 3D and virtual reality property visualization is gaining momentum among the most competitive agencies.
Even the recent adoption of drones to their marketing strategy helps brokers to sell homes 68% faster thanks to the comprehensive visual presentation of a property.
As we are a technology services provider that is getting numerous customer requests from 3D design, construction companies, marketing agencies who work both in residential and non-residential real estate, we've decided to compile an article on how your business can benefit from using 3D and virtual reality technologies for property marketing.
Implementing innovation in your strategy will help you:
Sell property faster before price reduction hits it
Shorten the time-on-the-market span
Increase the deal closure rate to the first-agent-first-client
Improve the decision-making cycle of your customers
Build authority with your customers and increase the upward payment rate
Win the competition race against other website listings, brokers, and agencies
Innovative solutions for a property marketing strategy
There are several types of virtual tours that you can implement into your property marketing strategy:
360 virtual tour or 3D walkthrough
3D floor plan
Virtual reality
Each of these solutions has its own benefits, use cases, and creation pipeline. For example, 360 virtual tours for real estate as well as 3D walkthroughs are easier to make since they require only professional images and a few drone shots (optional) while virtual reality tours for real estate would need a professional 3D artist who will develop the whole property design and plan.
Depending on the solution the costs of a real estate virtual tour may vary.
How a virtual 3D walkthrough for apartments works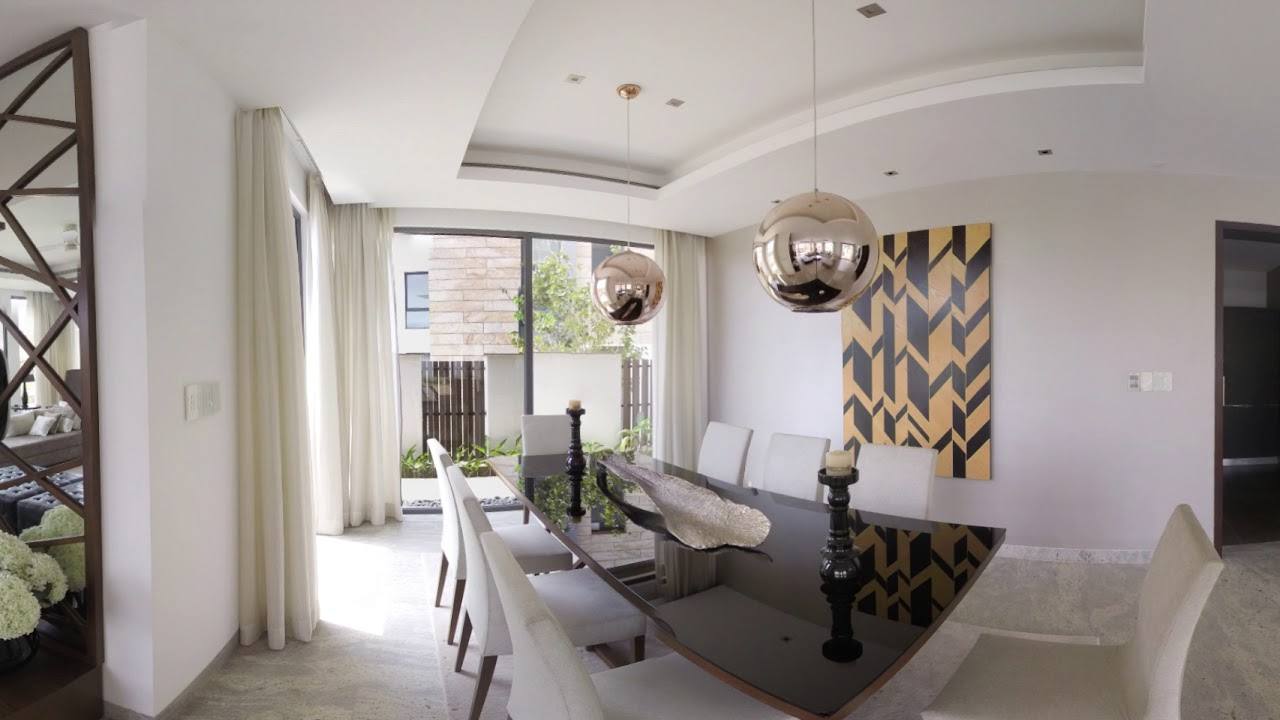 A 3D virtual tour is a cost-effective option for individual brokers and agencies to create a comprehensive presentation of a property.
The price of creating an apartment virtual tour that displays the property in a 360-degree environment costs around $300. All you need is a 360-degree camera and a free 3D virtual tour software that you can use to create a real estate virtual.
Using a 360 camera you can make 3D real estate photography, upload the pictures into a 360 virtual tour software like Cubix.
While this is an extremely easy approach to building a 3D virtual tours for apartments, homes for sale, and coworking spaces, you're bound to using free software which provides you a very limited space of 250 MB.
It's perfect for most houses, however, if you need to take a lot of high-quality images you have to pay for the software if you don't want to compromise on the quality of your 3D tour.
Cupix provides you a link which you can share with your clients and show them a 360 apartment tour, however, if you're interested in building your own residential or commercial real estate listing platform which supports 3D walkthroughs, then you need to look for real estate virtual tour app providers.
Advantages of creating virtual tours yourself:
Cost-effective
Fast execution
Perfect for small real estate brokers where houses are sold or rented quickly
Level-up as a 3D virtual tour creator
Increases reputation
Compatible with VR (virtual reality)
Disadvantages:
Takes time to learn and create
Up to 3+ hours waiting time for one property tour to render in Cupix
Doesn't work for large projects, e.g. luxurious houses, big office buildings, construction planning
How a 3D floor plan works and what it is used for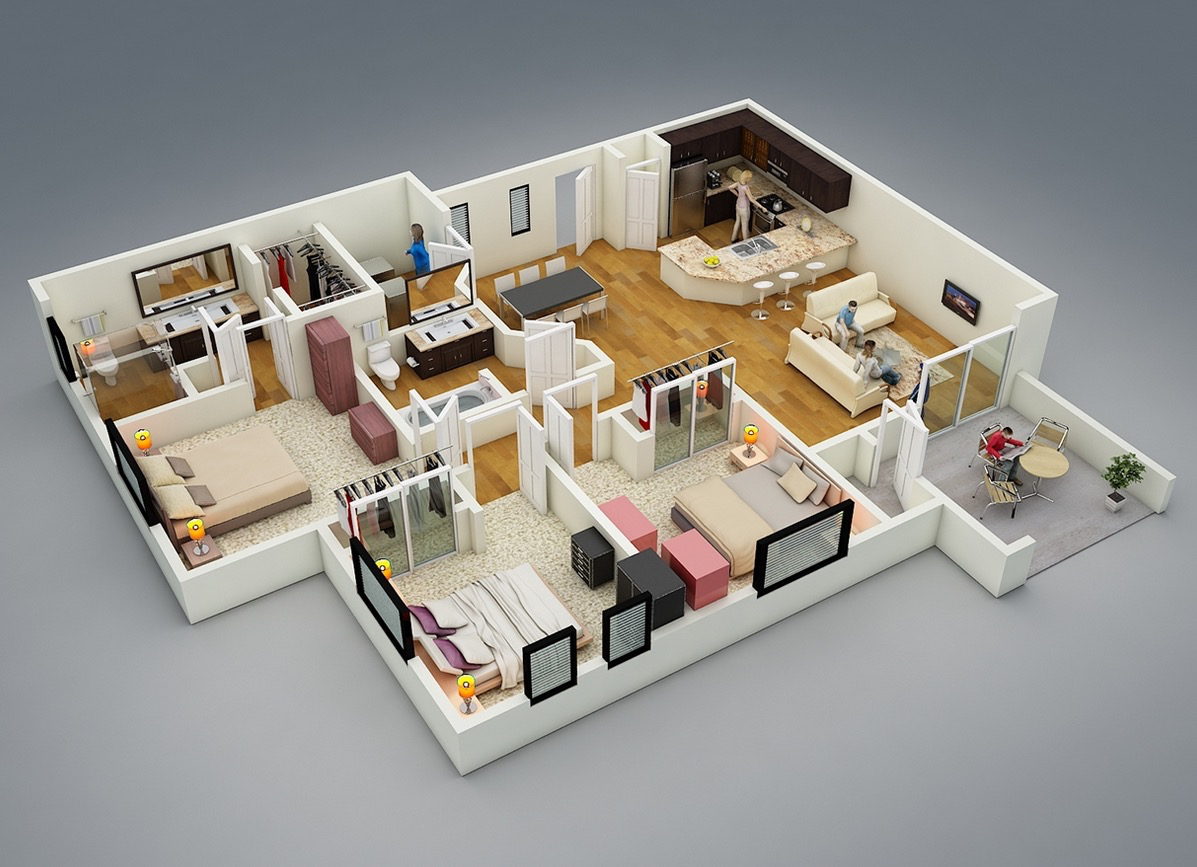 A 3D floor plan is a virtual model of a building floor plan which is often created by a professional 3D artist from a CAD building plan.
The main purpose of a 3D floor plan is to better convey the architectural plan to a constructing company or an individual client. Usually, a virtual 3D floor plan shows the structure of the rooms and their size, location of doors and windows, approximate interior design to provide certain depth and help in communicating the proper home staging and interior design features.
A 3D floor plan is actively used in real estate and commercial real estate marketing strategies because it's an effective tool for presenting and visualizing a building and its infrastructure during the architecture and design planning stage.
Buyers are unlikely to make a positive decision in purchasing a home while looking at boring technical plans. In contrast, a 3D floor plan helps to stimulate the decision-making processes significantly while building the authority of a construction company.
Apart from that, a 3D floor plan can be used for making design adjustments during planning saving a lot of time and resources of a construction company.
Photorealism and in-depth visualization are the most important aspects of 3D floorplanning for both individual clients and companies.
Advantages of 3D floor planning:
Conveys the information to a construction company better
Visualizes an architectural project
Allows for adjustments during the planning process saving time and money
Shows the infrastructure of a building including its interior design, potential furnishing, and style
Gives a sense of depth and space of rooms
Stimulates buyers to decide on a purchase faster
Compatible with VR (virtual reality)
Disadvantages:
Lower level of immersion and visualization compared to VR tours
More expensive compared to 360-degree tours and walkthroughs
Requires a fast platform or a website for displaying the 3D
Slower creation time compared to 360-degree tours
How a virtual reality tour works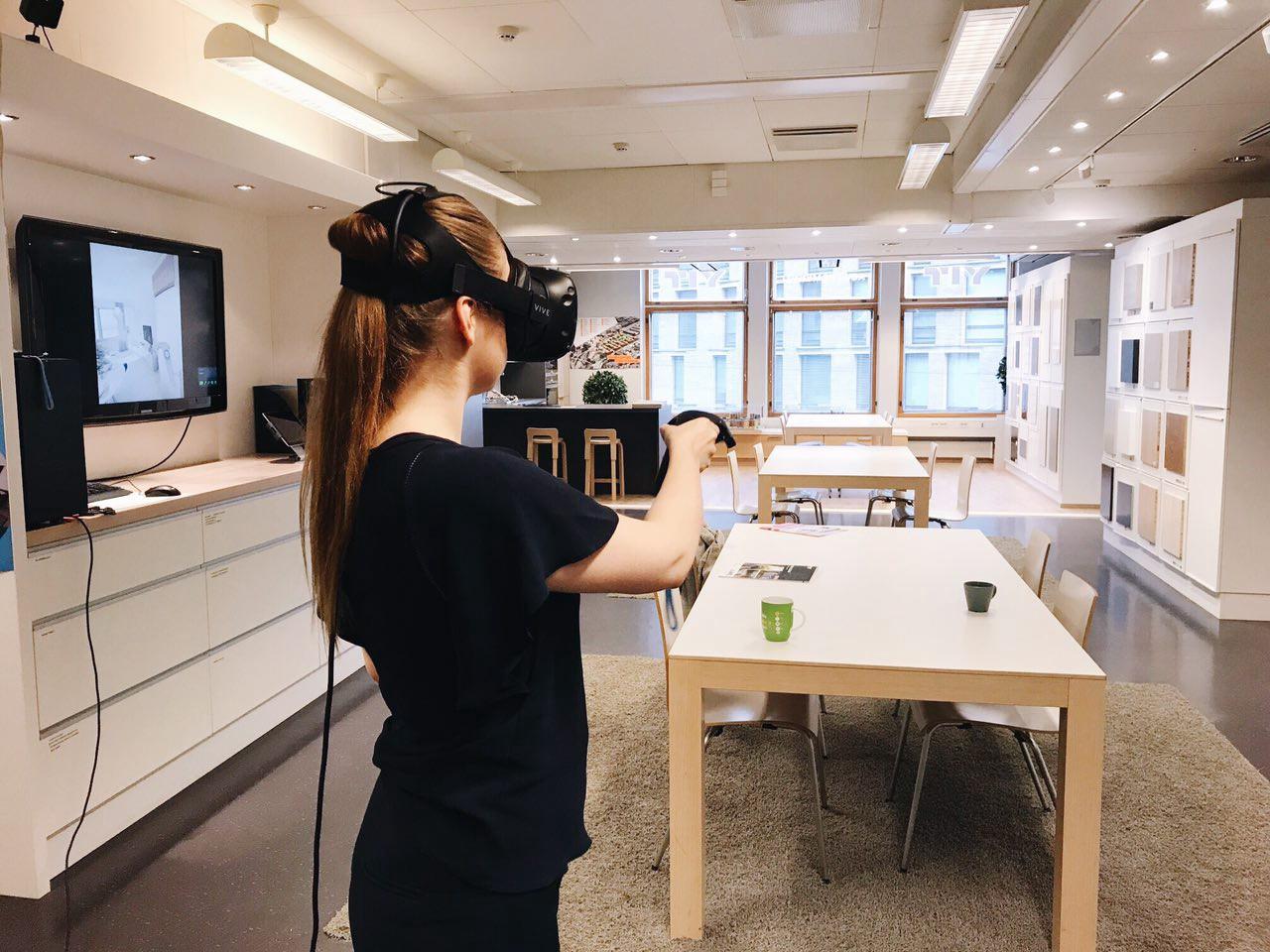 A virtual reality tour app is a whole new level of immersion when it comes to property marketing. Real estate virtual reality tours are often used only with VIP clients. For example, if you need to showcase a uniquely built luxurious house which was designed and created by an architect who put all his soul into the building, then the best way to present this property is through virtual reality.
On the other hand, if you need to visualize a complex hotel or a house with parking lots, lounges, floors, and rooms, then it's wise to use a virtually rendered 3D model of a full building put into VR.
VR tours for commercial real estate are often used to find investors and establish better trust-building relationships with them for further collaboration on projects.
There are several steps that go into a virtual reality tour creation such as hiring a team of 3D artists and VR developers, choosing the technology such as Unreal or Unity, and creating detailed technical documentation for successful project realization.
Having the documentation and references helps to reduce the development time and convey the information about a project to the development team much better.
Advantages of a virtual reality tours:
Personalized visualization of a building with an extreme level of details
Opportunity to add special effects and make the project "come to life"
High-level of interactivity with the house (opening doors, turning on/off the lights, etc.)
Increased level of trust from stakeholders due to an in-depth project visualization
Capitalization on the "Wow" effect as well as the seriousness of the project
Individual creation of assets, application code, and a project which can be patented
Works for any types of projects (including the most complicated engineering miracles)
Ability to port the application to various platforms including desktop, mobile, and AR (augmented reality) devices
Disadvantages:
Development time may vary depending on the complexity of a project (usually slow compared to virtual tours and 360-degree walkthroughs)
Requires a full-cycle virtual reality tour development team (artists, developers, project managers, BAs)
Limited audience outreach (due to slow adoption of the VR technologies)
How you can benefit from building a virtual tour
According to The Close, millennials made up 37% of residential buyers in 2018. This fact illustrates that Generation Y is actively starting to buy properties. And one of the major differences between this generation and the previous one is that millennials make most of their purchases online.
This is why building a virtual tour app, creating a 360-degree walkthrough or making a virtual tour video is going to be the determining factor whether your property will be seen in the listings or considered on your site.
When it comes to commercial real estate though, virtual tours whether VR, web or mobile will make you stand out from the pool of agencies and outperform your competitors.
The best part about virtual tours is that you can not only include the visuals but also complement your presentation with the text or voice providing comprehensive information about the property.
Other than finding the right property, millennials identified "understanding the home buying process and steps" as the most difficult item in the journey. This problem can be addressed beforehand through a virtual tour and add to your pocket a few winning points.
As a part of the experience design, a virtual tour plays a huge role in creating an advanced marketing strategy, reaching out to more customers, and closing more deals.
If you have any questions on how to create a virtual tour of a house, create a commercial real estate virtual tour, or are interested in VR real estate tours, you can contact us here.
Want to get more stories to your email?