Real estate market continues to grow, and VR technologies facilitate this process. Thanks to the benefits of virtual reality, end-customers achieve what they want through an immersive experience. VR real estate is the next big thing in the industry, inasmuch as it allows business owners to reveal the full potential of their product.
Nowadays, almost every VR app development company provides a certain spectrum of services in the virtual reality real estate segment. If you need to upgrade your house tours, immersive technologies may become your best friend. Not only will VR for real estate help you improve customer experience but also boost sales due to hands-on experience.
After visualizing real estate products and sometimes even interacting with them, clients are more likely to make a purchase. That's why 3D VR real estate house tours have become incredibly widespread among agents. For more valuable information — read on!
VR Real Estate Market Overview

study by Goldman-Sachs, an estimated 1.4 million realtors will be using the technology by 2025, which will almost certainly make up the bulk of the total specialists in this field. Though data on current use of VR in this industry is limited, we have seen notable examples with adoption by companies like Compass, Zillow, and Sotheby's International Realty. These businesses have successfully adapted the technology to their operations, and in doing so, made the work of their realtors a little easier.

The aforementioned companies are ahead of the curve when it comes to the technological tools they have at their disposal, but it is not too late for other real estate (RE) businesses to get in the game.
Benefits of Virtual Reality for Real Estate
No one would argue that the real estate VR market is gaining traction, and XR technologies pay a lot of dividends to all the parties participating in the process. Both consumers and business owners can benefit from the immersive experience. According to Statista, the AR/VR/MR market size hit $28bn in 2021, forecast to rise over $250bn by 2028.
In a nutshell, what are the benefits for real estate agents and business owners?
1. Fewer trips to houses. Real estate in VR allows agents to market and sell houses from any corner of the world, which significantly simplifies the workflow, helping even reduce costs spent traveling between apartments.
2. Immersive insights. By enabling potential buyers to virtually interact with their desired house, you ensure the immersive experience that maximizes the odds of a fruitful trade.
3. Saved costs. Although feature-rich 3D virtual tours can be quite expensive, the result is rewarding in the long run, inasmuch as you save resources on premium-quality print materials you need to show to potential clients and trips to physical locations.
4. Sense of ownership. Since a person witnessing their possible house inside a 360-degree 3D virtual environment implicitly starts perceiving it as their own, you increase the chances of selling the product.
5. International coverage. Virtual reality in real estate is what helps businesses ensure global offers and demand simply because the technology behind this solution disregards geographics distances.
As a result, virtual visualization and staging considerably contribute to the marketing potential of real estate products. Agents can take advantage of immersive technologies and promote houses or apartments more effectively with reduced costs.
Use of VR in Real Estate
There can be multiple use cases of virtual reality for real estate agents. Because VR headsets like Oculus or HTC are becoming widespread, more users gain access to immersive technologies and can reap all the benefits of remote real estate. Therefore, virtual real estate agents can use this solution in multiple ways. Interested? Below are the answers.
Virtual Property Presentations

It's no secret that virtual reality for real estate marketing is used not only to promote properties but also to showcase them in a good light. Fortunately, VR headsets enable both parties to interact inside a virtual environment without leaving their homes. That's why 3D virtual tours are becoming so popular among skilled real estate agents.
Guided tours resemble promotional videos but often occur in the form of 360-degree videos or entirely virtual (interactive) experiences. With so many options at hand, real estate agents are able to market properties more confidently and in convenient conditions.

Staging and Virtual Visualization

Unlike physical structures, simulated tours and walkthroughs can be customized with very limited effort. From the side of the realtor, you can customize the tour to appeal to a certain category of customer. For example, you may want to focus on lighting, interior design and zoom features, and detail if the customer is a visual learner; or pop-up windows with detailed facts, statistics, and measurements for those who like to see the numbers.
From the side of the client, you can easily add features for them to customize: adding furniture, changing the layout and coloring of a home, picking out possible interior design products they may want to buy (vCommerce), and much more.

Virtual Instructions for Tenants

VR solutions help landlords interact with tenants in a more efficient way since they can experience 3D virtual tours using only their headsets. When it comes to providing short-term vacation rentals, continuous communication with tenants can indeed become a challenge. However, virtual reality resolves this problem and helps them avoid unnecessary interaction with landlords.
Apparently, it's more convenient for both tenants and landlords to communicate via virtual reality solutions than to arrange personal meetings. The respective technology significantly simplifies and improves communication, especially for tenants paying for long-term rent.

Architectural Visualization

Helping potential buyers visualize what they want is the best application of virtual reality technology. To maximize the benefits of customers, real estate agencies arrange large showrooms with 3D house or apartment models. It's a good way to display the exterior and interior design of any property without having to deal with physical objects.
Architectural visualization solves numerous problems faced by designers, architects, and business owners. With all the social distancing trends spreading across the planet, 3D visualization has helped many businesses stay afloat since entrepreneurs don't need to interact with architects and builders vis-a-vis.

Considerations for Building a VR Real Estate Experience
If you choose to take a leap of faith and build a VR program for your RE business, there are several important points that should be considered before and during development:
VR platform

If you are targeting your application towards clients who own virtual reality headsets for real estate, it is recommended to make it available on several different platforms at once. At the time of writing, the most popular platforms in this category are Oculus (Rift, Go, Quest), HTC Vive, Playstation VR, and Valve Index. If you want to provide the experience through digital models overlaid on real-life surroundings, you may also want to consider the Hololens mixed reality platform or augmented reality on mobile devices. Oculus real estate is also an option.

In case the plan is to host the headset yourself and provide it to customers to look through several house options, you will only need to build for this sole platform. Conversely, if you want to make the experience accessible to as many people as possible, we suggest that you choose a web or mobile platform, which can provide the same visuals and functionality without the immersive effect of VR.

Don't know what VR platform to choose for your product? Check out our article about the best VR headsets.

In case the plan is to host the headset yourself and provide it to customers to look through several house options, you will only need to build for this sole platform. Conversely, if you want to make the experience accessible to as many people as possible, we suggest that you choose a web or mobile platform, which can provide the same visuals and functionality without the immersive effect of VR.

Software

In order to make a program, you need a program. It is just the way software development works. Thus, the 3D models and designs used in the tour can be created in modeling software such as ZBrush, Maya, and 3DS Max. As for the actual app, it can be built with the help of a game engine (like Unity or Unreal) or simply as code compiled in an IDE. You can expect software development to take much longer than the planning and testing phases combined.

Guided or interactive

You have the choice of making your virtual tour guided or interactive, which will strongly influence how much work goes into development. With a guided tour, the user will just sit back and watch as they are ushered through different parts of the building, possibly with audio commentary. It might even be a pre-recorded video. On the other hand, an interactive tour gives the user free will to move around as they please and interact with different elements.

For example, they can use a VR controller and point to a pool, then a window will appear with its volume, depth, and other features.

Animation and LOD

Speaking about additional features, you have the option to make various objects in a building interactive (such as a door handle that can be turned, a window that can be opened, etc.). The movement of models in these features will be achieved through animation, which takes a moderate level of skill to create. Another big factor that can influence your project's difficulty is the LOD, which stands for level of detail. Traditionally, the more details and realism you plan to add to models in a simulation, the longer it takes to build them.

BIM elements

BIM stands for building information modeling, and represents transforming construction blueprints, plans, and data into accurate digital models. Thus, in the context of real estate, BIM elements in an app would allow users to look at the structural elements of a building, its wiring and sewage system, and various other things about a house that are important but lie beneath the surface.

These points are a lot to take in, especially for a business that has never developed software of this kind before. Fortunately, anyone in this precarious situation should remember that they do not have to do it alone. There are plenty of companies and studios ready to develop RE applications using virtual reality glasses for real estate, so achieving a partnership with them is much easier than diving headfirst into development alone.
An Example of How a Virtual Reality Real Estate App Might Look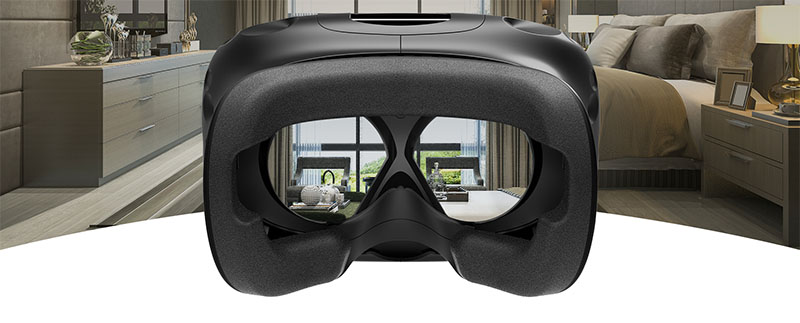 "Virtual Hotel" is a solid example of the remarkable achievements that become feasible when the power of digital visualization is applied to RE. This application developed by Program-Ace features a 3D simulated hotel with all floors, rooms, and major equipment included. Thus, employees of the hotel can use the app as a guide to learn the layout of the building and how to navigate around it. Over 15 different types of rooms were designed for this program, and it took dozens of different object models, too.
Realtors typically deal with properties smaller than hotels, so most virtual real estate applications developed for this industry would probably be built faster and might feature more interactive options for the user. The apps can even have dual functionality: 1) for realtors; 2) for potential homebuyers.
What VR Services We Offer For Real Estate Market
Even though VR is a relatively small niche in the big world of software development, every virtual reality real estate company specializing in this type of development can help you with your project. Among them is Program-Ace.
Our long history of developing virtual reality software has given us the skills to deliver projects of different size and caliber, while our experience with construction and RE projects makes us uniquely suited to handle a combination of the two.
We are the company behind the aforementioned VR Hotel app, as well as several other walkthroughs and simulated tours that bring real houses and buildings to the screen of a headset, computer, or mobile device.
Working with our custom software development company, you can expect to get a dynamic, detailed, and immersive experience that will help your business reduce costs, differentiate yourself from competitors, and add plenty of convenience to the property sale business. Virtual reality for real estate developers is the answer to many issues that agents and companies encounter.
We are ready to discuss your project at any time that works for you. Just contact us today.
Want to get more stories to your email?