It is difficult to think of an industry more competitive than Automotive. Carmakers are in a never-ending race to outsell their competitors, offer better models and service, and market their products to a giant audience. One of the small but important steps a company often takes to get ahead is by adding a 3D car configurator on their website.
Nowadays, you can find these configurators on the websites of nearly every major automaker, and this approach is working. A study conducted by Adobe found that customization services like configurators can account for over 50% of conversions. Despite their prominence and use, many people are still unfamiliar with this type of solution and what it can be used for, so we set out to answer any burning questions on the topic.
What Exactly is a Car Configurator?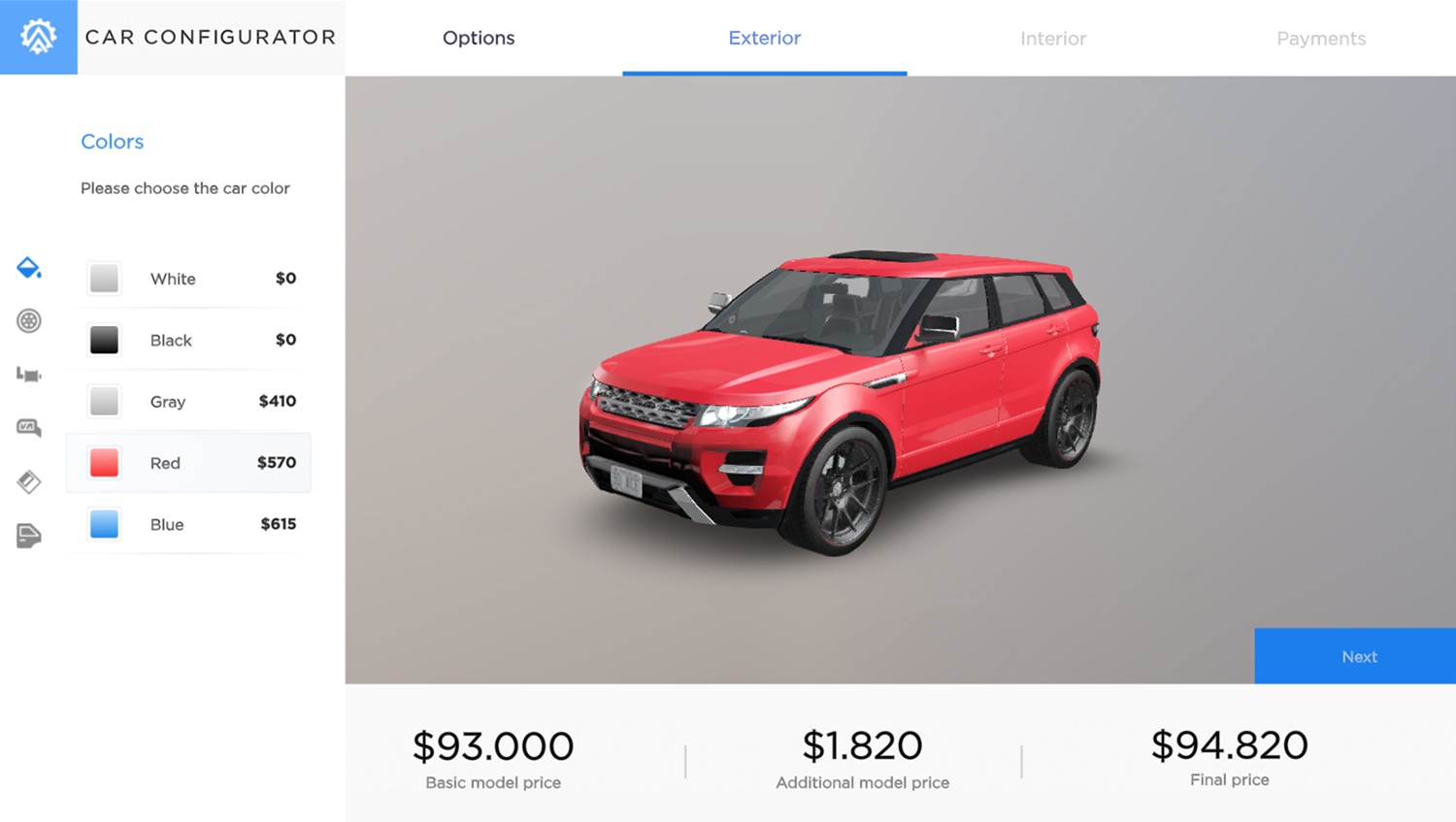 A car configurator is a digital solution that allows users to customize various aspects and parts of a vehicle. Typically, the user is presented with an interface and multiple menus, with a vehicle visualization taking up most of the space. Accordingly, changes made in the menus tend to have an immediate effect on the visualization. Additional information (such as price and performance statistics) can also be displayed and updated.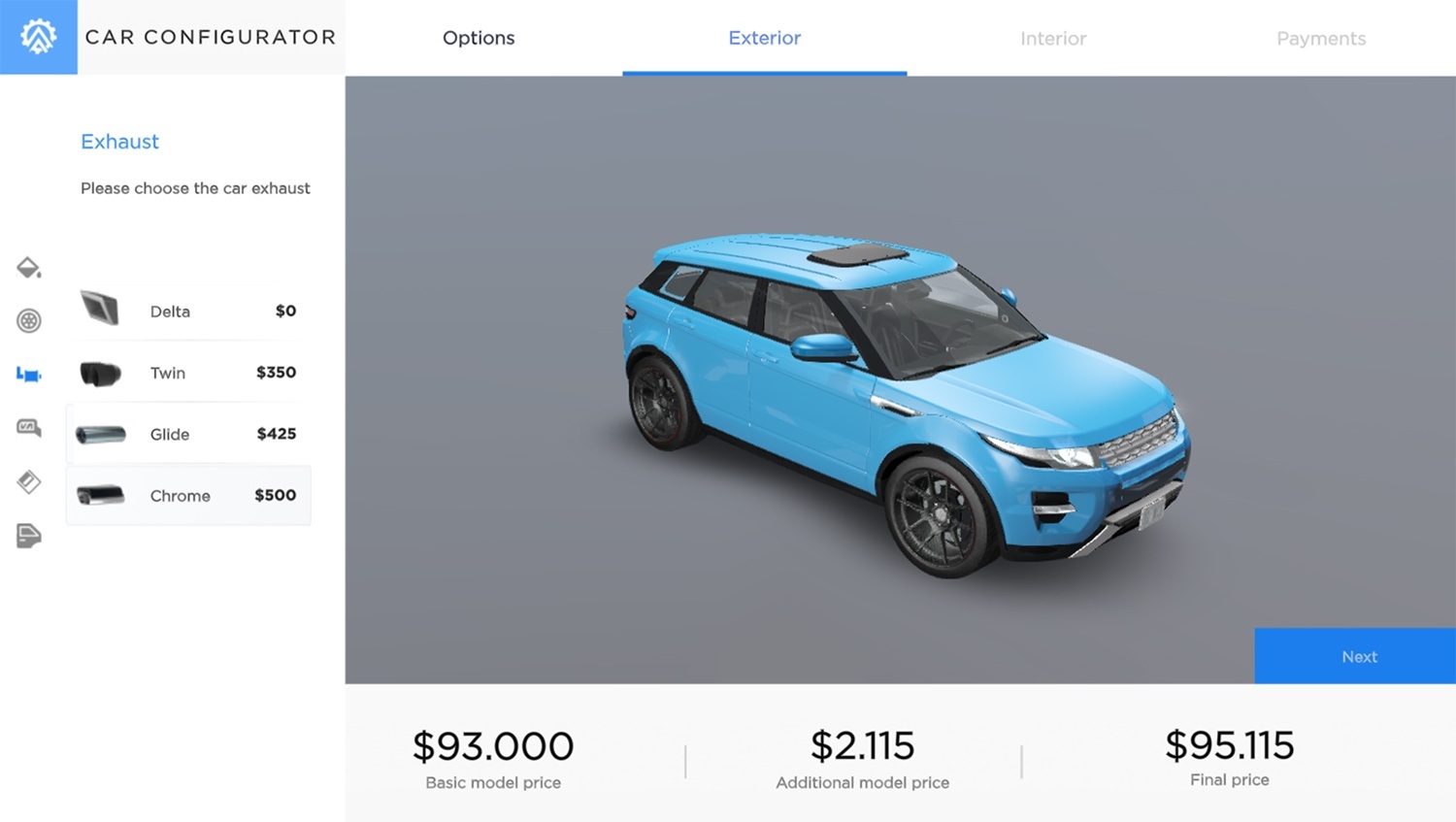 You might think that this kind of tool is only helpful to automakers, but the truth is that it is also used by other auto-related businesses and even gaming. For example, Auto parts and repair services can use configurators to showcase the improvements their customers can expect and test how certain modifications will look, while game developers offer the same customization options in racing games – allowing the player to create their own designs and upgrade their vehicles throughout the game.
Try the Car Configurator developed by Program-Ace
What Are the Benefits of Using a Car Configurator?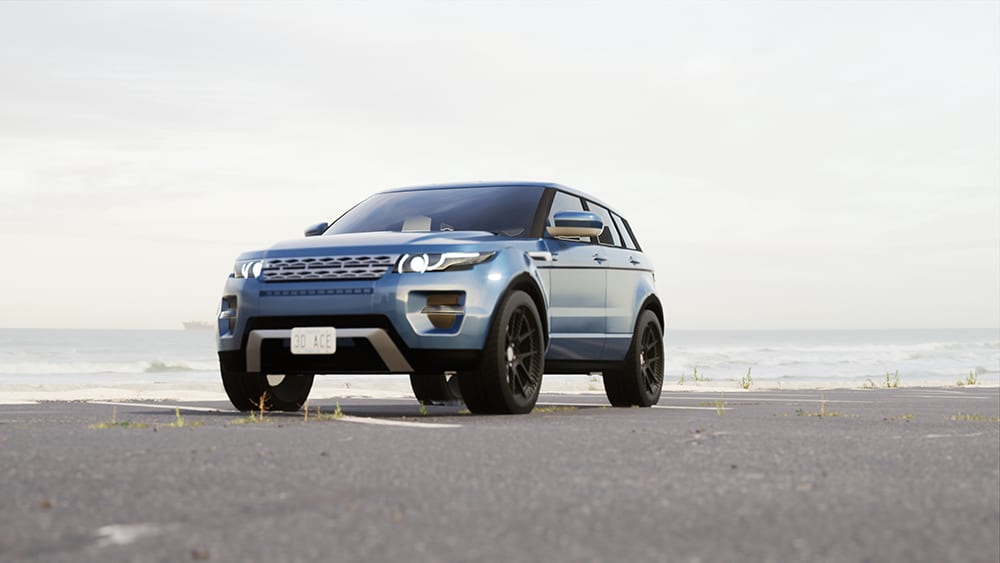 Car configurator developed by Program-Ace
This type of solution has several clear and meaningful benefits to users (such as ease of customization and better understanding of the product) but the benefits gained by businesses that apply it are both more numerous and noteworthy. Below are several:
Users become more interested in the product

Boosting user engagement is a top priority for the majority of product and service-related businesses, so when a visible buzz about the product or service arises, it can be considered a major success. Car configurator software is fun to use and appeals to our artistic sides, encouraging us to test out dozens of unique combinations to find the one that looks and works best. This is a level of engagement that you simply cannot get by looking at photos and reading text.

Increased conversion rates

Apart from the fun aspect of trying out different design and performance customizations, a customizer tool also has practical value in helping users make informed purchases. They get to see the vehicle from various angles and learn more about the available upgrades, variations, colors, etc. This way, they can walk into an auto salon knowing what they want or even buy online. Consumers are often discouraged by the insufficient information and previews offered by some companies, so this virtual solution provides them with a more interactive and helpful experience, increasing the likelihood of a successful sale.

Getting the edge on competitors

For companies working in heated competition with other brands and businesses, even the smallest edge can play a crucial role in winning over a larger share of the market. Thus, if they offer a helpful tool like this to customers, they might be more persuaded to choose this company. Even if the competitors offer the same type of solution on their websites, a business can still differentiate itself by offering a better visualization, more interactive options, and other characteristics that will make their configurator superior.

Extracted data improves operations

Setting up this virtual customization tool can provide valuable insights into what customers want and like. Thus, every decision they make in the interface can be saved and later analyzed, while an assortment of such data from thousands of customers can identify best-selling models, parts, and services as well as those that generate no interest. This data, combined with feedback and requests can prove to be a major factor informing your marketing and production decisions.

Making sales department work easier

Applying such virtual tools, companies can really lighten the load of their sales departments. For example, a sales team can direct customers to try out different versions of their product in the interface instead of sharing photos, text, and lengthy descriptions with them. Naturally, they should be on hand to provide these things anyway upon request, but the number of questions and requests directed to them should generally decrease.
Custom product configurator software development
Types of Сar Сonfigurators
Car configurators are not a monolith, and come in various forms (based on a few characteristics):
2D Renders
Configurators that rely on 2D renders are generally known as the most affordable and fastest to build. Instead of putting users in an environment where they can examine the product through seamless rotation, renders are essentially a series of snapshots that the user can list through. While the developers work on actually rendering the car and its parts, capturing images from the renders, the user only looks at a variety of images of the vehicle with different configurations.
As for rotation and viewing from different angles, this is made possible with 360-degree photography. A series of photos is taken from different angles, and the photos are then merged together to give the product the appearance of a 3D shape, even though the photos were 2D. An example of this configurator type was developed recently by Jeep for their Compass model.
Offline rendering
This type of 3D car customizer is quite unique and fascinating. The "offline" qualifier might convince you that this type of software is accessible without an internet connection, but the reality is quite different. It simply means that the rendering is processed by the server and your computer/device doesn't have to do it. You can think of it this way: to generate a customizable 3D car, your device has to invest a lot of processing power, which can slow it down substantially.
On the other hand, the device will have a much easier time when the heavy lifting (rendering) is done by the server, and the device only needs to stream images and video of the completed render. Unlike real-time rendering, the "offline" approach is valued for producing a higher framerate and more realistic visuals.
Real-time rendering
In contrast to offline rendering, the real-time type puts the onus of delivering visuals on a user's hardware. In turn, it is up to developers and other specialists to create the content of the configurator. Naturally, there will be a lot of 3D content, so the models will be built by designers and artists in specialized tools like 3DS Max, along with the texturing necessary to make the models look realistic.
Case Study - Car Configurator Development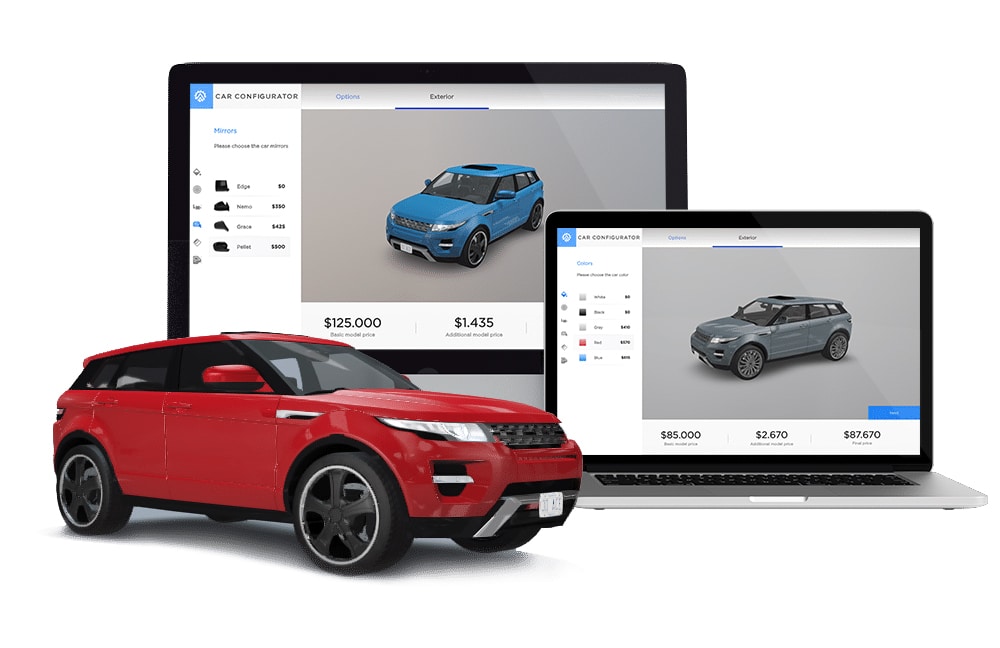 Program-Ace developed a configurator that takes your interactions with clients to a whole new level.
In parallel, UI/UX artists work on assets relating to the interface, and all assets developed by the two groups are tailored and modified to properly render in the engine of choice. The mechanics and logic of the application and handled by developers, ensuring that it runs smoothly and all functionality works. Finally, QA engineers review the completed product for bugs and other issues before it is unveiled to the public.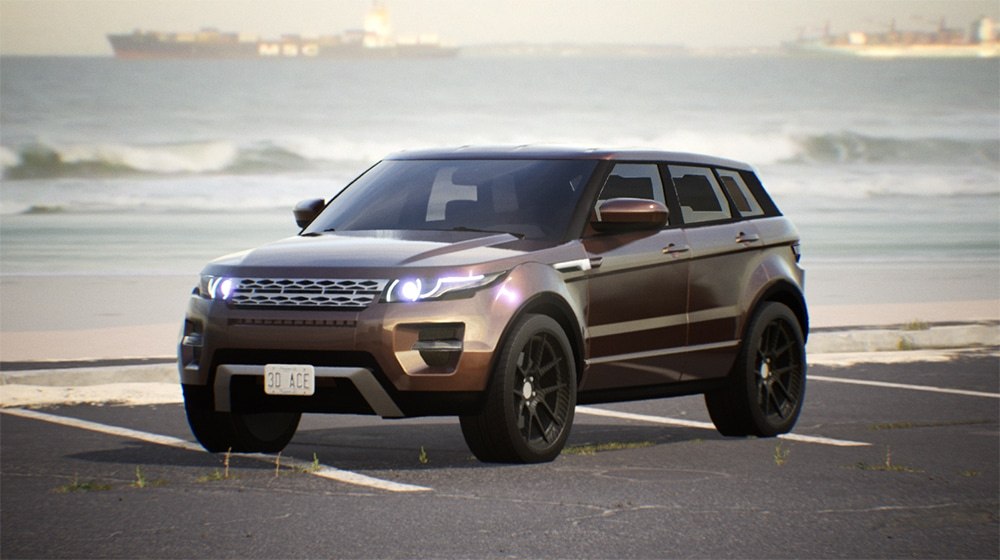 Car configurator developed by Program-Ace
Platforms of Car Configurators
Like all applications, car configurators are better suited to some platforms than others. Let's examine the most common platforms where they are deployed.
Web
Web versions of this solution are incredibly popular because they are accessible anywhere and on any device with an internet connection. Furthermore, they are often presented in conjunction with options to buy or preorder, so users can even rely on the solution instead of visiting a dealership.
The 2D render approach is very compatible with web configurators. The developer only needs to create the renders and upload them, while the user can easily view them on a wide variety of devices. The development process is relatively straightforward, requiring basic knowledge of Javascript frameworks, without the need to master elaborate tools like WebGL.
Offline rendering is also compatible with web software, but not to the same degree as the above approach. "Offline" applications take longer to load, and sometimes experience issues with lag and resolution quality. Nevertheless, the technology has been improving over time and can now deliver a high level of quality and performance when built the right way.
Finally, real-time solutions like this are fully accessible on the web. Some of the most popular tools for building them nowadays include PlayCanvas, Unity, and BabylonJS.
Standalone
Standalone apps refer to software that runs from a file or package on a device, and not streaming from anywhere else. Essentially, they are what you consider desktop, mobile, and console applications. Standalone apps are not often built with for the 2D renders approach on account of their simplicity, but when such a choice is appropriate, tools like Windows Forms, WPF, and Qt can be used.
In regards to offline and real-time standalone apps, they are much more common. For "offline" software, you can use some of the same building blocks used for web customizers, while real-time programs deliver the best results when crafted with the powerful engines Unreal Engine or Unity.
XR
Some companies even develop this customization software for unique platforms that utilize XR technology. Augmented, virtual, and mixed reality can all be engaged to give users a more immersive and "hands-on" experience with automobiles. For example, a VR headset can put someone in the shoes of a person standing right next to a car, so they see it in its full glory and scale, and can get a better sense of how it will look (both inside and outside).
Furthermore, this immersive tech can be an invaluable asset in marketing and selling your product. If this platform is chosen for a product, we recommend that the software be built with Unity or Unreal, as it will open the doors to popular devices like HTC Vive, Oculus headsets, Valve Index, and others.
Different Approaches to 3D Car Configurator Creation
Nowadays, a company or person in need of a configurator has a wide range of approaches available. They offer various degrees of customization, functionality, and detail. Here are some examples:
Use an existing solution

For those who do not want to invest too much time or resources into the solution, they can use one of the ready-made products available online. These solutions (such as Brickl's) are very simple to use and provide you with a set of templates that you add minimal customization to (usually changing the text, picking a color and one model out of multiple). Thus, they are not intended to showcase all aspects of a product but just give a basic understanding of its possible versions.

Use more elaborate tools

If someone wants to make their own customizer but lacks the specialists or technical knowledge to do so, they can find a great remedy in specialized tools (MR.Ace, Reflekt are 2 prominent examples). This type of specialized software is usually not tied to a particular industry or product type but gives users the ability to create applications centered around products of their choice. Thus, a wide range of customization options are provided, and all the user has to do is upload a model and choose the layout and features that they prefer – no coding necessary.

Independent development

With the right skills and knowledge, it is certainly possible to build a solution like this or assemble a team of colleagues to handle it. You will traditionally have to pick one or two frameworks for the particular type of code and application you will be creating. Game engines like Unity and Unreal Engine can also be a boon to your endeavor, as they provide a wide range of functionality for modeling, UI design, and visual effects. Other resources like GitHub and SourceForge also feature lots of helpful information, files, and packages from other teams and people who worked on similar projects.

Businesses must always remember that they do not need to carry the weight of such projects themselves, and it is both reasonable and popular to hire other companies and specialists to build these digital solutions for them. With hundreds of agencies and studios available, you are free to choose the most qualified experts with a good track record and which can demonstrate that they will be able to deliver the project on time and with the expected level of quality.
How Program-Ace Creates Custom Car Configurators
As a company with broad experience in developing enterprise and commercial applications, we have successfully built several car configurators, all for the web. For example, our latest web customizer of this type includes several dozen interactive options and unique features like saving user configurations in PDF, eCommerce integration, and cross-platform (and cross-browser) support. All it takes for us to make it happen is a small team (with a frontend developer, several designers, and a PM) with solid knowledge and technical experience in this field.
Try the Car Configurator developed by Program-Ace
If you are considering making a solution like this for your clients or internal use, you can turn to us for help. Program-Ace has a large and qualified staff that will deliver just the interactive experience that you have in mind. And if you're not sure yet about how you want the solution to work, we will gladly weigh in with our expertise and research in this field. Just send us a message and we can get started.
Want to get more stories to your email?