It's no secret that modern-day manufacturers are willing to go to any lengths to improve production efficiency and boost profit. This desire has caused many businesses to embrace cutting-edge solutions like PLM, robotics, and AI/ML. Each of these solutions is great in its own right, but there is one more that we should pay attention to – configurators.
A manufacturing product configurator is a digital solution that lets manufacturers customize various aspects of an item's production and further lifespan. Typically, it includes 3D visualizations of the product, production line, etc., as well as realistic visual changes when custom options are applied.
Toyota, Peugeot, Nike, and Ikea are just a few of the hundreds of firms that have embraced this solution, and when you see what manufacturing configurators can do for your business, your company might join this list. In this article, we will give you all the details about choosing the right custom product configurator software for your business.
Looking for qualified help with manufacturing product configurator development?
Which Types of Manufacturing Product Configurators Can You Choose?
Contrary to what some people think, configurator solutions are not a monolith and do not all function the same. Thus, you can see many different versions used in manufacturing and choose the kind that best works for you. Let's examine some of the most common types:
1. ERP/MRP product configurator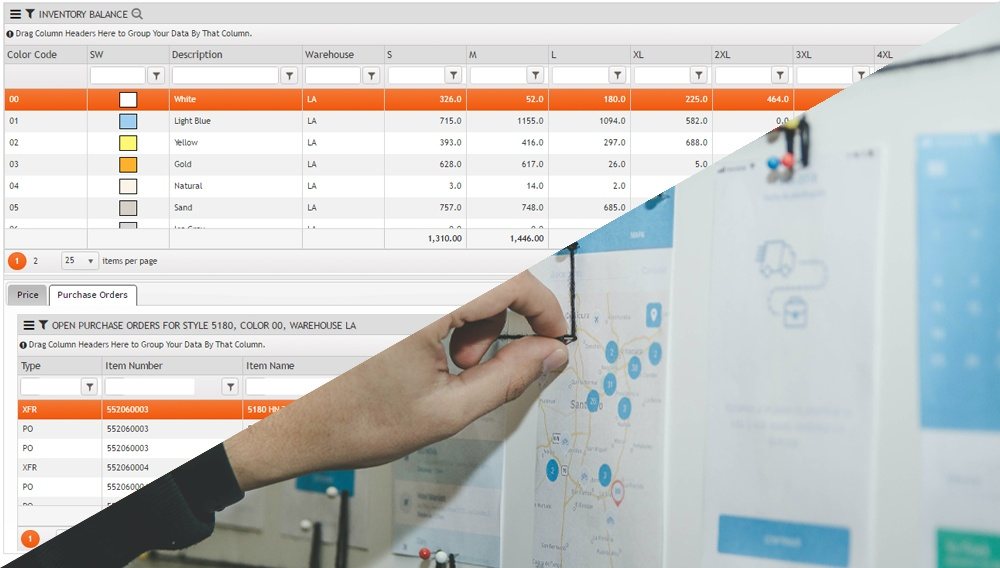 Enterprise resource planning (ERP) and material resource planning (MRP) are two common approaches for digital transformation in manufacturing. They aim to unite all core business processes (including management of materials) under a single software platform, where global changes can be easily applied with real-life repercussions.
Accordingly, configurators of this type can be used to test or apply changes to company processes. To illustrate, a typical interface of such a configurator might contain options to increase/lower the volume of raw materials shipped in, with the application then calculating further changes that should be made to effectively process the materials.
Example: C&C Power, Inc
The experts over at C&C Power, Inc are prominent energy equipment manufacturers based in the U.S. The company faced serious delays in order fulfillment that stretched up to 60 days until they integrated a new configurator. This new solution has helped them modify orders on the go and better regulate the flow of materials. The software also identifies problems and bottlenecks in production, making relevant suggestions to improve them.
Benefits:
Faster logistics flow
Conservation of time & materials
Very precise production results
Quick reorganization after changes
2. CAD product configurator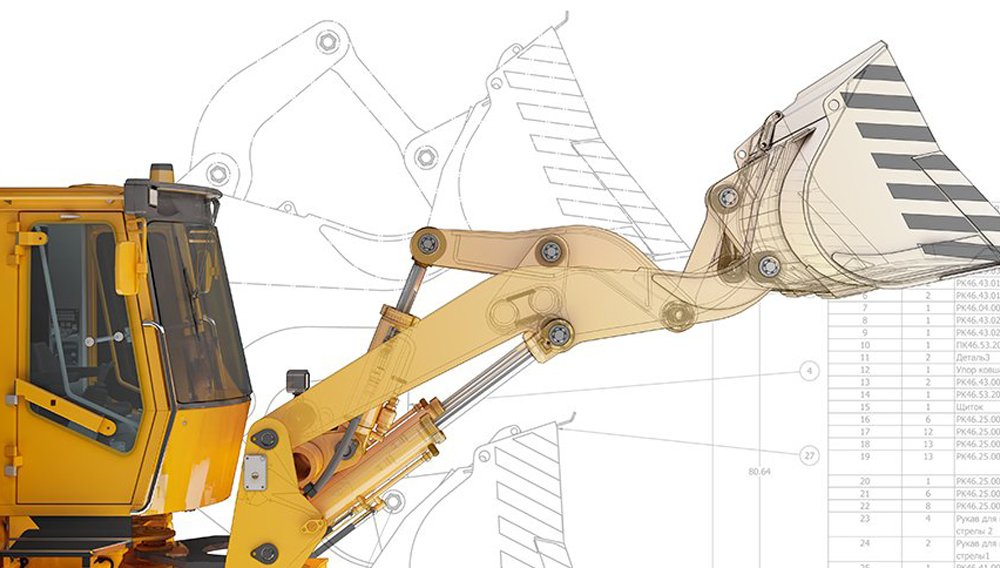 This solution is used predominantly during product development, and makes use of CAD (computer-aided design) software, which is usually built into the configurator application. Because of the vital design features that make rapid prototyping possible, this tends to be a 3D product configurator with a high-detail visualization of the product and dozens of options to modify its parts. It may carry additional functionality to update the product's performance specs in sync with design changes.
Example: CAMotion
This company produces palletizing machinery and robot systems, and they chose to implement a configurator after determining that a lot of time was being wasted on creating CAD parts for custom product designs. Their configurator (which consisted of many tools used together) greatly simplified CAD and shortened the time-to-production from 4 weeks to 10 days.
Benefits:
Designs are completed faster
Automation reduces human error
Failed prototypes minimally impact development
3. Training product configurator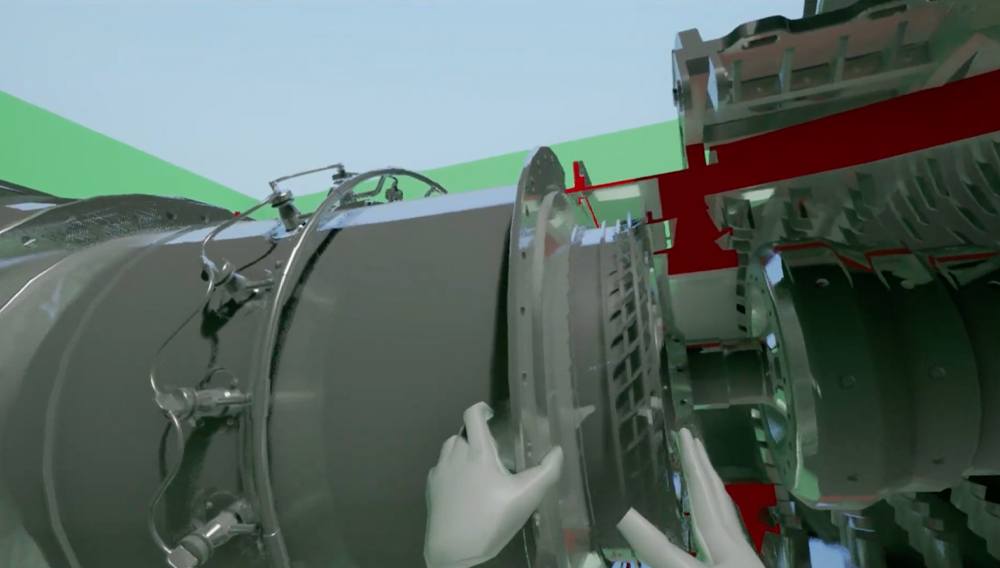 As the name implies, a training configurator is intended for learning about the product. Usually, it is provided to sales associates, engineers, and other technical staff that must have good knowledge of the product. The solution can visualize the product and let the user examine/tinker with its parts. This helps them learn where everything is located and how the product works.
Example: Aircraft Engine VR Training
This solution was built by Program-Ace and features an interactive 3D model of a popular aircraft engine model. We designed it to be used in virtual reality, so users put on a headset and controllers, launch the software, and are transported to a virtual training room. There, they can assemble and disassemble all of the parts of the engine at a leisurely pace, placing the individual parts on the ground or hanging in the air.
Benefits:
Higher engagement in training
No real product equipment necessary for testing
Realistic and cost-free learning
Learning can happen anywhere and anytime
4. BOM product configurator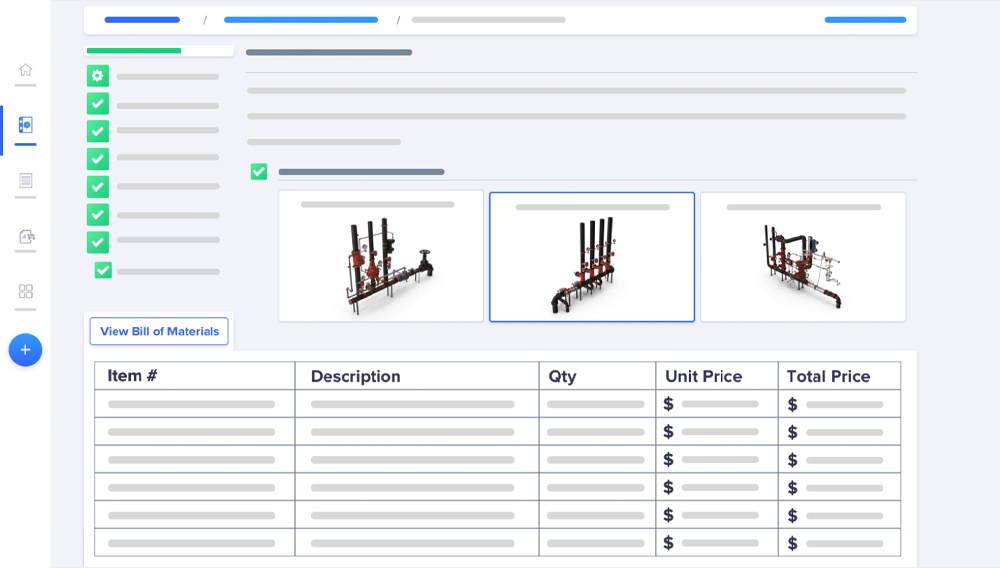 A BOM configurator is a very narrow-use solution intended for the quick creation of a Bill of Materials (BOM). The bill of materials is a document containing all the details about the materials, parts, components, and other dynamic resources needed to manufacture a product.
Accordingly, the configurator that generates this document allows the user to modify certain values and see instant changes in other values included in the document. The changes can be applied in a limited scope (for example, for a single-day shipment of materials) or apply to the whole business model.
Example: CEVT
CEVT is the company responsible for building the massive design platform used by Volvo in the production of its vehicles. The tool they helped build and integrated into their business processes turned out to be a game-changer. It replaced all the other instruments they were using in the pre-production stages and even saw lowered costs due to effective material planning.
Benefits:
Fewer materials wasted
Faster pre-production
Reduced design costs
High usability
5. CPQ product configurator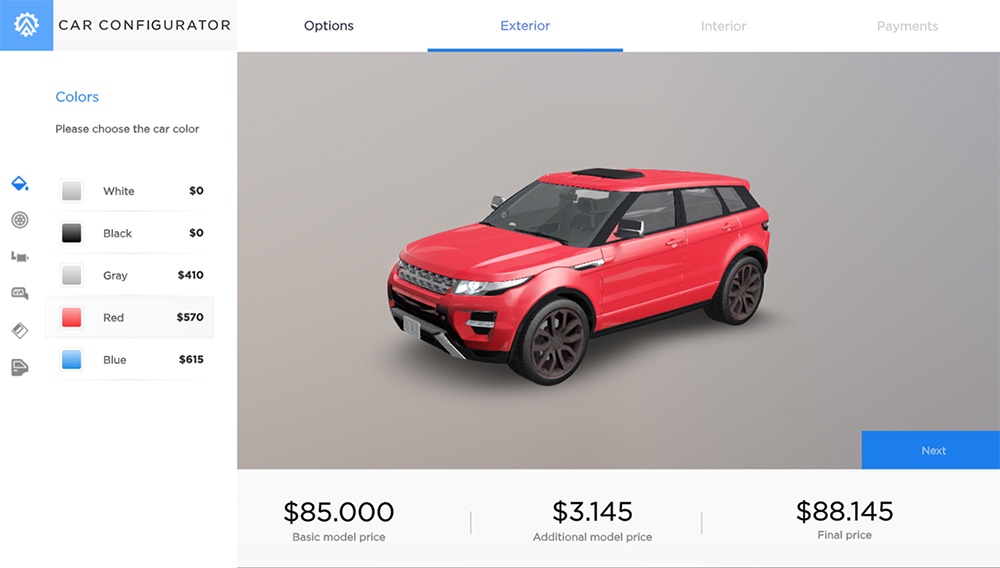 CPQ configurators are often associated with eCommerce and retail, so what do they have to do with manufacturing? Well, we should never forget that many manufacturing companies rely on other businesses to sell their product. Thus, product configurators for make-to-order manufacturing help their clients choose the most suitable version of the product that they are ready to sell. CPQ stands for "configure – price - quote" – the uninterrupted process of choosing and buying a product online.
Example: Motorola
Besides making mobile phones, Motorola is also a major manufacturer of security hardware. Through a state-of-the-art CPQ configurator, they let businesses choose a security system tailored to their needs. The software features over 1000 possible product builds and has sped up the sales/consultation in a big way.
Benefits:
More attractive to customers
Sales work is made simpler
Increased customer traffic
Easier organization of orders
Still not sure what to choose? No problem
The list above is hardly exhaustive, and does not cover all the purposes and functionality that can be delivered with configurators. Similarly, there are many more benefits of product configurators worth mentioning. Thus, you can easily opt for a hybrid configurator combining several of the listed functions or go in a totally different direction with a custom configurator.
Which Additional Features Can You Add to Your Manufacturing Configurator?
If you go the custom route and build a configurator from scratch, you will have a lot of freedom in adding the features and functionality you want/need. Below are some of the most popular choices:
Immersion

If you build an AR product configurator or one based on virtual reality, you can make any interactions with the product much more engaging and informative.

Animation

In addition to showing off your product's look, you can also demonstrate how it functions through high-detail and realistic animations.

Save/export of configuration

A "save" option built into your software can allow users to print and reuse designs/builds, as well as return to configuration when they reopen the file.

Universal accessibility

Making a web-based product configurator is one of the best choices you can make to increase its accessibility, since most devices with a web browser will be able to open it.

Support button

Whether your configurator is meant for internal or commercial purposes, adding an option to contact support can be helpful in fixing issues with the software or helping users make informed choices with the app.
Where to Order a Manufacturing Product Configurator
If you look online, you can find a few ready-built enterprise configurators that are typically offered on a subscription basis. However, you should keep in mind that those solutions won't be adapted to your business processes as well as a custom-built configurator. Ready-built configurators tend to have very limited options for personalization and 3D visualization, whereas custom software is made according to your precise requirements.
One of the providers that you can rely on for a custom product configurator is Program-Ace. Our company has been building solutions for the manufacturing industry for over a decade, and we can confidently say that product configurators are one of our biggest strengths. Seems like a match made in heaven, right?
If you have a configurator project in mind, feel free to read more about us, and send us a message to learn more about our services and cooperation.
Want to get more stories to your email?