A virtual product configurator is an application that uses a set of pre-built counterparts of a product and allows for product customization.
In other words, product configurators help clients choose and build "their own" products before making a purchase.
As an example, if you're looking at a red t-shirt that you want to buy, but you wish it was blue and had a cool Program-Ace logo on it in the middle, then the product configurator allows you to change the color of a t-shirt, put your logo on it and do other manipulations with the t-shirt so that it fits your taste and you can finally buy.
Types of product configurators
There are several types of product configurators. Two types are commercially used on a day-to-day basis, and another two are a completely new way of looking at the product configuration industry because they used advanced virtual reality (VR) and augmented reality (AR) technologies.
Recommended article Unity vs. Unreal: Creating a VR Product Configurator
The types of product configurators include:
Web-based product configurator
Mobile product configurator
VR product configurator
AR product configurator
Each of these types of configurators has its own features, usability, and commercial applicability.
A web product configurator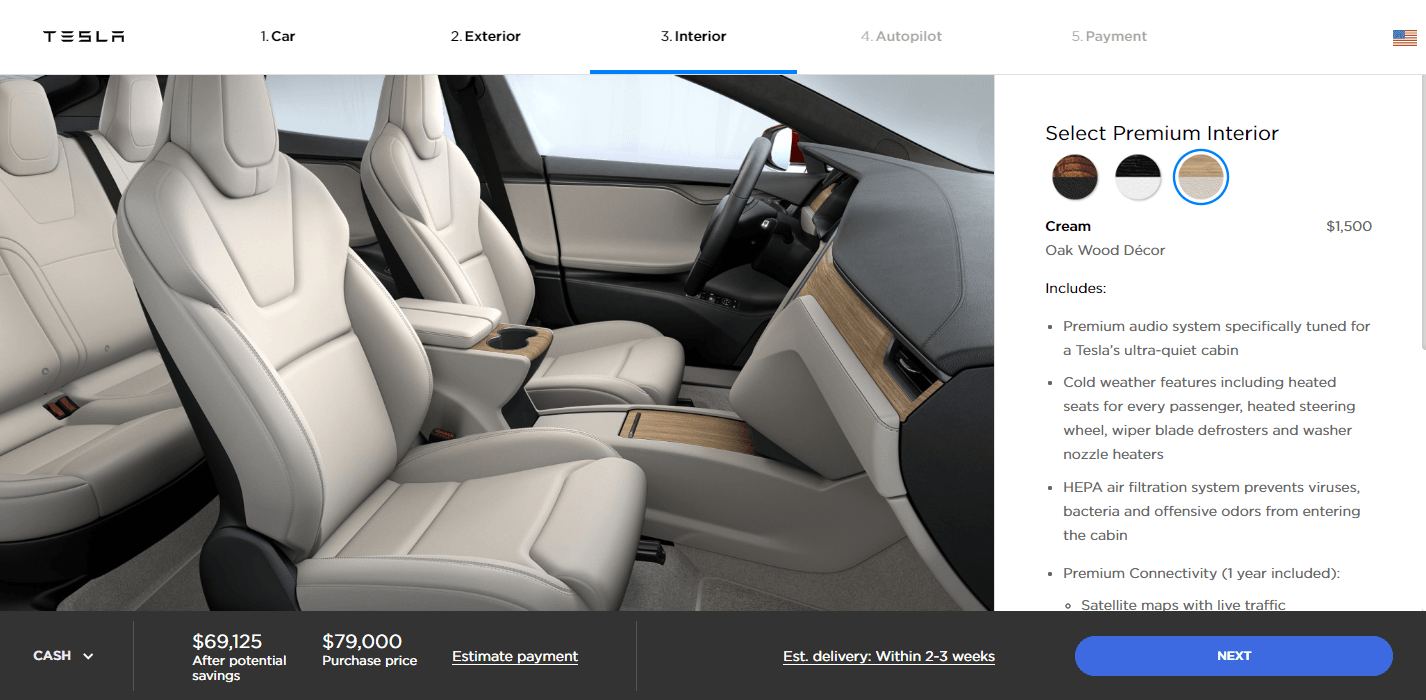 A browser-based product configurator is an application that is usually embedded on a website, mostly ecommerce websites, and allows users to change the design, style, and characteristics of a product in real-time.
There are a lot of industries where a web-based product configurator is used:
Automotive
Interior design
Manufacturing
Fashion design
Architecture
Retail
A web-product configurator can be both B2B and B2C solutions depending on what product you're selling.
An example of a web product configurator
When you shop online, you often stumble upon many web product configurators.
Despite having world-class shoe quality and style, Nike allows you to design your own shoes to make them even more appealing to your preferred tastes.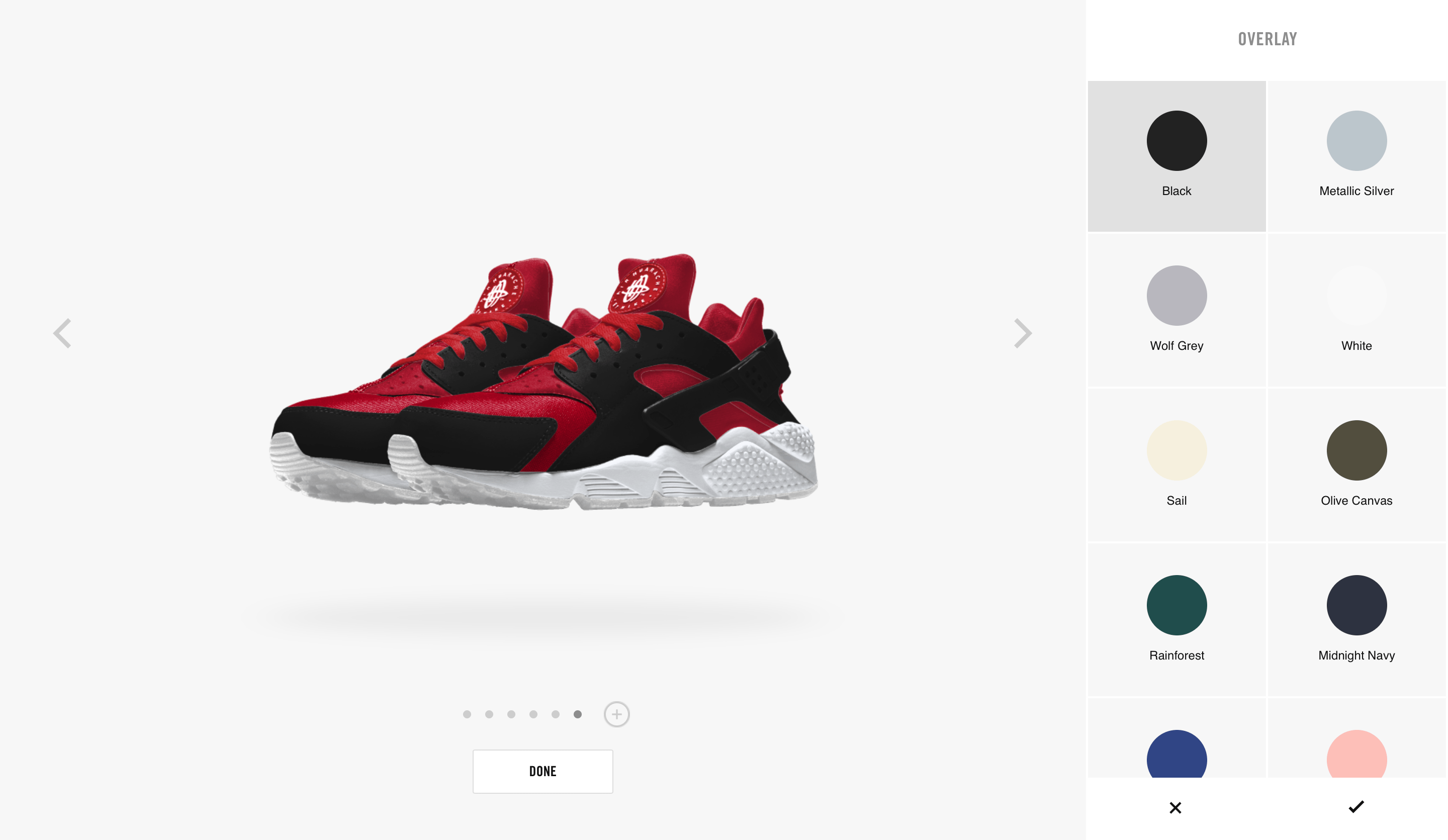 Even though Nike doesn't give a 360-degree view, it provides extensive color customizability options for different parts of a shoe.
Targeting the ever-changing needs of consumers, Nike is definitely rocking it with their modern-looking and functional e-commerce product configurator.
A mobile product configurator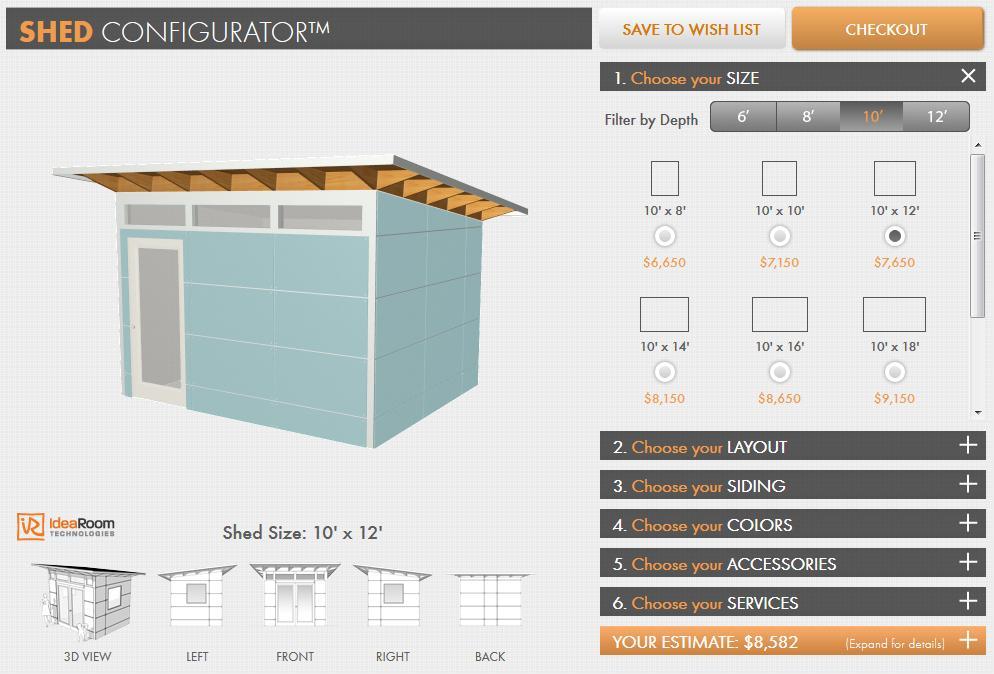 A mobile product configurator is an application similar to a web product configurator, however it has slightly different usage purposes.
While a web product configurator is highly accessible by the B2C community, a mobile product configurator is the best fit for B2B because it uses a different personalization and customization level of products.
A mobile product configurator can support a lot more options for a product, usually, a big one. For example, a shed, porch, room design, manufacture parts configurator or any other complex configurator which requires a lot of thinking and planning.
Such a configurator is commonly used by sales reps who require fast offline access when presenting a product to a customer or a business. The solution is used in many cases from door-to-door sales to in-house presentations for big companies.
A mobile product configurator can be a very effective solution if your product is unique and the market hasn't seen it yet, or if your product is simpler to show rather than explain such as an aircraft engine workflow.
An example of a mobile product configurator
This configurator allows you to change different room assets, including color and material. This is a very simple, yet efficient, web-based product configurator with cross-browser and cross-platform accessibility.
Room Configurator is an HTML5 application that enables user manipulations towards the interior, allowing to project the interior appearance of the room after wooden, metal, or plastic elements and parts are installed. Potential buyers can now explore and test any material, color, and texture components they would like to attach in a realistic virtual environment. Moreover, customers can also see all the detailed info about the planks before purchasing them, including the type of the wood or a color scheme.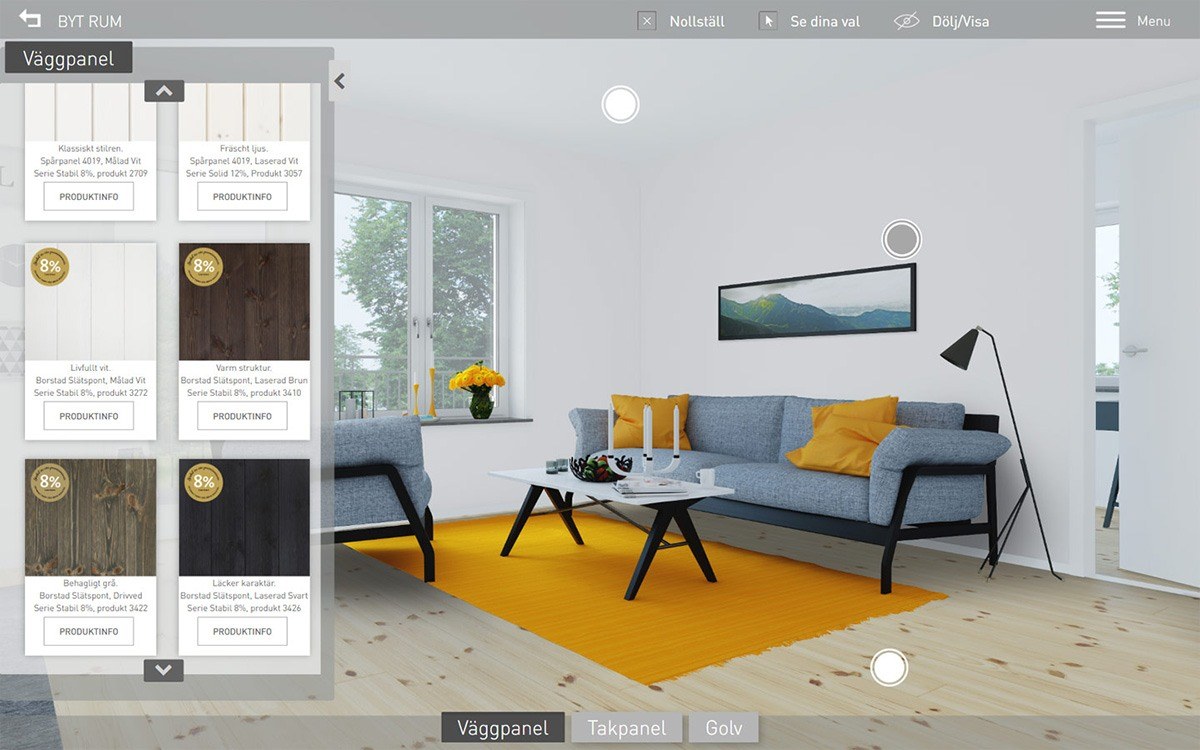 The application was designed to vastly reduce expenses for rent and labor services, as well as reducing the customers' time spent by instantly reaching the marketplace.
VR product configurator
A VR product configurator is a revolutionary approach to the whole product configuration industry because it leverages the power of devices such as the Oculus Rift S and HTC Vive.
The main difference of a VR product configurator from the above-mentioned configurators is that its access is limited to VR devices. Also, it uses a fully-computerized, virtual environment where you can configure a product.
This particular technology is now gaining momentum and might be very useful in the future. With software like Blocks, designed by Google, users can build 3D models in the virtual world, so configuring a product doesn't seem that odd.
An example of a VR product configurator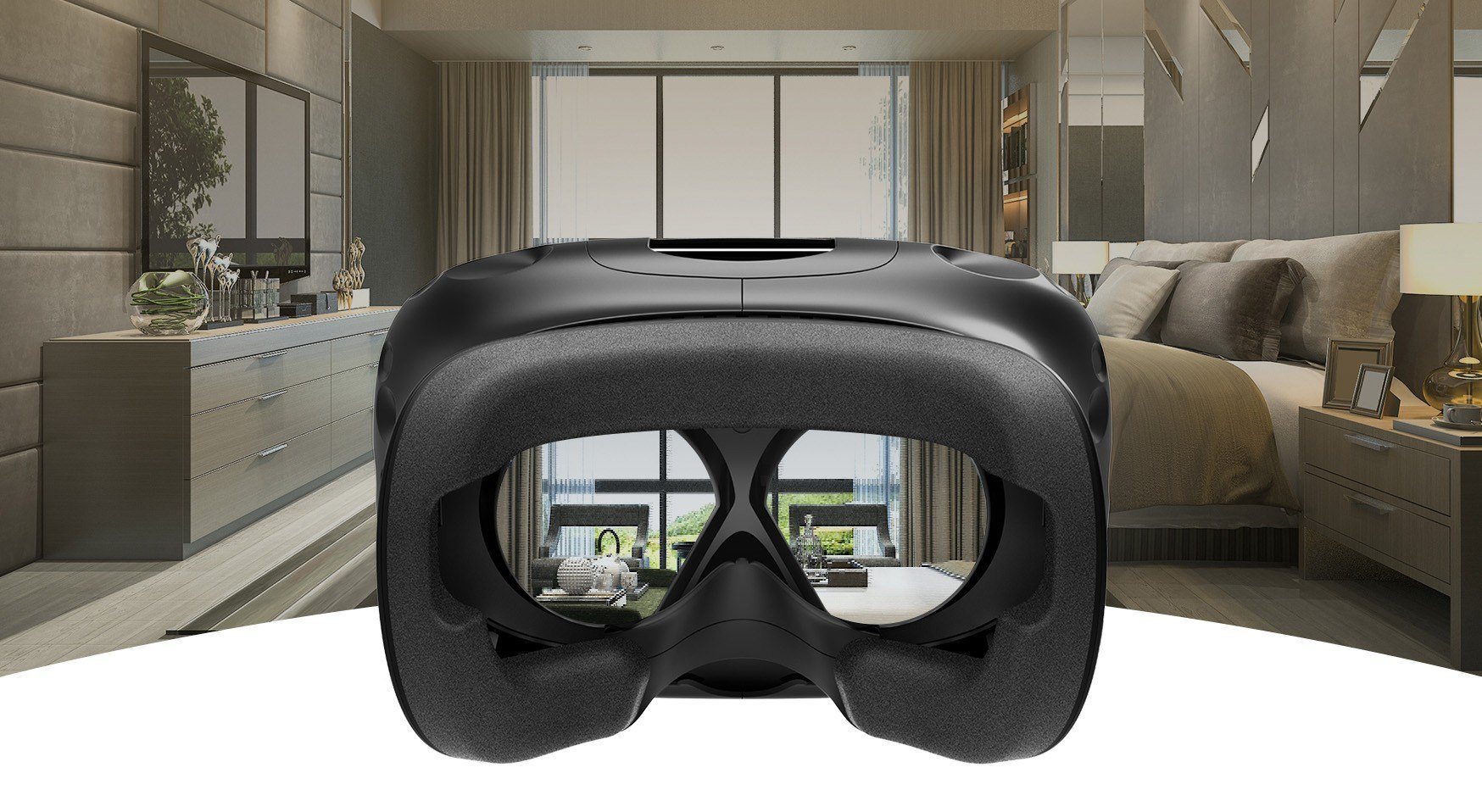 In fact, at Program-Ace we've developed a few VR product configurators upon clients' requests.
At first, VR Hotel was designed as a virtual reality tour, however, it can also be utilized as a product configurator since it provides customizability opportunities for different objects in the VR hotel.
For example, in the VR Hotel configurator some features you can modify are the room colors, choosing the entrance types, bathrooms, customizing bed sizes, switching between day/night (which can be useful for particular clothes that shine at night for example).
AR Product Configurator
An Augmented Reality (AR) product configurator is slightly different from a VR product configurator and is much more useful and applicable to real life situations.
It uses an AR technology empowered with surface detection to render a 3D model of a product in real-time and provide extensive customization opportunities. AR product configurators are effectively used at different conferences and during sales trips to help speakers and sales managers establish visual and emotional connection with the audience.
AR product configurators can more sophisticated and may soon replace normal dressing rooms because your mirror will be able to work as a dressing room itself.
Recommended article: "How Retail Companies Leverage AR Technology to Gain The Market Share"
An example of an AR product configurator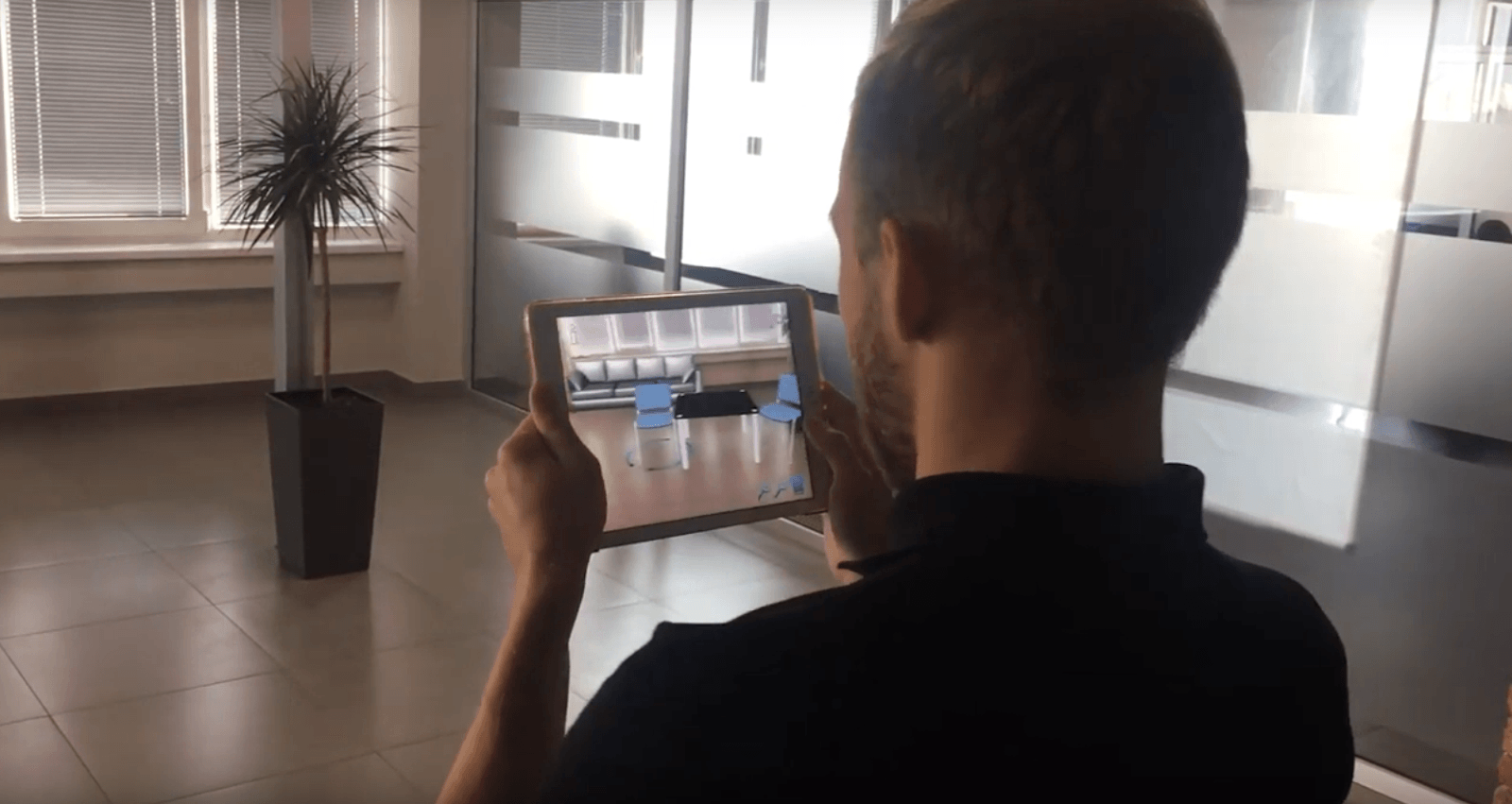 Being actively used in retail, interior design, automotive, engineering, and manufacturing industries, an AR product configurator easily wins the market share among the latest technological advances in business.
At Program-Ace, we focused on the interior design and retail industries building an application similar to IKEA's.
We've created FurnitARe, an augmented reality furniture application that brings interactive room design experience to a new level using a markerless AR solution. The app allows you to choose various furniture, view it, customize, and rotate it in real-time.
How you can benefit from developing a product configurator for your business
As a business owner, you may be thinking about delivering more personalized services to your clients, build more loyalty, and improve sales.
A product configurator is basically telling your customers:
"Hey, we have made this app for you, so you can explore what you want. No rush, no consulting, just take your time and choose your thing. Find your style, colors, size – make sure it fits your lifestyle, status, or business. Talk to your friends, family, business partners and then when you're ready – you can buy. We will be right here."
Helps to convey the value
One of the most important aspects of an interactive product configurator is that it's all visual. Often times, words are not enough to describe the value of a product, and a product configurator solves this problem easily.
Decreases refund and return rates
Your clients are now the ones responsible for the products they buy because they selected them knowing exactly what they were going ot get. It means fewer refunds and returns because your customers are happy.
Increases ROI
Fewer returns mean more ROI and profit. A product configurator has a fast payback period because it tackles the most considerable issues with e-commerce sales including communication, amount of content, and product interactivity.
Just check out the BMW product configurator. Would you not want to buy that car? It's awesome.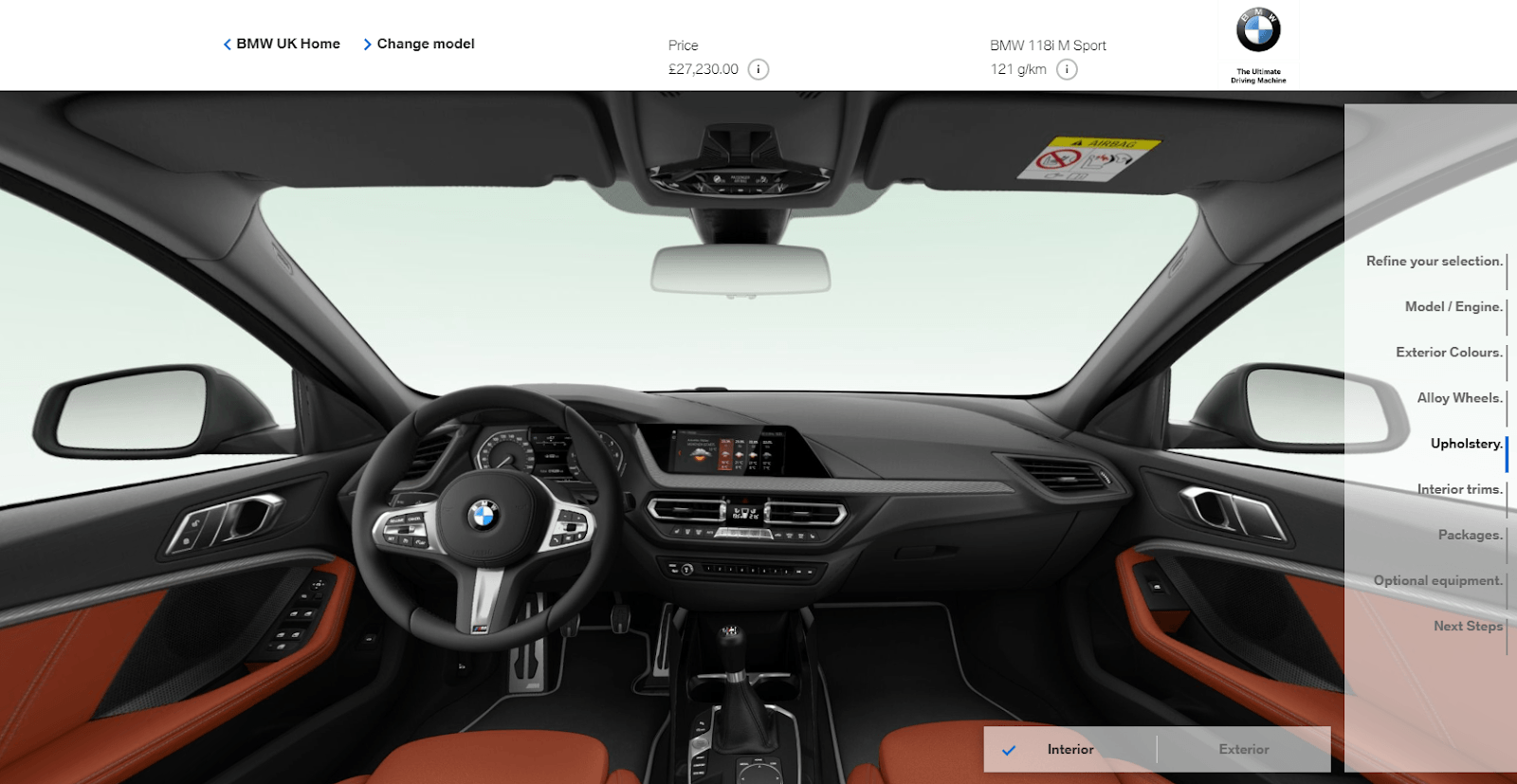 What you should know before you make a product configurator
The first thing you should consider before making your own product configurator is whether or not your audience really needs it and how they will benefit from using it.
For example, you may tell precisely who BMW and Volvo customers are. These are the people with some of the following characteristics:
Above the middle class income level
Want to underline their status and expose their potential to the public
Value their time
If you feel that your audience is ready to accept and adopt innovation, then you may look into desired features of a product configurator.
Product configurator features
Apart from being an innovative solution that underlines a business's tech-savviness and customer-centric approach, a product configurator has to become a strategic solution that has measurable Key Performance Indicators (KPIs).
A professionally-created product configurator includes:
Import of 3D models from CAD systems
Enterprise Resource Planning (ERP) integration
Customer Relationship Management (CRM) integration
Point of Sale (POS) connection (in case of an existing local store)
Real-time product customization
In-built billing system
Notification system on the admin side
These features ensure that a product configurator will save time and administrative expenses by automating product management operations on the software level.
However, a product configurator doesn't necessarily have to include all of the listed features because they depend on the style of a product configurator:
E-commerce product configurator
Enterprise product configurator
3D product configurator
Depending on the product variation complexity and size of your company, a different configurator may be created.
How much does it cost to develop a product configurator?
The cost of a product configurator depends on the desired functionality (system integration and features) and modeling work (3D models, animation).
Based on the feature complexity, a product configurator can be divided into three types when it comes to pricing:
Basic – $15,000+
Standard – $30,000+
Extended – $100,000+
Some product configurators may costs millions of dollars while others usually start from $15,000 and are most commonly requested by e-commerce business owners.
Our experience in building product configurators
There are several configurators which we are allowed to show. One of such configurators is an HTML5-based room configurator for interior design agencies and manufacturers.
Bus configurator
Another project was a bus configurator for a famous bus manufacturer. The configurator allows assembly, disassembly, and customizable parts for a bus.
From wheels, doors, and windows to corp design and technical features, the configurator has extensive functionality that's needed for a bus manufacturer and distributor. The project is under NDA and can't be disclosed in the article.
Unreal engine-based room configurator and virtual walking tour
This is a prototype of a real-time virtual walk-through tour in combination with a photorealistic room configurator solution.
Currently, the application supports several interactive objects and rooms where a user can walk, explore, and make furniture design decisions to enhance a room's appearance without the need to try imagining how the furniture would look like in the room.
Conclusion
A product configurator is a great tool for a business with variable products because it helps minimize the consulting and sales work while increasing ROI. By implementing a tracking system into the product configurator, you can get insights on your consumers' tastes and serve them even more valuable products and perform A/B testing before you even open a store.
At Program-Ace, we have developed many product configurators of different complexity and style. If you're thinking about how to build a product configurator and need help, feel free to contact us here.
Want to get more stories to your email?