While people talk about the new possibilities that the metaverse will bring into human life, most global tech leaders are already working on the practical implementation of the boldest ideas. For example, Microsoft has already invested $69bn in a metaverse development, while Meta (Facebook) spent $10bn to merely start building their solution.
In addition, companies from different industries are also preparing to enter the metaverse, bringing their business to a new level. Hence, entrepreneurs should think about creating a marketplace for a metaverse to keep in time. And the best part is you don't even have to be pro in developing such complex solutions until you have a decent metaverse development company by your side.
This article will help you find out the essentials and specific features of NFT marketplaces in the metaverse, as well as different ways to start this project according to your business goals and resources. Let's get our journey started!
Looking for qualified help with metaverse marketplace development?
The Role of Marketplaces in the Metaverse
In case you want to refresh your knowledge, the NFT marketplace is a technical concept for trading non-fungible tokens in the metaverse. Since the metaverse is a simulation of the real world, allowing people to communicate, entertain, travel, and even work, it also has a unique economic system based on blockchain. This technology ensures transaction security, as blockchain-based NFTs are transferable throughout the whole metaverse.
So once you have a metaverse solution for your industry, like gaming or real estate, you should create and implement a virtual market where all the related NFTs (for example, gaming assets or pieces of a virtual land) are placed for sale. Still, what are the particularities of marketplaces for different fields? You are about to discover it.
Different Types of Metaverse Marketplaces
People who don't follow news on the metaverse topic would be surprised at how many famous brands and companies from unexpected industries have entered the metaverse. It must be that they have found a significant value in creating their metaverse marketplaces. Let's see what's special about these projects and how they work.
Metaverse NFT art marketplace
Marketplaces have become famous for the crazy trading with NFT art, as digital files like images, GIFs, audio, and video were selling for millions of dollars. For example, Pak's NFT artwork The Merge was sold for $91.8m on Nifty Gateway, a leading NFT marketplace.
However, metaverse marketplaces offer users a more interactive way to explore artworks. For example, users can attend virtual galleries of NFT artists, explore presentations and previews, as well as be a part of live auctions through their avatars.
Metaverse gaming marketplace
GameFi or play-to-earn (P2E) games are based on the ability of gamers to earn in-game NFT assets run by blockchain technology and smart contracts. Since these games are decentralized, gamers can withdraw NFT items to their NFT wallets attached to gaming marketplaces. So metaverse NFT gamers can search, purchase, and trade gaming assets on the primary and secondary markets.
Metaverse real estate marketplace
Selling real estate in virtual reality for real-world money sounds a bit crazy. However, it can bring a decent profit and capabilities. For example, you can sell a piece of digital land or property to commercial enterprises planning to transfer their businesses into a metaverse. Also, you can build whatever you want on the digital lend and manage the access to your property.
Like in Decentraland (a metaverse based on Ethereum blockchain), metaverse members can buy, sell, rent estate, and even conduct NFT auctions. Additionally, some companies can showcase their architectural projects, from prototypes to representations of real-world properties. In the form of personal avatars, metaverse users explore buildings, apartments, and pieces of land from the inside and the outside, regardless of their physical location.
Metaverse e-commerce marketplace
Eventually, people get used to traditional e-commerce platforms — web and mobile applications. Yet, there is always a customer type preferring offline shopping over online due to the need for a complete shopping experience. But if a mobile app doesn't allow you to try on clothes and see some products in action, a metaverse marketplace does.
In addition, we all remember the desire to go shopping during the global pandemics, when all shops were closed. In contrast, metaverse users can attend shops in virtual reality, explore and compare different products, and simultaneously interact with them. The most exciting is that e-commerce marketplaces provide their users with shopping of all kinds — from grocery shopping like in a VR Walmart store to test driving and purchasing an automobile.
Features of Metaverse Nft Marketplace Development
Once you decide to enter the metaverse and implement your marketplace, it's essential to know how to make this project successful. Therefore, we've highlighted the particularities and the main principles of creating a beneficial metaverse NFT marketplace.
Decentralized system. Marketplaces are built on blockchain technology, making a platform's infrastructure decentralized. This means that a single owner or specialist doesn't run a platform. Instead, it's a system operated by multiple computers transferring data from one to another. Thus, it gives platform users privacy, security, control, and mobility of transactions.

Interoperability. From the principle of decentralization, interoperability is formed as the ability to expand ​the capabilities of your marketplace to other metaverse projects. Thus, your NFT marketplace system will be able to exchange information with other systems, while metaverse avatars can switch infrastructures and platforms like in real life.

Security & P2P transactions. Peer-to-peer technology and security systems protecting users and their transactions from cyberattacks are also a base of blockchain technology. Simply put, the blocks of chains with the purchase and user data are securely coded and automatically transferred with a smart contract.

Simple tokenization & listing. Users should be allowed to tokenize their assets for listing them on a marketplace easily. This is one more feature of the metaverse marketplace as a system — you are not only able to sell NFTs but also to turn your assets into tokens.

NFT wallet. In order to store NFTs, purchase NFT products, and get money for selling them, users need to have NFT wallets developed or adjusted for your marketplace.

Immersive environment & storefront. Besides technical aspects of metaverse marketplace building, it's also important to work on the environment design, making it vivid and interactive. Thus, your marketplace users would be more involved in their virtual shopping. Additionally, each product should have the complete info about the pricing, characteristics, and previous owners, in the form of a storefront.

Bidding and auction. Many NFTs can be sold and bought through auctions when people propose their prices for a product from a lower to a higher one. So it's better to provide users with the ability to arrange live auctions.

How to create an NFT Metaverse Marketplace
The development of an outstanding NFT metaverse marketplace is a complex process. It requires the mastery of advanced software solutions like the Unity metaverse, as well as deep expertise in building immersive experiences.
However, we're not going to overload you with excessive information about coding, the process of implementing a marketplace, and so on. Instead, we want to share different ways of hiring the right kind of specialists according to your business needs and resources.
In-house team. Hiring specialists for a full-time job on a project may seem like the most optimal option since you choose these people yourself for a long-term partnership. However, it takes much time and effort to find and hire proficient specialists with the right expertise, not to mention the expenses of full-time salaries and social packages. Besides, most industries like real estate or e-commerce simply don't need to have a full-time NFT marketplace development team.
Dedicated team. Suppose you want to manage a project yourself and you already have some developers on your board. In that case, it's possible to hire dedicated specialists from a company with expertise in NFT and metaverse fields. Thus, you don't have to spend much time searching and hiring, as a company's managers could provide you with CVs of cherry-picked specialists. In addition, a company that dedicates their employees takes care of them so that you won't have to.
Outsourcing. Entrepreneurs usually don't have time to manage such projects by themselves or a manager proficient in the NFT/metaverse fields, let alone powerful equipment and other resources. Thus, you can outsource the entire NFT marketplace development project to an experienced company with deep expertise in working with XR solutions, blockchain technology, software/metaverse development, etc. This option is one of the most time- and cost-effective, especially for a long-term prospect.
DeFi VR World: Metaverse With an NFT Marketplace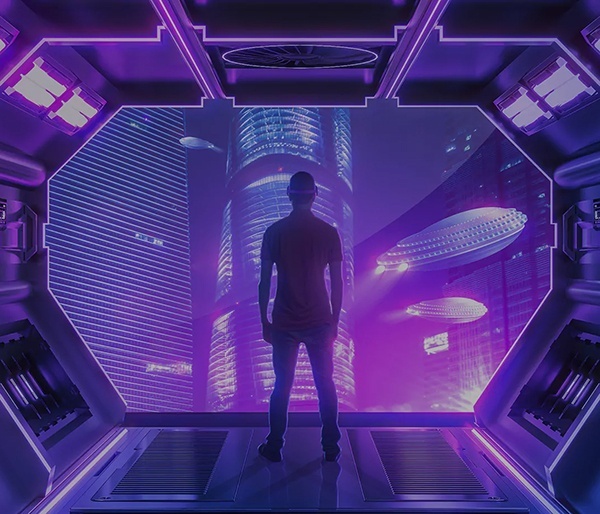 Program-Ace has built a custom metaverse for its client. Powered by blockchain, it provides many safe activities. Login to the virtual world and enter your own 3D home where you can buy or sell items for NFTs, interact with other users, and chat inside an in-built Web 3.0 social network.
Develop a Metaverse Marketplace with Professional Support
Entering the metaverse with your services and products is a great opportunity to expand your audience, boost sales, and provide your customers with an outstanding shopping experience. So a platform for your metaverse-based business should be optimally functional and user-friendly to cover your customers and company's needs.
In order to make this project stress-free in process and flawless at the final result, Program-Ace is ready to support you from management to launch or dedicate our best metaverse marketplace developers to your team. In any case, you can rely on our broad experience in building complex immersive solutions and deep blockchain expertise.
Contact us to discuss your future project in more detail and choose the most appropriate business model for our partnership.
Want to get more stories to your email?