If we had to pick the most popular word of 2022, it would probably be "Metaverse". The buzz around this term began in 2021 with Mark Zuckerberg's hour-long presentation and renaming of his company to Meta. Judging by the billions of dollars that companies and startups are investing in it, this topic is worth a look for any business.
If you are interested in how to start a metaverse company, we've got you covered. This article will go over everything you need to get started in this field or recruit help from a metaverse development company.
Businesses in the Metaverse: Opportunities and Benefits
The second biggest question for business owners (after learning what the Metaverse is) pertains to what it does – how can it help their business? Well, we've already seen some early benefits and use cases appear, and many more are currently in the works. Let's look at some potential uses and benefits for companies in the Metaverse:
An evolution for remote work
As a virtual world, the metaverse will be a place where people can meet, work, come up with new ideas, and carry on with most of the activities they do regularly in their professional lives.

Vast improvements in visualization
Virtual reality technology used in metaverse solutions allows users to experience things up close and with an incredible level of immersion and realism. This is a game-changer for learning programs, presentations, and brainstorming.

Cutting costs and resources
The simulation capabilities of the metaverse can eliminate or cut many business costs, including personnel (virtual assistants will fill in roles), building rent and maintenance (physical office presences can be reduced), and equipment.

New marketing opportunities
The metaverse is a hot topic, and consumers and businesses alike are eager to see how far it can be taken. Thus, if you craft a solution in this niche, it is bound to attract plenty of attention and present your company as modern and innovative.
Best Metaverse Business Ideas
In today's business world, the metaverse offers the greatest opportunities since the invention of the internet. The most evident effect is seen in the following areas:
virtual events;
social media;
employer engagement;
NFT sales services;
energetic and immersive learning experience;
engaging and immersive shopping experiences;
gaming;
virtual traveling.
Companies working on metaverse solutions
Though the metaverse has been embraced by practically all major industries, the list of companies building the metaverse is still relatively small, so there is plenty of room to join and dominate the field. Below are some of the current pioneers and leaders from different industries:
Metaverse Creation Checklist
Before undertaking any project in the Metaverse space, you should have a good understanding of what it will take. Hopefully, the list below gives you a good idea of how to get started in the Metaverse.
Please note:
If you lack anything from the list, a development partner can help and fill in any gaps.
Learn more
Specialists
Building a metaverse solution will take multiple specialists, whose quantity and level of expertise should be determined by the scope of the project. For example:
1 Project manager;
5+ developers;
1-2 QA engineers;
1-2 Business analysts;
5+ artists (2D/3D).
Resources
Apart from people, you will need to collect a set of tools, materials, and items crucial to the development process:
Hardware
VR headsets (for testing and eventual use);
server infrastructure (to host and support your metaverse);
high-performance PCs (for coding & other intensive operations);
other (mobile devices, scanners, access keys, etc.).
Software
IDEs for scripting;
2D/3D modeling/design software;
QA applications;
engine (e.g. Unity or Unreal);
VR SDKs.
Understand the Difference between the Centralized and Decentralized World
It's important to choose a platform where your target audience is demonstrating willingness to learn how to enter the metaverse. Large corporations conduct research and collect data on demographics, geographic location, and purchasing behavior. This is to ensure that when they open a new project, it's perfectly positioned to attract the right people entering the metaverse. This can be applied to metaverse platforms as well. Let's look at some pros and cons of the centralized and decentralized platforms.
Centralized world
The centralized world is the old metaverse approach that doesn't use blockchain technology. Notably, the most popular examples of centralized worlds are Fortnite, Minecraft, and Roblox.
Pros
Good opportunities for brands to market their products and get in front of a large audience.
Proven track record of bringing in broader communities.
Cons
Brands cannot enable users to own digital items (NFTs).
Centralized platforms have communities but not entire ecosystems (Ethereum) that can support them and onboard users, developers, etc.
It's more difficult to build integrations to bring other services or goods onto the platform.
Decentralized world
A decentralized platform, on the other hand, is built on blockchain technology and can utilize the ownership structure of digital items in the form of NFTs. Centralized platforms also use in-game assets you can buy, though they only exist in this particular open world and not beyond.
Pros
You can use NFTs to build brand experiences and enhance the digital identity of consumers.
NFT interoperability implies that crypto wallets allow for NFTs to travel in the future from one metaverse to the next.
Untapped opportunities for loyalty programs thanks to tokenization.
Cons
Regulation is still in its early days to protect consumers from exploits, hacks, etc.
Higher entry barrier for the audience due to UX constraints (create a wallet, buy a blockchain native token to buy an NFT, etc.).
Not a huge amount of daily and monthly active users compared to centralized worlds yet.
Plans
Here, we are talking about concrete ideas of what your metaverse will contain and what you want to accomplish.
Business goals for the solution;
core structure and functionality;
work breakdown document;
concept art and design plans;
deployment/marketing strategy.
How to Build Your Own Metaverse
The companies at the helm of the metaverse movement are saying that it will be a whole digital world that unites people, places, and companies. However, until this global and universal platform is accessible, businesses are free to develop their own metaverse (within the confines of a single company or brand), with the perspective of integrating it into the larger product later. Thus, we want to discuss how you can build this self-contained type of metaverse for your business.
Aspect 1
In order to successfully launch your business in the metaverse, you need to be one of the first to focus on your niche, which makes sense in virtual reality and is built on it. But before, you should answer a few questions.
How to get started on metaverse?
What type of demographic group will use your product or service?
What should your metaverse be related to, and what type of platforms, social media, or payment methods does it have to be integrated with?
What do you need to enter the metaverse?
What features and mechanics do you want to implement?
Aspect 2
Everyone should understand that the metaverse is the evolution of the internet. This means you should follow specific rules already mastered by the best online businesses.
Before you begin moving your business to VR, create a company website, and do much work on your social media presence, increase traffic to your websites as well as experiment with platforms like Amazon, Facebook, Instagram, Twitter, and eBay.
These skills in building websites and businesses on the internet will help you learn how to get involved with the metaverse when you start your journey. Also, traffic from your other businesses you can convert into the metaverse.
Aspect 3
A fully functioning economy requires good tokenomics:
to explain crypto tokenomics, it's first necessary to provide a brief explanation of crypto tokens. A crypto token is a digital currency that operates on a blockchain, a public ledger of transactions;
a decentralized network of devices verifies all transactions and records them on the blockchain. The developers of a crypto token are the ones who determine its tokenomics since they determine its features and how it works.
Crypto tokenomics is a combination of 2 separate words — "token" and "economics." This is a term for all the factors that go into the value of a cryptocurrency. This word includes various factors, such as: the maximum token supply, token circulation, incentives for token holders, and the project's utility.
Tokenomics is a simple way to refer to the overall economics of a specific crypto token. When you analyze tokenomics, you are essentially looking at what gives value to crypto and whether the value will likely rise or fall. By the way, project success and life cycle often depend on successful tokenomics.
Factors that influence the crypto tokenomics:
Maximum supply. This is the maximum number of tokens for a cryptocurrency, which plays a significant role in what price a cryptocurrency can realistically reach. For example, if the maximum supply is 1 quadrillion tokens, the odds of a cryptocurrency hitting $0.01 are almost nil since it would be worth $10 trillion.
Token distribution. This refers to how the developers of a cryptocurrency initially distribute tokens. Although it's normal for projects to have funding like an initial coin offering (ICO), watch out for projects where a large portion of the supply has gone to the founders or investors who got in pre-launch.
Mint/burn schedule. This is the schedule for adding or removing tokens from circulation. Inflationary cryptocurrencies typically add blocks of transactions on a set schedule and mint a certain number of tokens per block. Deflationary cryptocurrencies may have a burn schedule or burn a percentage of every transaction.
Utility. This means the cryptocurrency's use case or the problems it aims to solve. The utility is the most crucial part of any cryptocurrency. If a project doesn't have any apparent reason to exist besides memes or going up in price, that's a clear sign to avoid it.
Let's discuss the creation of the metaverse in more detail.
Step 1 – Creating the core platform
Virtual locations are the first pillar that will support your metaverse. After all, if you want people to interact and partake in some activities, they will need spaces where to do this. For example, you can build virtual conference rooms, cubicles, break rooms, and any other spaces that will support planned activities. Similarly, you will want to give the users some form of representation, such as 3D avatars.
We suggest using Unreal or
Unity metaverse
tools for these core elements and functionality because they are the most comprehensive as well as versatile tools currently available for the task.
Step 2 – Integrating your product/service
Once the overall virtual world is created and people are able to visit it, you can start filling it with digital items, features, and content relevant to your business. For example, if you want employees to train how to work with company equipment, this will entail integrating an accurate 3D model of the machinery and building the interactive options/animations for the training regimes.
If you want users to fill orders or manage some computer system in VR, you might create a special interface linked to the systems via the internet that users will control with hand gestures and finger presses. It is up to you to figure out how you want everyone to contribute to your business in this digital world and provide them with the tools to do so.
Step 3 – Engaging your employees, clients, partners
One of the amazing things about a metaverse is how much room there is to grow and expand. Thus, even after you implement the main ideas you have in mind, you will probably see countless opportunities to expand. For example, as your employees start spending time in these virtual spaces, they might come up with dozens of ideas on how their work/activities can be improved.
And doing it is so much simpler than in a physical office. You have great freedom to extend the metaverse to clients and partners. This might be in another layer of the software or in virtual spaces directly connected to those your employees visit and work with. This way, the setting becomes something you can actually make money from, provide services, and make cooperation/trade with partners much more convenient.
Development is fastest with a partner.
Check out our metaverse development services
Key features you might implement
We have talked a bit about finding business cases for your metaverse and selecting key functionality. Well, you may find it helpful to look at some of the popular features companies are already implementing into their metaverse platforms:
Creativity/visualization tools
Virtual reality is a great place to be creative, so you may implement a drawing board or 3D design tool that users will use as an outlet for their ideas – no physical materials necessary.

Trade/ownership of resources
You can use your digital space as a place to trade real or digital items. For example, integration of NFT galleries and custom crypto tokens is a popular way of engaging users in your digital economy.

Photo/video capture
If we assume that people will be spending many hours and days in the metaverse, it stands to reason that they will experience many funny, exciting, and memorable moments, which are worth capturing with a built-in tool, similar to the way we make screenshots and screen recordings.

Time management tools
This one is pretty self-explanatory. To avoid getting lost in an immersive world and getting distracted, you can implement clocks, timers, and other organizational tools for better productivity.

Educational resources
VR is the perfect place to undergo training, assess user knowledge, and analyze reactions to certain situations, so you can implement a range of learning courses and simulations.
MR Experience Metaverse Platform by Program-Ace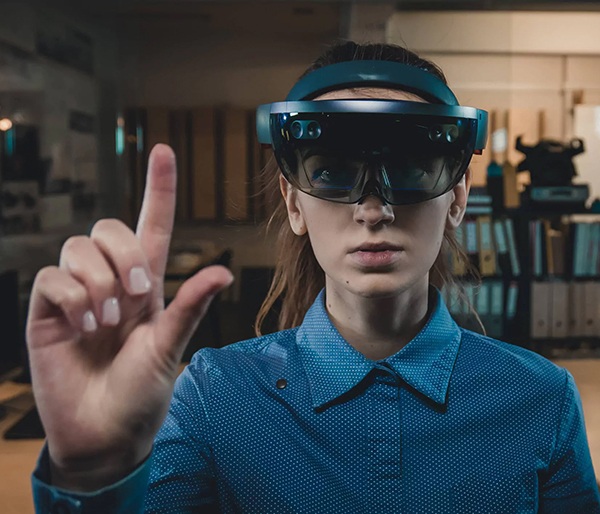 Once you pay a call to this innovative virtual world, you may find yourself amazed by the scope of opportunities it offers. It is mainly built for people with no coding background who want to craft spatial training solutions inside a cloud-based VR environment.
Should you build a metaverse yourself or with a partner?
Even if your company has in-house developers and 3D modelers, there is no doubt that creating a metaverse is a huge challenge that could take years. Especially if your developers and designers have no previous VR experience and have not built any application ecosystems similar in scale.
With this in mind, many companies are choosing to work with partners for this type of need. This way, the work gets done faster and your internal staff is free to work on other pursuits. Not to mention that development partners often have much stronger experience and technical abilities than anyone you host.
Among the numerous VR development companies operating today, Program-Ace is perhaps one of the best suited for building metaverses. We have a huge team of experienced specialists, a rich portfolio of complex projects, and nearly a decade of experience in creating immersive solutions – in VR/AR/MR.
Thus, if you want to know what cooperation between our companies might look like and how we can make your metaverse dream a reality, just contact us.
Want to get more stories to your email?