Digital twins have become the backbone of smart manufacturing and industrial metaverse, linking the physical world with the virtual dimension. Manufacturers, construction businesses, oil & gas corporations, as well as others use this technology to upgrade their processes and reach a new level of effectiveness.
The mass adoption of the digital twin diversified the technology and created several types of them you can find in enterprises. As a modern and innovative company, we have delivered various types of such solutions and, together with our experts, collected the main info you should understand about the technology while conceptualizing your own digital twin.
What are the Types of Digital Twins?
A digital twin is a technology that allows the creation of a virtual copy of any entity. However, a true digital twin is more than a simple replica of a product, an equipment piece, or a workshop. The underlying concept of the technology implies that there is a real-time data exchange between a digital twin and its physical counterpart. This ensures that the data obtained through the implementation of the technology is relevant and corresponds with ever-changing real-life conditions and external influences.
Manufacturers use digital twins differently and apply them to various stages of the production process. But the main value of these solutions remains the same: in their diverse types, every digital twin pursues the goal of process optimization, which triggers the following changes and upgrades like the adoption of smart automation, predictive analytics, and others.
To delve into details, there are several types of digital twins, and the main difference between them is the scale of coverage. While some solutions may represent the smallest unit of the production line, others might imitate the whole shop floor or even the factory. So, let's contemplate the four main digital twin types.
Component Twin
The component twin, also sometimes called parts twin, is the lowest level of digital twin technology. It corresponds with the smallest elements of the system — a certain part of the equipment or product, e.g., a sensor, a switch, a valve, etc. The virtual representation of such smart parts allows for monitoring of their performance and simulating real-time conditions to test their endurance, stability, and efficiency.
---
While this type of digital twin mimics the manufacturing layout on a minor level, it enables enhanced surveillance of the equipment parts and their timely maintenance, which, in turn, ensures the stability of the production process and product quality.
Product Digital Twin, or Asset Digital Twin
A product or asset type of digital twins is the next stage in the hierarchy of this technology. Usually, they consist of several component twins or use the info generated by part twins to model a complex asset like an engine, a pump, or a building. An asset twin analyzes how efficiently separate parts interact together and perform as a whole solution.
---
The implementation of asset/product digital twins allows engineers to acquire insights regarding equipment performance and detect potential improvement cases. This consequently powers up productivity enhancement, optimization of such metrics as mean time between failures (MTBF) and mean time to repair (MTTR) and resource consumption reduction.
System Twin
System twins duplicate assets on the system level, representing how different assets combine into functional units (therefore, you can also encounter the name "unit twins" applied to these solutions). System twins give a large-scale overview of the factory or plant, making it possible to test different system configurations to achieve optimal effectiveness or reveal new business opportunities for the introduction of additional profit sources.
---
The coverage of system twin includes a set of assets involved in a certain operation, e.g., energy supply or production of a certain base product within the plant. The real-time monitoring and simulation on this level go beyond the detection of malfunctions and failures achieved through simpler types of digital twins. It is a path to gaining data valuable for strategic change-making and full process visibility.
Process Digital Twin
The highest level of digital twins, process twins, connects the system twins into one entity that explores the collaboration and synchronization between different systems. This solution gives the maximal view of the processes and workflows within the plant or factory, which allows for a much deeper and more versatile analysis of output.
---
Process twinning helps to tweak inputs like the rate of feeding raw materials, production temperature, etc., and gain data on outputs without disrupting the actual manufacturing process and jeopardizing the production quality. As a result, executives get a chance to conveniently and harmlessly test different business hypotheses, efficiently track essential business metrics and enable data-driven decision-making rather than rely on intuition or speculations.

How Different Types of Digital Twins are Represented in Industries
In recent years, more and more sectors started to grasp the value hidden behind the digital twins. We can see successful implementation cases in healthcare, logistics, retail, and e-commerce, but still, manufacturing remains one of the leaders in the digital twin adoption and development. Dozens of worldwide manufacturing giants report about impressive results they manage to achieve through digital twin adoptions. Within this list, you can find brand names like Tesla, Ford, Lockheed Martin, General Electrics, and many others.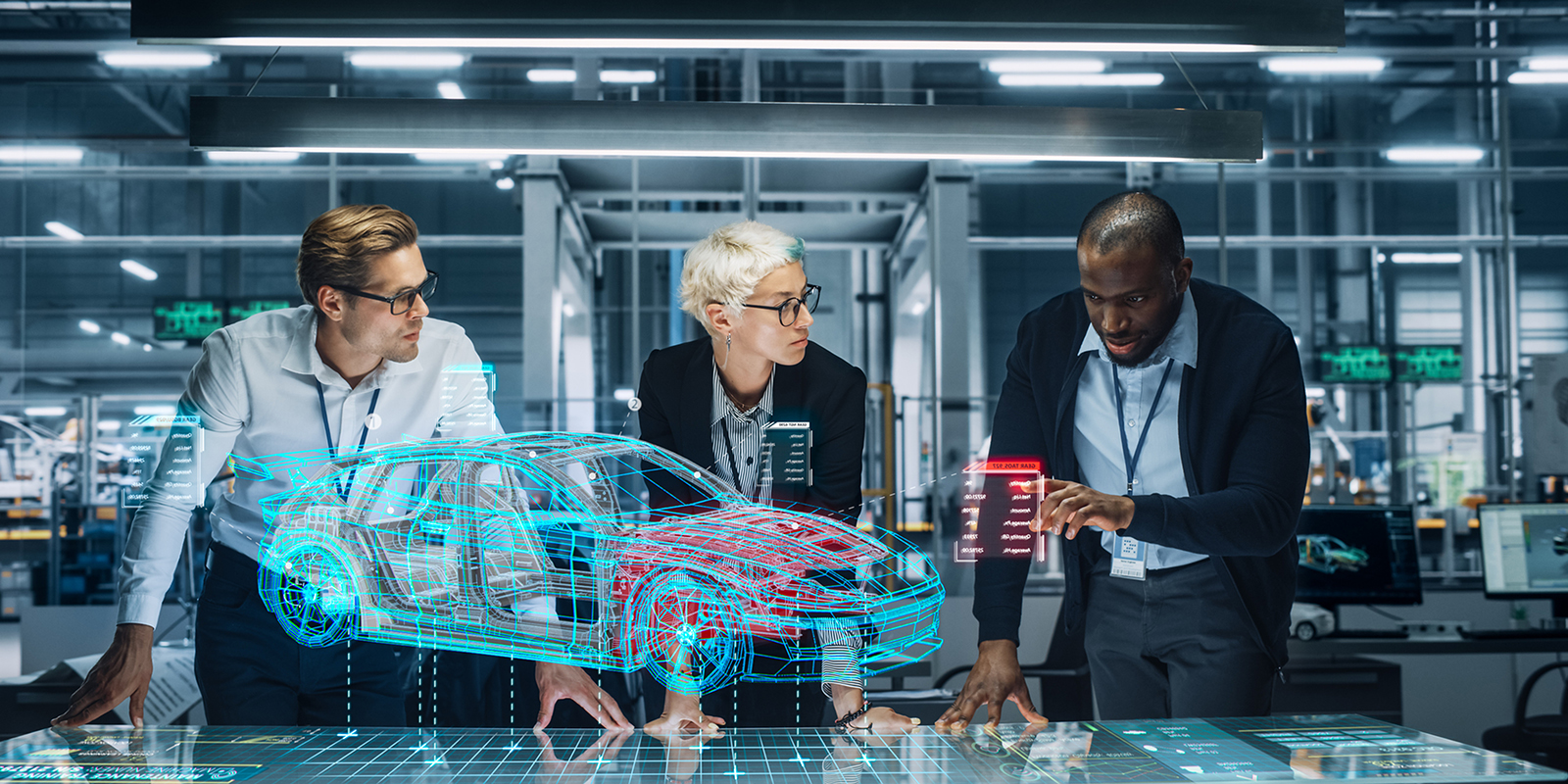 Component twins, as the first and the smallest link in the digital twin ranking, are one of the most common examples of digital twins in manufacturing. They are the building blocks for the more advanced digital twinning system and enable the practice of real-time monitoring and simulation within the company.
Product and asset twins are also gaining popularity within various factories and plants.
First, they allow simulating equipment pieces, which in turn powers up predictive maintenance, a practice that reduces downtime and saves thousands of dollars for manufacturers.
Second, through product twining, automotive manufacturers are able to create virtual copies of the vehicles they sell, monitor their state, and notify car owners about maintenance needs before the breakage occurs, thereby improving customer satisfaction and reducing warranty expenses.
Third, asset twins can even change the business model of the enterprise, and Kaeser, a manufacturer of compressed air solutions, is a vivid example of this phenomenon. This company implemented digital twin technology to track the data on the air consumption of their products. Instead of selling their system to the client, they decide to charge customers according to the air consumption rate.
Fourth, product and asset twining also play a crucial role in the creation of the industrial metaverse. The digital twin technology and the metaverse are directly connected, as the former makes it possible to transfer physical entities into the virtual world precisely. Hence, the companies that work on developing their virtual factories rely on product and asset twins in order to leverage the full potential of the metaverse.
System and process digital twins as more complex types of technology are mainly adopted by huge conglomerates that have the opportunity to invest in long-term development projects. As a result, such enterprises manage to reach enhanced levels of smart automation and relieve employees from excessive workload, reduce the number of defective batches, optimize electricity and water consumption, enhance safety, or gain full control over processes and production quality like Unilever.
As you can see, the more advanced type of the digital twin the company adopts, the more substantial result it achieves. At the same time, you won't be able to skip the first levels of digital twins and immediately start to model complicated, intertwined systems because the advanced solutions usually consist of the plainer predecessors.
Build Your Digital Twin with Program-Ace
In a world of growing innovations and intense competition, digital twins have become almost a must-have element for manufacturers that aim for success. Thanks to their popularity, digital twins are a pretty mature technology that has proved its value and positive impact on factory and plant effectiveness. Therefore, it is high time to consider implementing this technology for your manufacturing business, especially if your competitors have already started the adoption process.
To ensure a positive outcome for this initiative, it is crucial to get support from a reliable development vendor that has experience delivering such types of solutions. Program-Ace, a custom software development company with 30 years of track record in the industry, is experienced in building digital twins for businesses operating in the manufacturing industry. We have expertise in simulation development, 3D modeling, AR/VR, integrations, and other areas necessary for a digital twin creation. Feel free to contact us to learn the details.
Want to get more stories to your email?