2020 is shaping up to be a very momentous year, with major events and changes taking place all over the world – some good, some bad. As an unexpected consequence of the health crisis, millions of people have gotten used to doing things remotely – working, communicating, performing, shopping, and even learning. A massive surge of online education and EdTech is taking place, and Virtual Reality (VR) is one of the technologies at the forefront of this movement.
We are experts in VR development!
How Online Virtual Reality Education Works
Although VR is typically associated with gaming and the overwhelming majority of VR users play such games, the platforms also offer applications in other genres that millions of people enjoy. Thus, VR education programs and solutions are widely available to everyone and in any location, provided that they have purchased/obtained what they need – hardware and software.
Hardware
Most of the VR systems available today incorporate a headset or a visor that takes up the user's whole field of view, as well as optional accessories, such as controllers, gloves, and distance sensors. They can be divided into 2 general types – those with a custom-built display connected by wire to a console, or those with a headset where the display is provided by a smartphone attached to it. Examples of the former include Oculus Rift and Valve Index, while the latter include Gear VR and Google Cardboard. Cardboard is the simplest and most affordable option of the mentioned platforms, as it has a cardboard frame and simple glass lenses.
Software
The software that runs on these platforms can come from several sources. If the VR device is phone-based, then the software is developed for the Android or iOS application marketplaces (Google Play or App Store). As for more advanced headsets, the apps are usually developed for the headset makers' application stores and released there, though some developers port their apps for use on various devices and platforms. Thus, the hardware is made by tech companies and the software by developers. It is up to users to purchase both, though some apps are available for free.
Top 10 VR Applications for Education
Consumer-targeted VR platforms have been around for about a decade, and this time has been sufficient for a wide variety of educational apps to be made. We want to list some of the top picks across different platforms and devices:
These apps make up just a fraction of the thousands of other options related to education available across different marketplaces. You can find a few more fine picks here, as well as in the marketplaces.
Learn more about using of Augmented Reality in Education
How Can VR Help Education?
The use of virtual reality inside the classroom and college campuses has been explored extensively, with hundreds of studies being conducted.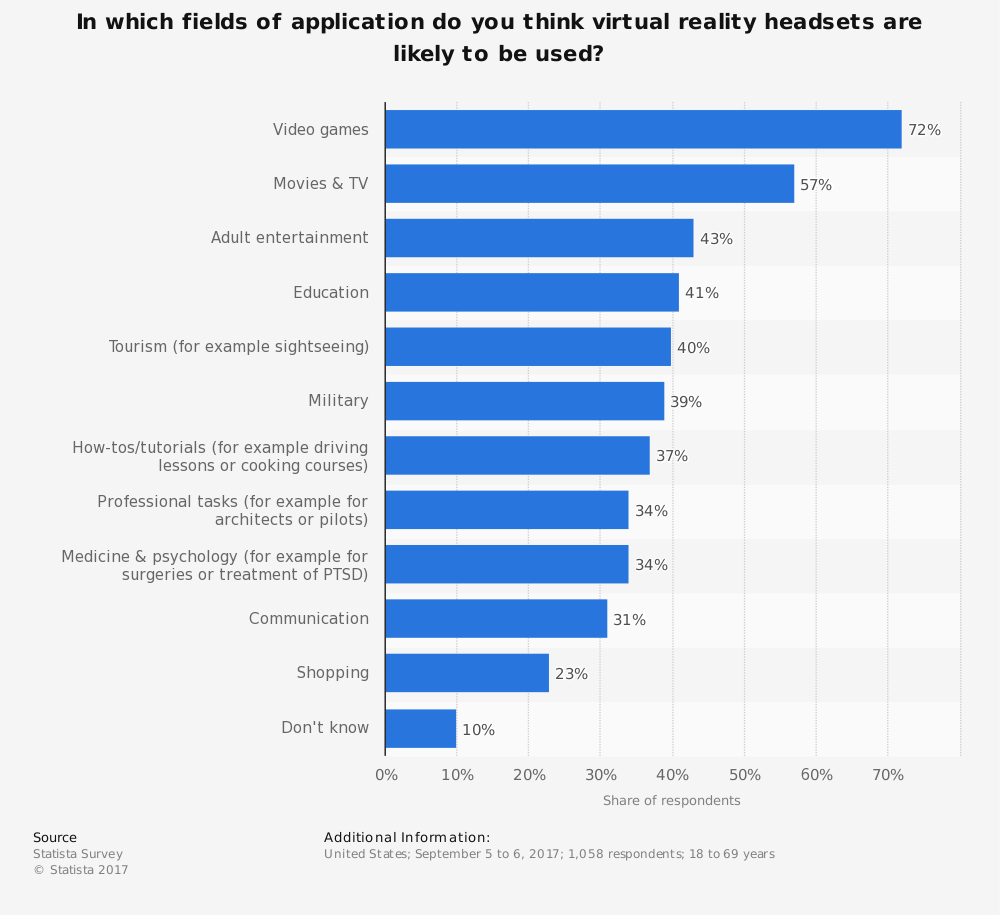 The displayed data shows the results of a survey conducted in the United States in 2017 on fields of application for virtual reality headsets. Some 41 percent of respondents stated that in their opinion VR headsets are likely to be used in the field of education.
Overall, educators have found that this is a great learning tool, especially for small groups and classes. But what about online courses and learning? To no one's surprise, various virtual reality benefits in education have also been found. Let's go over some examples:
1. Creating equal opportunities
One of the greatest advantages of the technology is that it draws everyone into the learning process that wants to participate and has the right gear. Unlike a traditional school or college, you do not need to drive for hours to get to your class, or even walk. Thus, people who are ill, disabled, or simply unable to go somewhere physically (e.g. due to quarantine) can just put on a simple headset like Cardboard and go to their lesson virtually.
This is the kind of approach that was implemented at Davenport University in Michigan. Using special software, the university created a digital representation of their campus that students and teachers can visit and interact with each other. They have personal avatars and visit classes as they did months ago, albeit not in a physical sense.
2. Replicating exciting events
Many people forget this, but education is about more than just sitting in classes and doing homework. There are typically various events involved, from presentations to workshops to conferences and ceremonies. Online learners have typically been deprived of the opportunity to participate in such events, but times are changing. With the help of virtual reality, you can put on a headset and find yourself at a seminar or school assembly with other students.
This was demonstrated recently by Purdue University, which plans to hold its graduation ceremony in partially-live and partially-remote format. Simple headsets inspired by Google Cardboard are distributed to students who cannot make it to the ceremony due to restrictions, and they are then able to participate in the proceedings and excitement as if they were really there.
3. Visualizing complex topics
Some things and concepts in this world are incredibly difficult to visualize in a textbook or a classroom, so students fail to grasp how it actually looks and functions. The only recourse left for teachers is describing it and hoping it sticks in the minds of the learners. These approaches are substantially superior to visualization in virtual reality, which allows you to see the cosmos, cell structure, as well as other complex objects and topics.
This is why the Royal Canadian Geographical Society created an online classroom for students in self-isolation. They can use computers or headsets to see and learn about complex topics, including the ivory trade, disposal and utilization of waste, and marble artisanship.
4. Making learning more fun
One of the drawbacks of traditional education is that students get used to the same routine, same classroom, and same interactions every day. On the other hand, VR brings customization and fun to the process. Not only are students excited to try new technologies and learn information in an entirely new setting to them, but the way that this information is presented to them can be changed every day, week, month, etc.
Steven King, an associate professor at the University of North Carolina decided to provide his students with a novel learning experience. Thus, he created a virtual classroom based on his real-world lab that students show up to and continue their classes. Except they show up virtually, sporting imaginative and amusing avatars like ducks and pandas, and interact with other students while remaining in the comfort of their homes. Needless to say, it proved to be a fun experience for everyone involved.
5. Improving the accessibility of practical tasks
When it comes to the practical aspect of education, students often need special equipment or conditions to learn. For example, medical students learning various procedures and operations need a test dummy or actual physical models to practice on. In other cases, students need to travel to a special facility or location to receive hands-on knowledge in their vocation. This puts additional strain on schools and colleges, which sometimes have a difficult time obtaining even basic learning materials. However, with VR, the need to travel anywhere or invest in expensive equipment disappears.
All across India, students are using a VR module developed by a local company to learn about the human brain. They can easily rotate it, zoom, and split its lobes for a different view. This is certainly not an experience that would be easy to replicate physically, and the same can be said for thousands of other practical learning tasks that can be made accessible and affordable with the innovative technology.
What is the Forecast for the Development of VR eLearning Apps?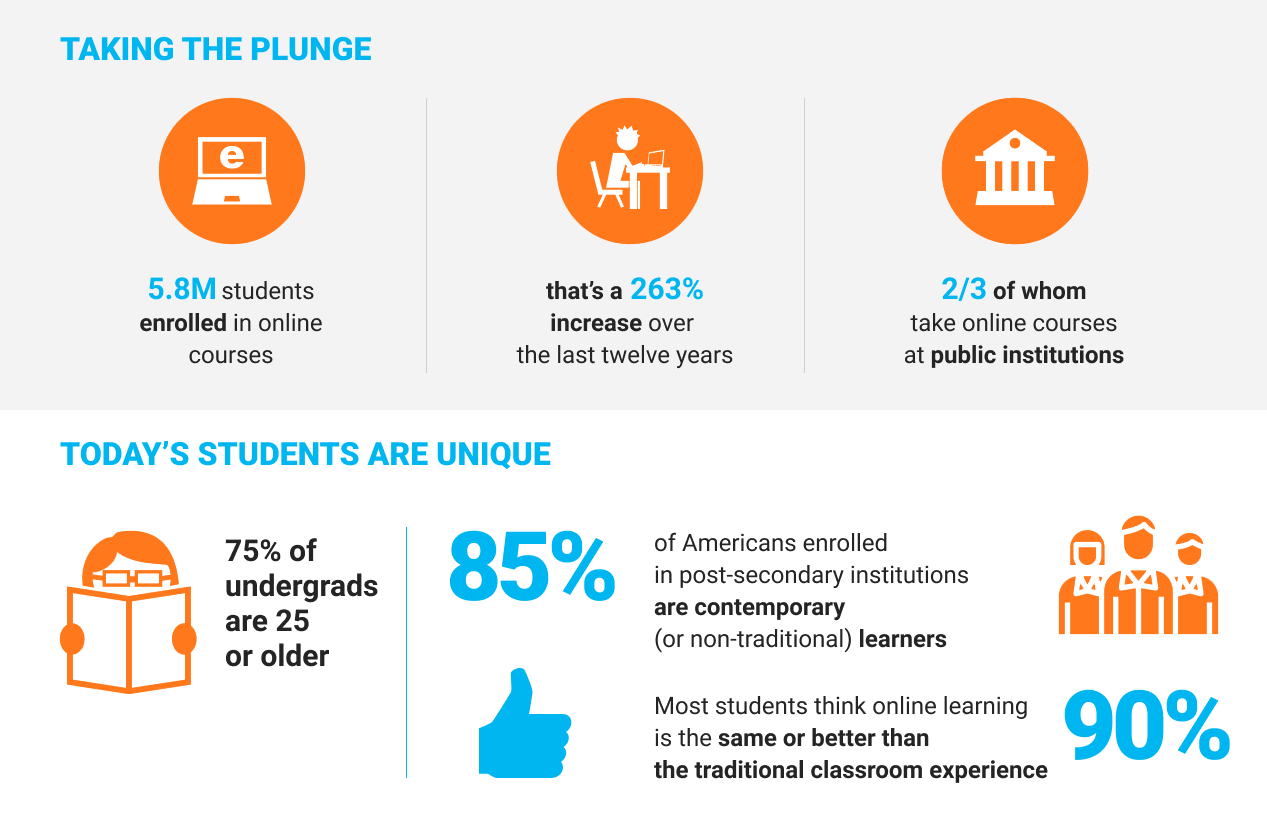 In the U.S.A alone, over 6 million people are participating in eLearning, and the numbers in other parts of the world surely add up to tens of millions. Over the last 2 decades, eLearning has grown to 9 times its initial volume, and a threefold increase is expected in the next 5 years. These statistics clearly show that online education is gaining steam, and VR developers should take note.
Considering how great of a medium virtual reality is for learning, we can expect the adoption of these programs and new learning approaches to skyrocket. The number of VR learning apps will grow at an astounding rate as the user base grows, so developers who come up with new and innovative ideas in this field are on track to make big profits. The great thing is that development of digital apps is open to everyone, so even people and companies who have never worked with the technology can learn how to code or find someone to build a program for them.
Where Can I Find a VR Developers for my eLearning App?
You can find thousands of companies involved in VR development through Google search, but this is hardly the best way to choose your development partner. The choice should be based on a company's experience, reliability, capacity to deliver results of high quality and meet timeframes, among other factors. A better way to find suitable candidates is to look at the data provided by research agencies like Clutch, which gather data and feedback about various companies and assign a rating to them.
Program-Ace is a market leader in VR/AR development, recognized by Clutch as one of the best in developing for general industries and niche ones like eLearning. With over 26 years of experience in application development, we have created thousands of products and solutions, with many of them based in the spheres of VR and education. We have a talented staff of over 120 specialists, most of which are seasoned developers working with VR, AR, MR, Web, Games, 2D/3D design, and general software development.
Whichever platform you choose for your eLearning app project, it will be our pleasure to discuss it with you and see how we can help. If you trust us with your project, you can count on reliable and timely results of the highest quality. Just reach out to us today or whenever you are ready!
Want to get more stories to your email?