A product configurator is a digital solution for work and sales automatization that has become an integral part of most fields of business: eCommerce, B2B, manufacturing, marketing, and even training. It can function as a sales management solution or 3D prototype, depending on your needs, as it allows customers and users to customize products and items and test their capabilities.
So what if you have decided to build a 3D product configurator and implement it in your company but don't know how much it really costs? Then you've come to the right place! In this article, we will share the average cost of a 3D product configurator and what factors affect the price, and how to build a custom product configurator that will meet your business needs.
How Much Does a Product Configurator Cost to Build?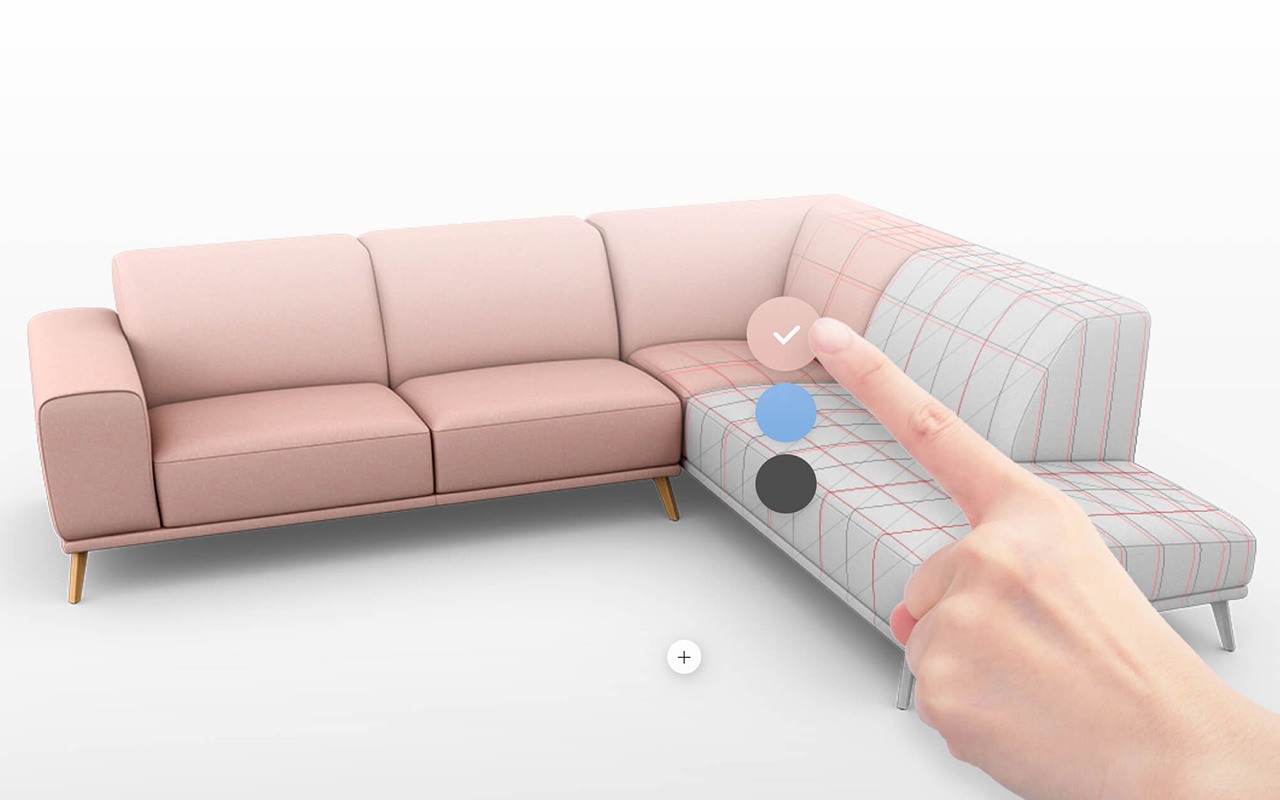 The minimum cost will usually be $25 000,
while more complex projects tend to be up to $150 000.
Of course, the cost of any development cycle depends on the required functionality, time of execution, and how effectively the team collaborates. Another reason why some projects can have a lower price is when they are handled by development companies based in countries like Ukraine, which are known for dedication to quality and a propensity for low-cost product configurator development.
This is unlike some Asian countries, where the development cost can be even lower (due to low cost of labor) but the quality of the software leaves much to be desired. As a result, customers have to spend extra money to fix and polish the solution - a real hassle. On the other hand, most US and Western development companies can guarantee excellent quality but for a much higher price than Ukrainian developers.
What influences the cost of configurator development?
In the event that you want to pre-calculate the cost of your project, we are ready to share the most common factors that can make an overall price lower or higher, as well as the quality.
Content type
Your VR/AR or Web product configurator should definitely contain different visual assets, but their type — 2D or 3D, will depend on the purpose. For example, 2D content is simple flat graphics with which can't be modified. But when you need, let's say, a furniture product configurator, it's better to provide the ability to rotate the items and examine them from different angles as well as apply different textures and other options. When a project should contain 3D models, it will take more time and effort to develop than 2D images that barely influence customers' choice.
Level of 3D model detailing
Detailed modeling takes several stages to create a high-quality 3D asset for a product configurator. Thus, if you need a model that will impress and attract more customers to your product or present a prototype considering all the important details, be prepared for a higher 3D modeling price than average. That's because deep detailing takes more time, effort, and special skills in detailed modeling.
Platform
A product configurator can be intended for different platforms — mobile, web, desktop, XR. The cost of development for each of these platforms varies because each of them takes a different time to create and has various levels of complexity. For example, the assets for a mobile product configurator rarely demand highly detailed and complex development.
On the other hand, web and desktop versions have a wider resolution, so a product should look like a photo-realistic and natural 3D model at this large scale. The same thing applies to configurators created with AR/VR/MR technologies. So it's tough to create a highly detailed and natural-looking product, simply because it takes much longer and complex work.
Level of immersion
Many large-scale projects involve different levels of customer immersion. An outstanding example is the use of AR for a product configurator, especially when deployed in a browser.. Augmented reality with WebAR immerses customers directly on a website, presenting your commercial offers to users, and thereby boosting sales. That kind of development is not easy to conduct, and requires some substantial investments.
It's also important to know that VR technology can also be used for product configurator development. Moreover, it can provide the highest level of immersion but it's also the most labor-intensive kind of development that takes a lot of resources — time, money, experienced specialists.
Rendering approach
Have you ever noticed how exactly customized models load when you visit some website? Some of them are loaded in real time, which means that when customers change any product's feature with a product configurator, changes take place on the same page in real time.
However, they can also be reflected with page reload or opening of a new page - both of which are quite inconvenient for users. Real-time rendering tends to carry a higher cost, but also provides the smoothest experience.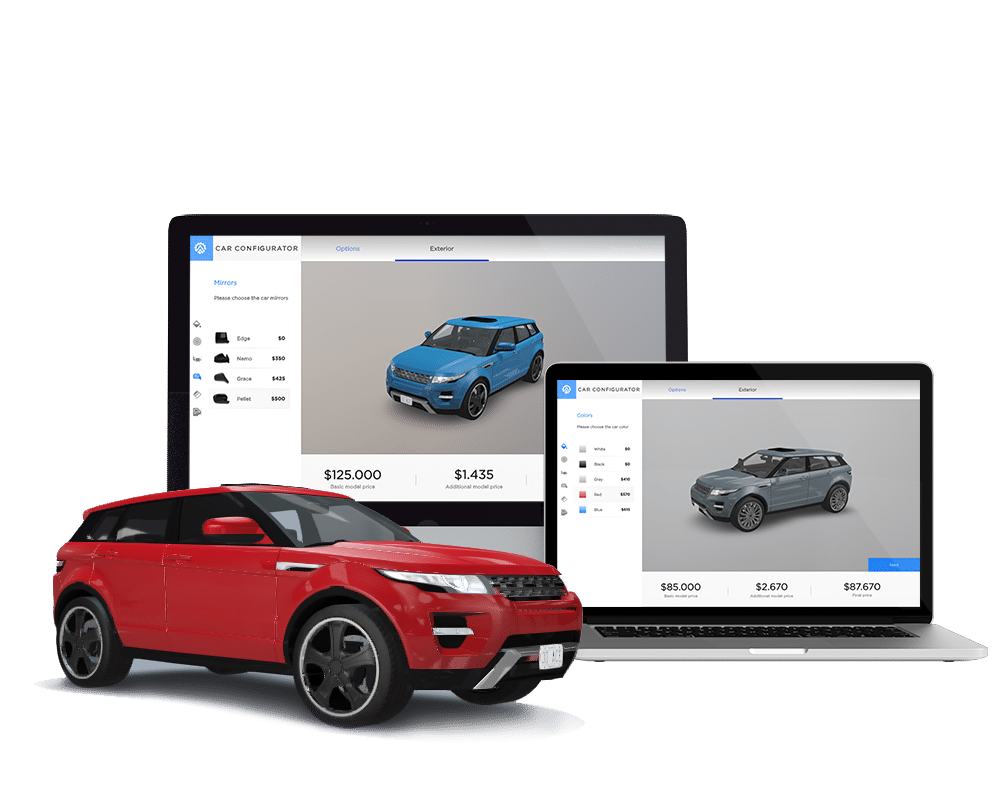 Top Reasons to Build a Product Configurator in 2022
When selling a product through the Internet, there are many ways to convince customers that your offer is perfect for — advertising, articles that describe all of a product's features, discounts, etc. But nothing works better than visualization and interactive experiences.
That's how it works and brings benefits, such as:
Immersive effect and interactions

Customers get better immersion from your product not only with the help of VR and AR technologies, but also thanks to the opportunity to examine it in detail. A static picture cannot convey much information, unlike a 360-degree view. Thus, customers focus more on your product and discover information about with interest.

Emotional impact

Usually, when a client visualizes a product in their everyday environment and tries tinkering with it, this leaves an emotional connection between to the item. In other words, the customer has already interacted with the thing, formed an impression, and even put their own spin on it, which significantly influences their eventual decision to purchase or not.

Customization

It often happens that your product almost satisfies clients, but they aren't convinced or happy with one aspect of it. They feel like their individual needs have not been met. However, a 3D configurator makes it possible to immediately customize the product according to their needs, which can significantly erase/lessen concerns and shorten the client's path to purchase. Furthermore, this feature can definitely give your company a leg up over competitors.

Automatization

Business process automation is an excellent solution not only for business owners but also for clients. Many people don't like to feel the pressure of sales managers, and some aren't ready to make calls to discuss the potential purchase of an item they are seeing for the first time. A product configurator makes it possible to do all this in a few clicks without third-party involvement. As a result, there is no need for sales representatives to spend as much time on clients' consultation and order processing.
Ready to give life to your product configurator?
Let's begin with a discussion!
How to Develop a Custom Product Configurator
Building a custom product configurator requires specific knowledge and skills in various fields — from 3D modeling to design and full-fledged software development. In such a case, it is better not to burden yourself with hiring an in-house team and selecting specialists or freelancers. You can save so much time by outsourcing a project to trustworthy technical partners!
Program-Ace, with 29 years of experience, has plenty of successful cases of product configurator development, and all the required resources to execute a project quickly and with top-notch quality. Besides, we are really passionate about what we do, and will turn a deep understanding of your business goals into something tangible that achieves them.
Feel free to contact us in order to get a personal consultation and discuss all of your project needs. Let's keep in touch!
Want to get more stories to your email?