What role does technology play in your company's operation? We believe the lion's share of business domains can't keep up with the competition without going deeper into digital. And this is one of the reasons why the global rendering market is thriving — it's projected to be worth $20bn by 2030 with a 20% GAGR.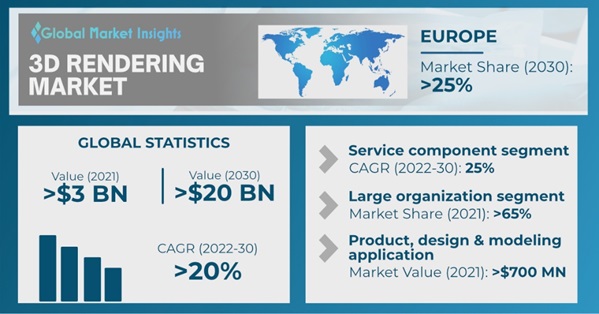 Construction, interior design, and retail — specialists in each sector actively use rendering to provide their customers with top-notch visualization and interaction level. But what if we told you there's an even more profitable, convenient, and straightforward solution than traditional 3D technologies?
We are talking about Pixel Streaming — an excellent solution allowing businesses to level up client experience in product interaction. Do you want to know the magic trick behind it? Fortunately, this article will shed light on the meaning of Pixel Streaming and its benefits to your company.
What Is Pixel Streaming?
Known initially as Epic Game's solution, Pixel Streaming is a technology allowing users to avoid downloading large-sized files. In practice, it looks like this — instead of downloading a program, a user can access a digital product via a link and interact with a source file placed in one's Unreal Engine project.
It works like live stream events on YouTube and other similar platforms. Streaming pixels to a user's device, like a PC, tablet, or smartphone, takes place. All that your clients need is network access.
The solution can also be used in a slightly different format. For example, specialists can refuse to publish large files of digital products on their websites by using cloud capabilities that take only a few MB. Accordingly, a web page is able to load and perform much faster. As a result, Pixel Streaming provides the next-generation user experience. You can gain more insight into the technology by watching this video from Unreal Engine's official YouTube channel.
How Pixel Streaming works
Pixel Streaming Example to Get Its Gist
So, how does Pixel Streaming technology work in practice? For a better understanding, let's explore the Microsoft Pixel Streaming case. With Microsoft's cloud base, Azure, specialists can deploy various digital products created in Unreal Engine by simply exporting and adjusting a file on a server.
In turn, users can access an application via a standard link. Once a person uses a link, the data from the cloud base is encrypted on a user's device, whether desktop or mobile. Developers stream not only the visuals but also the sound. Moreover, they make user interaction with an application or other digital product real. This way, users can get the ultimate experience from an application.
Do you need help with Pixel Streaming technology?
Contact Program-Ace
What Industries Can Benefit from Pixel Streaming
Any company that's been using 3D technologies for their product creation or improving client experience can use Pixel Streaming as a more profitable and efficient solution. To illustrate use cases clearly, let's take a look at how some different sectors can use Pixel Streaming for business purposes.
Interior design industry
To provide customers with a clear visualization of their interior design projects, many companies use 3D modeling, rendering, and animation to make a photorealistic presentation. Be it rendered images or 3D walkthroughs, all of these take much time to export as a new file that weighs a lot.
So, you could use or provide a simple link leading to a source project in Unreal Engine and perform a presentation right there. There is no need to install a separate program to play a media file. You can even display the content on several devices simultaneously, and interaction with it will also be shown to all the participants in real-time. Remotely or on-site, the quality stays the same.
Thus, a fast and straightforward presentation will save you and your client time while providing a realistic and detailed illustration that sells itself.
Architecture industry
Clear architectural visualizations are the backbone of successful deals and properly executed projects. To reach the finest result in both, Pixel Streaming simplifies not only presentations to clients but cooperation between teammates as well.
Thus, your specialists can use Pixel Streaming instead of using screen sharing, which displays low quality. In real-time, they can work on improvements and, eventually, save time due to the unnecessity of file export.
Automotive companies
The modern automotive industry doesn't work without essential digital tools. Be it for vehicle design or distribution purposes — Pixel Streaming will make this work more straightforward. For instance, your engineer can create prototypes of new car models and stream to other specialists' or a supervisor's device.
Additionally, this feature can optimize car configurators. Customizable 3D models of automobiles can be pixel streamed on a platform (app or website) instead of implementing it with coding. The loading speed of your website will, accordingly, be faster.
Retail sector
Digital configurators are widely used not only for making a dream car right on a website — it perfectly works for plenty of product kinds. For example, fashion retailers can use Pixel Streaming to allow their online customers to explore clothes, shoes, and accessories in a 360 detailed view and adjust them for specific needs and preferences with customization.
Furniture manufacturers can also provide their clients an opportunity to examine their products in detail. With Pixel Streaming, they could even utilize AR (augmented reality) functionality to check how some pieces of furniture look in a person's interior. During the design phase, specialists can also use Pixel Streaming for optimized cooperation.
Gaming companies
Any gamer knows that it takes time to have a full gaming experience. First of all, a user should download a game that usually weighs tons of GBs. Then, installation kicks in, and it can take hours.
But what if a person's device storage is full? It requires deleting some other games or large files to start the process of downloading a new one. In a word, such an experience is a cause of frustration and mental exhaustion. Not the best start you'd wish your clients to experience, right?
Although Pixel Streaming still isn't well-optimized for gaming, it's a matter of time when it will become a game-changer that disrupts old-style gaming installation. There's no secret that companies providing a more effortless and less time-consuming way of getting a product are winning the competition with those making the process complex.
Pixel Streaming Cost & Main Factors Affecting the Price
Pixel Streaming is a relatively new yet already incredibly demanded technology. Its implementation depends on several factors described below.
Project's scale. There's a wide range of digital products worldwide, so implementing Pixel Streaming for a hyper-realistic PC game and a mobile retail app will simply differ in the file sizes and the number of frames.

Timeframe. Faster execution usually takes more specialists or performs overtime. Accordingly, the final price rises when you urgently need to get your project done. And vice versa, the cost can be lower when a project has been started in advance.

Level of Detail (LOD). As you probably know, the more photo-realistic and detailed your graphic is, the more pixels it has to manage and stream. Besides, products with high LOD take more time for execution.

Level of specialists' expertise. Developers and artists you hire should have broad experience in navigating and interacting with Unreal Engine as well as its Pixel Streaming technology. The more profound your team's expertise, the faster and more accurately your project will be executed. In the long run, working with reliable professionals will be more profitable since things like bug fixing or recruiting new specialists are highly costly.
Sharpen Your Services in a Profitable Way with Program-Ace
So, do you want to be one of the pioneers in providing the next-level user experience to your clients? Program-Ace, a professional custom software development company, can optimize the process and mechanics of your product providence while saving resources in the long run, using the full potential of Unreal Engine's Pixel Streaming technology.
Contact us for a more detailed consultation and personal estimations for your case.
Want to get more stories to your email?