Play with Purpose:
Exploring the Impact of Serious Games on Learning and Training
Whitepaper
Serious Games
Gamification
Today, the increasing penetration of the Internet into every sphere poses particular challenges for training and learning. Traditional educational methods become obsolete as they lose efficiency in the information-intensive, digitalized world that drastically changes people's perception and focus. Enter serious games, a revolutionary tool in the arsenal of training.
Serious games exist at the intersection of education and entertainment, which aligns them with the current realities and demands for productive corporate training. More and more enterprises lean toward these digital platforms over old-school methods as they observe the value generated by serious games, e.g., improved knowledge retention, enhanced employee motivation and engagement, etc.
In this whitepaper, Program-Ace's specialists gathered the core information revealing the impact of serious games on corporate training. It will help you understand the concept of serious games and evaluate the practicality of their implementation for your company.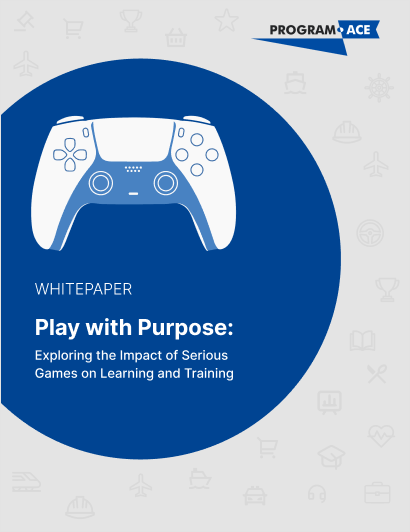 Request this whitepaper to learn:
How serious games can correspond with corporate training objectives.
The roles of serious games in enhancing learning retention.
Successful cases of well-known enterprises leveraging serious games.
A step-by-step guide for serious game implementation.
Evaluation of future perspectives for serious games within corporate training.
Explore serious games and take a step forward to enter the new interactive era of education and corporate training!

Program-Ace is an R&D and innovation-oriented software development company with 30 years of successful track records and vigorous growth on the IT market.
Address

Headquarters: Nicosia, Cyprus
Representatives: Germany, Poland, Ukraine,
USA, Canada, UAE

Subscribe
Stay ahead of the curve and get weekly updates on the lattest industry trends, tips, and news.
Thank you for subscribing!
You are now subscribed to the Program-Ace newsletter.
Discover more on our website:
Download the Full Case Study
Stay ahead of the curve