One of the most prominent courses of Program-Ace's activity is an investment in innovations and R&D. Our one of the biggest European teams of Unity developers discovers new approaches to development and produces top-notch, out-of-the-box solutions across many industries.
Not only do we look for technological concepts, resulting in enhancing our clients' businesses, but also share industry insights and developments with the brightest minds of our generation.
Program-Ace professionals took an active part in the Third International Technical Conference. This event, organized by one of the top technical universities – Kharkiv Polytechnic Institute – featured many interesting and appealing papers from industry professionals, professors, and soon-to-be alumnus. Our reporter Anastasiia Bobeshko reported live from the scene.
As a Technology Enthusiast, she also was the one who helped Denis to craft his speech with beautiful language and help him develop a presentation scope. Together with Oleksii, she also participated in the presentation part and helped attendees experience the capabilities of virtual, augmented, and mixed reality.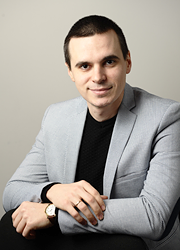 Denis Potapenko, Director of 3D Development Department at Program-Ace, made a presentation on how mixed reality, and particularly HoloLens, impacts various industries branches, specifically education and training.
He introduced the term "reality-altering" and explained how one reality-altering technology can be distinguished from another. Moreover, he told the audience about the limitations of existing VR and AR solutions and how mixed reality solves these issues. In addition, he introduces an audience to HoloLens, a standalone mixed reality headset and explained its capabilities.
Denis also initiated demonstration of Program-Ace latest developments in order to introduce a thankful audience to the world of top-notch technologies. In addition to explaining features of mixed reality applications, he shared company insights on why Microsoft HoloLens has been named "the future of computing" and how it brings new aspects to the industry of games, training, and education.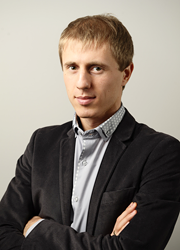 Oleksii Burkun, Head of the Cross-Platform Department at Program-Ace, demonstrated the company's successful virtual reality and augmented reality solutions. Among the most prominent were MilitAR, Origami Race, Wheel Replacement Training, and Urban Zombie Hunter.
Furthermore, as HoloLens was the "main star" of the presentation, Oleksii fully demonstrated its capacities and paid special attention to its ability to scan and recognize the environment, to be controlled with gestures and voice commands, and interact with real objects.
This demonstration aroused keen interest among the audience and, especially, professors and graduates who are interested in the possibilities of HoloLens practical application.
Oleksii also helped Denis to answer the questions that audience asked regarding HoloLens functionality and features. Together with Anastasiia, they assisted listeners, who were interested in trying the HoloLens, to immerse themselves in the world of Program-Ace's mixed reality solutions.
Denis and Oleksii successfully exposed what opportunities mixed reality and, particularly, HoloLens brings to the world. As true professionals, they have proved not only personal proficiency and competence but Program-Ace's expertise in contemporary technologies and its utilization to develop a solid solution for industries such as construction, education, architecture, military, manufacturing, maintenance, and many others that will solve their commonly acknowledged issues.

Want to get more stories to your email?