Stress is an integral part of any emergency as they usually happen unexpectedly and require quick decision-making from people. Considering that every person reacts differently to an emergency, even the most stress-resistant individuals can freeze. As a result, hesitation can cost a lot to victims of a disaster, an employee, and even an enterprise.
In order to predict work injuries, expenses, and other consequences of accidents, it's better to train your employees in scenario-based training using VR technology in emergency management.
You probably want to know all details of the custom solution development, the peculiarities of virtual reality and its adoption for your organization, as well as what VR development services can be helpful in such a complex project. You are welcome to explore all of these below!
Why Choose VR for Emergency Training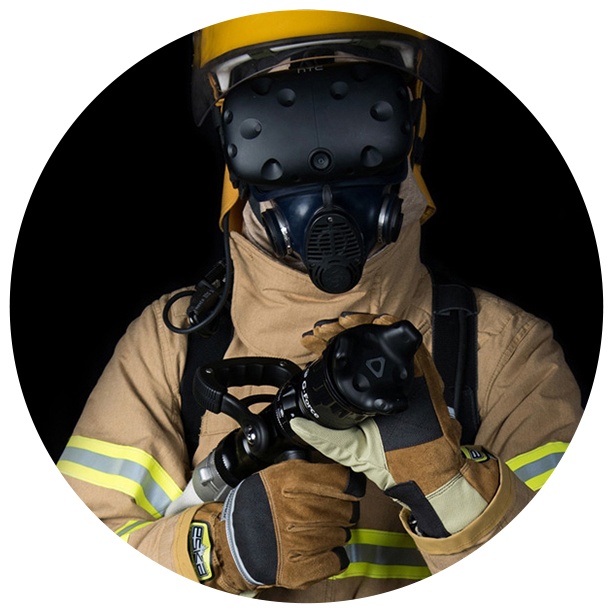 Virtual reality training offers advanced capabilities, allowing users to immerse themselves in a modeled environment. Students use a VR headset or VR glasses combined with a simple smartphone to have an ultimate learning experience.
Basically, most people know how VR technology works, but few are aware of its amazing advantages. So we've described the most significant reasons to choose VR solutions for emergency training.
Safety
Since students train in the virtual world, they experience real emergencies without endangering their lives and health. When specialists study hundreds of scenarios in interactive safety training, they act much more effectively in a real emergency afterward.
An ultimate experience
Full-fledged VR headsets consist of a helmet with VR glasses, built-in speakers, and hand controllers. All these devices track the movements of your head, eyes, hands, and entire body, which takes you into a virtual world with which you can interact. Thus, students are deeply immersed in a simulated environment and interact with it with all senses.
Better learning performance
Unlike traditional training methods, immersive experiences significantly increase the learning productivity of trainees. According to the learning pyramid, students remember only 10% of what they read, 20% of what they hear, and 75% of material when they simulate, model, or experience the lesson. Thus, an ultimate experience of VR training forces better learning.
Time- and cost-savings
Instructors aren't able to conduct individual classes with each student, while group training requires a lot of time in order to achieve the desired results.
In contrast, custom programs created by a reliable virtual training company are often developed with an online instructor who accompanies trainees in every lesson and even helps correct mistakes.
In addition, real-life training requires a great deal of equipment and props for in-depth practice, while an all-in-one software solution contains hundreds of locations with all necessary sceneries.
Long-term solution
The development of custom all-in-one software is a comprehensive solution that will close out the issue of training for many years to provide new applicability and scalability. For example, this program can be supplemented with multiple scenarios to help new employees go through the onboarding process or undergo corporate training.
Typical Workflow for Virtual Reality Emergency Training
People who are used to traditional learning and training methods can be confused by applying modern technologies like VR.
In fact, custom training software is developed to make the training experience automated, user-friendly, and highly effective so that anyone can intuitively figure out how the system works. So here is the typical workflow that students of VR emergency training go through.
Environment selection. Depending on the most actual emergency cases in a specific field, specialists can select a training environment from dozens created by software developers. It's even possible to build environments based on real locations with a high level of detail.

Scenario definition. Based on a chosen environment, students select a specific training script and the elements they imply — destroyed buildings, fire, explosions, and any scenery required for an exact scenario. Additionally, even the same training session can be modified to train under different conditions like weather or time of day.

Setting a goal and a difficulty level. While building custom software, developers can include several difficulty levels for each session to start nice and slow, gradually leveling up when specialists are ready. Moreover, each trainee is assigned a specific role and a mission goal, whether it's individual or group training.

Real-time scenario modification. Once training gets started, students can go on different branches of problem-solving. Depending on a decision they make, there will be relevant responses. In case a student makes a mistake, a virtual instructor can pause VR class and explain optimal actions that should be taken.

Evaluation and feedback. At the end of a training session, students can get a personal performance report and even an overall score for a class. As a result, trainees get complete and detailed feedback from their instructor, being able to focus on individual challenges to become better in future training.

Different Emergency Scenarios for VR Training
Virtual reality emergency training is used in various fields, as this method is suitable for any profession related to dangerous, risky, and stressful conditions. So we've highlighted the most common areas where VR training would be helpful.
Disaster response VR training
Natural disasters are the thing we usually can't prevent, while they can strike at any time. According to a PolicyAdvice report, roughly 6,800 natural disasters occur every year around the globe. Floods, storms, earthquakes, wood fires, and the like cause severe damage, taking the lives of dozens and sometimes even hundreds of people at once.
That's why highly effective emergency training is crucial for each country, especially the US, where natural cataclysms occur regularly. It's also vital to train emergency services specialists who save people from human-made disasters that take place even more often than natural ones.
Road accidents VR training
Road crashes are one of the most common emergencies, as it happens every day worldwide. According to the World Health Organization (WHO), the lives of approximately 1.3 million people are cut short due to road traffic crashes annually.
Be it several cars that crashed into another or a car that flew off the road, each road accident is accompanied by high tension, stress, and limited time on a rescue mission. Thus, emergency services should be ready to act quickly and accurately in any scenario, inasmuch as every extra minute can save lives.
Chemical and nuclear accidents VR training
Chemical enterprises' staff are often at risk because one mistake or reckless action can lead to disaster. Employees of organizations like chemical engineering and nuclear power plants must undergo high-performance training regularly.
Suffice it to mention the Chornobyl disaster when the fire at one of the reactors caused a nuclear catastrophe. Therefore, employees of such institutions must know what to do in any possible emergency scenarios.
VR training for emergencies at work
Employees working in the construction, aircraft, engineering, and other sectors can face emergencies at their workplaces anytime. Working with heavy and dangerous equipment causes workplace hazards regularly. According to the US Bureau of Labor, 4,764 fatal work injuries were recorded in the United States in 2020.
Also, there are jobs where specialists must be constantly ready to save people's lives fast. Thus, solutions like VR medical training would be helpful to employees in the healthcare industry on a daily basis. At the same time, apps for VR construction training could prevent various scale emergencies at workplaces.
Complex emergency scenarios in VR training
One emergency often causes consequences that are usually trained in different scenarios. Thus, one VR training scenario can contain emergency cases of various types. For example, an explosion at a factory can cause a fire and destroy some buildings.
Therefore, training in a complex scenario will teach employees the correct sequence and set of actions in a multi-dangerous case. In addition, students will train stress resistance because a large-scale emergency is a severe challenge for anyone.
Get a Custom VR Training Solution With Program-Ace
Once you've decided to create a VR emergency training solution, multiple opportunities are open to you. Developing custom software allows considering the particularities of your needs, locations, and goals. However, you'll need a team of experienced specialists to build an outstanding product that will cover all your requirements.
Program-Ace is a custom software development company consisting of dozens of specialists. Operating for 30 years, we've developed and delivered hundreds of AR/VR-based projects for various industries. Thus, we would be glad to make your project shine using cutting-edge technologies and the talent of our experienced pros.
Simply contact us so that we can provide you with all the details you are interested in and discuss the future of your project.
Want to get more stories to your email?