Have you noticed how the world has changed in the last couple of years? Being a successful entrepreneur used to imply the development of your business on an offline platform and the internet. Nowadays, you have much more prospects if you also enter the third space — the metaverse. And one of the most prominent ways to do this is through metaverse NFT marketplace development.
Considering that this field is still underexplored among the leaders of businesses of non-technical domains, it can affect the competitiveness of a particular company in the future. Thus, let's not postpone the growth of your enterprise but find out what the metaverse NFT marketplace is and how it can be helpful to your business.
From the experience of a professional metaverse development company, you can learn how to create your own NFT marketplace in metaverse spaces and what integral components it should have to succeed.
What Is the Metaverse NFT Marketplace?
As you may already hear, the NFT stands for a non-fungible token, meaning that each NFT is a unique digital object with its own price, value, and only one owner. In metaverses, NFTs operate as collectible items (pictures, videos, assets), in-metaverse currency/goods, as well as the representation of an offline product.
In turn, an NFT metaverse marketplace is like an online shop on the next-level internet space where users can buy, sell, auction, and trade NFTs for cryptocurrency. These marketplaces are powered by blockchain technology that assures the high-level security of a platform and manages financial transactions.
Thus, entrepreneurs from most industries can develop an NFT marketplace for the metaverse, allowing their audience to get exclusive items and make deals more conveniently.
NFT Marketplace for Metaverse: The Value Behind the Concept
Metaverse NFT marketplace development solutions are considered the next big thing in many business sectors. Since the world is shifting to getting and providing remote experiences, sooner or later, most industries will enter the metaverse.
Metaverse is a unique space that isn't vulnerable in case of global crises like pandemics. Thus, its users aren't limited by location and even opening hours. Eventually, the functionality of metaverse for business and NFT marketplaces, in particular, will open new horizons for development and gaining profit.
Types of Metaverse NFT Marketplaces
In order to provide clients with experiences beyond traditional online shopping and deliver promising investment opportunities at once, each NFT marketplace metaverse offers should be unique and serve the needs of different audiences. So, you are welcome to explore various types of NFT marketplaces that can be presented in the metaverse.
E-commerce NFT Metaverse Marketplace
Since the metaverse is a fusion of various technologies like AR, VR, blockchain, and others, it provides incredible opportunities for e-commerce customers without the need to leave their houses. Surprisingly, you can bridge the gap between online shopping and traditional one by delivering exceptional experiences that most online shoppers seek.
Your customers will be able to enter a specific application to browse the assortment of clothes, furniture, accessories, and the like, represented as 3D models. With or without AR/VR devices, it would be possible to try on fashion products, as well as place digital furniture in your apartment in order to ensure it fits. After a full examination of commercial offers, it'll be possible to buy them for cryptocurrency to use in a physical or digital environment.
Real Estate NFT Metaverse Marketplace
With NFT metaverse marketplaces, it's become easier to make deals for customers as well as real estate agents. In the form of NFTs, users can buy pieces of virtual/real-world land, avoiding excessive bureaucracy and exhausting travel to view each object in person. Instead, it's possible to explore all the real estate offers in a metaverse marketplace that usually can be accessed through mobile/web apps.
Thanks to the revolutionary technology of NFTs, clients get certificates of proven ownership rights that can be reviewed by any other users. In addition, the metaverse real estate market provides objects for rent in virtual worlds. In this way, clients can find favorable spaces for opening their metaverse businesses just as it happens in the real world. On the other hand, you can invest in a metaverse property to rent it to other users.
Gaming NFT Metaverse Marketplace
NFT marketplaces of the gaming industry are one of the first that appeared in the spaces of the metaverse. In the GameFi (gaming & finance) field, play-to-earn (P2E) and NFT games basically can't exist without NFT marketplaces as it's their fundamental monetization model.
Thanks to the decentralized feature, gamers can sell NFT rewards and in-game assets from metaverse games on particular marketplaces for cryptocurrency. Likewise, they can buy specific NFT items from a platform or other users in order to affect their gaming progress. Some rare NFTs can even be sold at auctions for millions of dollars.
NFT Art Metaverse Marketplace
As an outstanding opportunity for digital artists to make a decent living on their talent, NFT art metaverse marketplaces have much more to offer. From a business perspective, you can create digital merch items and NFT collections related to your industry. For example, sports companies can list exclusive videos/pictures from sports matches and branded art as NFTs.
For those investing in art, there's a great option to explore artworks in metaverse galleries and buy their favorite pieces afterward. NFT metaverse marketplaces can also be a more convenient way of conducting auctions, biting digital representations of antique works of art to obtain exclusive ownership of real lots.

Benefits of a Metaverse NFT Marketplace
The development of a custom NFT metaverse marketplace takes plenty of work and experienced specialists to get a decent result. However, the advantages of such a solution make it worth the effort and investment.
Robust Security. Transferring money through the internet is usually stressful for many people, especially when it comes to significant amounts. Luckily, blockchain makes it very hard to tamper with financial data and transactions when buying or selling NFTs on metaverse marketplaces.

Scalability. The rapid development of DeFi draws to blockchain-based projects an increased interest. For example, Visa company is working on solutions that would allow buying Bitcoins under their roof. As a result, your project can attract promising investors and venture capital to sponsor your growth.

Transparency. One of the main concerns in purchasing digital assets for large amounts of money is the confirmation of their authenticity. Fortunately, each NFT item has a history of transactions and information about the current owner, as well as the previous ones. This data is decentralized and is available to every user.

Simple Tokenization. Once you have a custom metaverse NFT marketplace, the process of turning some digital items into NFTs is simple for product owners as well as for users. Thus, you can showcase a chosen object in your marketplace in several easy steps. On the other hand, you can rely on specialists to do it for you.

No Bureaucracy. When making significant purchases through the NFT metaverse marketplace, there's no need to go through tons of paperwork. Purchased NFTs are a form of a certificate of ownership that's easy to prove, and it's everything clients need to complete a deal.
DeFi VR World: Metaverse NFT Marketplace in Action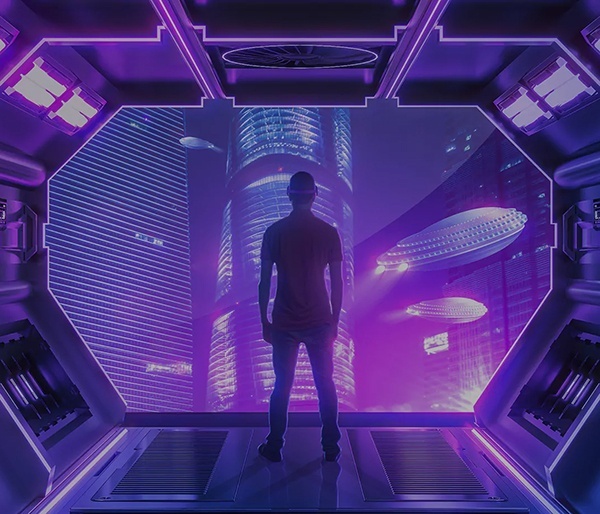 Enter the next-level metaverse to get a seamless trading experience and become part of the next-level Web3 world. Powered by cutting-edge blockchain technology, the developed platform offers its users a complex infrastructure with various financial and entertainment features.
Integral Aspects of a Metaverse NFT Marketplace
Decentralization. Compared to virtual worlds like VR games and apps that many people have gotten used to, the metaverse is more similar to the internet — it doesn't have a single owner. In turn, metaverse NFT marketplaces give people a more private and controlled experience over financial deals.
Interoperability. Since the metaverse is a network of virtual worlds, it should have broad connections with various systems and databases inside this space. Therefore, when building an NFT marketplace inside the metaverse, it's better to ensure that it operates flawlessly as part of an ultimate ecosystem.
Blockchain Technology. Any metaverse and its products are based on blockchain — the cutting-edge technology ensuring security, financial relationships between a platform and a user, and beyond. Thus, in order to buy and sell NFT assets through a metaverse marketplace, it's vital to choose an optimal blockchain system and implement it correctly.
AR/VR Technology. Making deals through a metaverse NFT marketplace, most users expect not only convenience and reliability but getting an immersive experience. Thanks to AR/VR technologies, metaverse users are able to try on digital clothes/accessories, as well as test products, and explore commercial offers with interactive presentations.
Steady Storage System. In order to access NFT assets presented in a metaverse marketplace, the data about each piece should be stored carefully in a system. Considering that the metaverse and its marketplaces are only expanding, the data storage system should keep sustainability under constant updates.
NFT Wallet Integration. Any NFT metaverse marketplace can't function without specific wallets. Several NFT wallet systems are often used in metaverse/blockchain projects like MetaMask and Coinbase. Eventually, any NFT wallet implemented should be cross-chain compatible and user-friendly.
Metaverse NFT Marketplace Development: Essential Steps
Are you interested in creating a custom metaverse NFT marketplace? Then, you are welcome to explore the fundamental stages of the development process to see the bigger picture.
1. Build Strategy and Concept
To achieve the result you are expecting, it's vital to have a clear vision of the project. So, before starting the execution, gather all the essential information you can and develop the most efficient way for your team to perform at their best.
It's also better to analyze the market to set the right timing for launch, as well as explore the competitors' offers, highlighting the strengths and drawbacks of their products. This way, you'll be able to consider what features are necessary to include and what's better to avoid.
2. Choose the Tech Stack
In building an outstanding metaverse NFT marketplace, you'll need the most powerful tools and technologies to fulfill the project's technical requirements. In order to create an entire system providing immersive experiences and secure transactions, specialists should master software like Unreal Engine and Unity.
In addition, you need to choose a blockchain network on which your metaverse NFT marketplace will be built. Depending on your needs and the preferences of your audience, you can opt for Ethereum, Solana, CTRONis, etc.
3. Design a Demo
Prototyping is an essential step that specialists can't skip, as it can save a lot of resources like time and money from the budget. Performing the basic structure of the future metaverse NFT marketplace will give you a clearer understanding of whether it's gonna work or if there are elements to improve.
The development of a demo version of your project usually doesn't require any coding. Specialists simply use pre-ready materials, specific plugins, and automated features in an editor to build a prototype in several hours. Once you've approved a demo, only then it's time to go on with more complex development.
4. Work on UI/UX Design
If you wish incredible popularity for your product, a metaverse NFT marketplace you are developing should meet users' needs and be easy to use. So, make sure all the functionality is intuitively clear for an average user.
The interface design should also be vivid and original to draw users' attention. Thus, in designing buttons and other ways of interacting with a platform, it's important to make them look in one style, and size, being visible to people at first glance.
5. Database Storage & NFT Wallets Integration
As it was mentioned earlier, a metaverse NFT marketplace should have reliable storage to keep databases with the private data of all the users. Hence, specialists work on IPFS (interplanetary file system) to ensure quick and peer-to-peer access to users' digital data.
With a secure and capacious system, people can store their tokens and connect their NFT wallets to keep their NFTs in a metaverse infrastructure. It's also important to make the integration with different wallet systems for various platforms.
6. Develop Smart Contract
Smart contract is a program regulating financial relationships between users and a platform. The development of smart contracts makes it straightforward to perform actions that are common for metaverse NFT marketplaces — buy, sell, trade, and auction NFT items.
Moreover, a smart contract plays the role of an additional security level, protecting transactions from third-party interruption. Depending on a project type and its specific features, your developers can extend the functionality of this program for better operability.
7. Coding & Unit Testing
In order to take all the project's parts together, metaverse developers turn all the data and functionality of an NFT marketplace into code. Further, specialists connect all parts together to get a single system that works smoothly.
Regardless of the specialists' experience and proficiency, developers tend to make mistakes during coding, as this process is complex and multifaceted. So, an integral part of any development is checking code lines (units) on bug continence with the unit testing type.
8. Testing and Release
Once developers make sure a project functions well, it's time for testers to conduct a thorough check-up. Testers or QA engineers are exploring crucial parts of software in order to ensure the expected results of interactions with them match an actual one.
After careful testing, when most bugs are detected and fixed, testing still never stops. With the first release and each following, your specialists will get new problem reports, fix the errors, and continue working on software upgrades.
How Much Does Metaverse NFT Marketplace Development Cost?
There's no secret that crypto-related DeFi projects require significant investments. However, you can manage your budget by setting realistic goals and timeframes, as well as hiring specialists on favorable terms.
Thus, the right approach to project preparation and execution can cut your costs in various fields. So, you can start with finding top-notch metaverse NFT marketplace developers who can surprise you with outstanding commercial offers.
Rely on a Leading Metaverse NFT Marketplace Development Company
Solving the riddle of efficient budget management, one of the crucial answers would be opting for a professional outsourcing company. For instance, Program-Ace is a leading software development service provider with strong command in the creation of immersive experiences and complex projects.
With our mastery of cutting-edge technologies like AR/VR, blockchain, smart contracts, and the like, your custom metaverse NFT marketplace development solutions will skyrocket ahead of the average competition.
Contact us to get yourself a partnership deal on the terms that suit your company.
Want to get more stories to your email?