There is no denying that as a species, we have become unfalteringly attached to technology, especially the kind that delivers information to us. With technological marvels like search engines, lightweight apps, and video hosting available to us, older and more rigid instruments like paper manuals and stuffy lectures and journals are becoming dust. The modern era requires more dynamic, advanced, and interesting ways of engaging an audience, and gamification app development is one of the best approaches available.
We see the transformative power of gamification both within enterprises (as companies train their employees and optimize work) as well as commercially, with businesses capturing clients in new and genius ways. Buckle up, because we are about to examine the different types of gamification and everything else you need to know on the topic.
Looking for professional consultancy with your gamification project?
How Gamification Works in Different Markets
As you might expect based on the terminology, gamification is tied closely with games. However, it is also tied to more serious matters, like work productivity, skill learning, team organization, and presentations. To put it simply, it is a process of adding game elements and mechanics into activities not normally associated with entertainment. It comes in many forms, but is most commonly delivered through apps that set the user up for fun yet meaningful interactions.
Gamification is a natural fit for both businesses and learning institutions. For example, some schools using different types of gamification in education and eLearning have seen student engagement and performance sharply improve.
On the business side, the technique is especially popular both in industries that require great precision (manufacturing, healthcare, fintech, etc.) and those where work is often repetitive (agriculture, retail, hospitality, etc.). There are even a few types of gamification in marketing campaigns broadcasted to millions of consumers. All in all, the practice is thriving in most industries.
What are the Most Common Types of Gamification?
While you can invent dozens of unique mechanics to achieve gamification, the way that they are implemented informs the approach you are taking. There are 2 key approaches of delivering gamification recognized in the industry – structural and content-based.
1. Structural gamification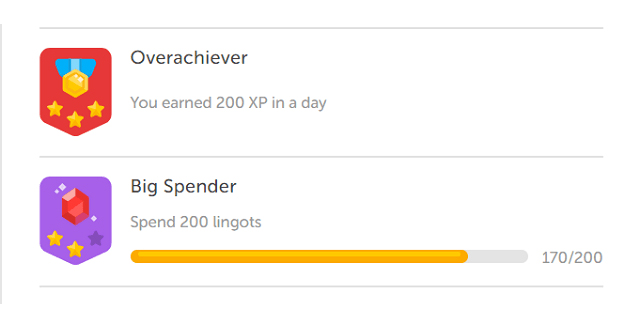 ---
What is structural gamification?
Structural gamification aims to take existing materials/systems/processes and augment them with new and dynamic elements. The game content is presented separately from the serious content, so it does not alter the texts and mechanics that were already present in the application.
For example, an app full of learning materials will retain the educational texts but pad them with a progress bar, mini-games between units, and hand out rewards as the user progresses. Thus, they are still learning the same materials, but the experience has become much more engaging.
---
Typical characteristics of structural gamification:
Passive goals

Many apps using this approach feature progress bars, counters, and other indicators that show how the user is moving through the material. This keeps them focused on completion.

Reward system

Badges and achievements are often included in the software, since they give users an endorphin boost and a feeling of pride after they complete a unit/task/etc.

Competition among users

Competition serves as a great motivational factor, so many structural apps let users know how their performance stacks up against others, often in the form of a leaderboard.

Unlocking content

With the structural approach, content can be divided into levels, which are only unlocked after the user completes objectives. This adds an air of mystery about what is waiting for the user next.

Positive reinforcement

It is not uncommon for apps to include motivational text and even characters that guide them through the learning/work process.

Time limits

In addition to the mechanics we have listed, some providers also add a timer to units/sections of their app, keeping players laser-focused on their task and motivated to beat their past times.
2. Content gamification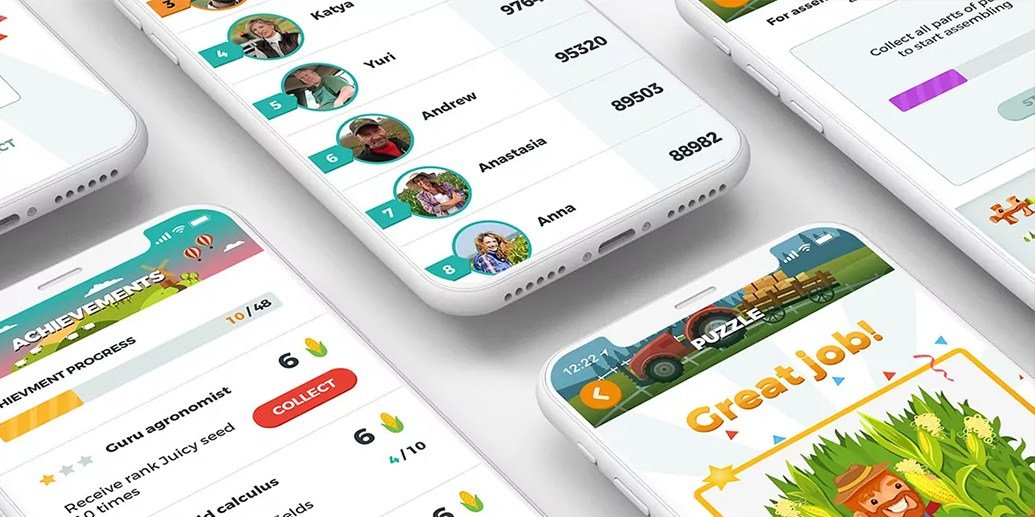 ---
What is content gamification?
Content gamification aims to transform existing learning/work content and make it more engaging. Everything becomes part of a game, though the user is still picking up important skills, information, and carrying out important tasks in a non-traditional way.
For example, a worker on an assembly line who must document his productivity in an app could see a fun interface with each unit serviced being represented by coconuts or something funny in a professional game that mimics the assembly process.
---
Typical characteristics of content gamification:
Adapted text

One thing you will notice in most gamified content apps is that the texts are fun, short, engaging, and sometimes even full of humor. This is accomplished by taking the key points out of the subject matter and inserting them in an entirely new context and design.

New strategies

After gamification, this type of app can ask users to do very different things than it originally did, including taking part in a game (casual or adventure). In this new environment, the user still learns things and applies their knowledge, but the process is more spontaneous and unpredictable, so they must apply new strategies and forms of thinking.

Risk and randomization

To add to the dynamics of their app, many business owners add elements of randomization (like a reward lottery) or risk of failure to keep the players on their toes. This also makes them more excited to keep engaging with the software.

Creative design

A whole lot of content is normally added with this approach, which opens the door for plenty of creative design, even in simple things like profile gamification. For example, the whole app might turn into an adventure game or you might see serious tasks intermixed with mini-games, animations, and whatnot.

Fast pace

Unlike the structural approach's timer, this one is more focused on fast-paced gameplay. By putting users in a situation where they have to think fast to succeed, developers also increase the likelihood of users learning the "serious" things that they added.

Story elements

One of the best ways that complex and boring materials are reimagined is through storytelling. This makes them part of a larger story where they fit better and have a clearer role.
Which type of gamification should you choose?
Right off the bat, we want to make it clear that there is no wrong choice. Both types of gamification are popular and used in various industries and positions. Thus, there is no exclusivity or issues of compatibility – you can deliver information and engage your audience with either approach. Still, we can offer some tips that can help you narrow the selection:
Evaluate the relevance of current content





If your target audience is not enjoying their current experience, it might have something to do with the content you are giving them. For example, the information/tasks provided to them might be too boring or complex. Depending on the severity of this situation, it might be rectified with some simple game elements like badges and leaderboards or require a full revamp.

Look at audience demands





When building a productivity/learning app, many business owners only look at their own needs and not the needs of those who will be using the app every day. To maximize usage and engagement, we suggest looking at the audience and tailoring the language/content used in the app to them. For example, if this is a younger audience, they may not be prepared to read lots of text, so the information should be conveyed in another form.

Consider the complexity of tasks





While transforming content and making interactions with the app quick and easy are exciting changes, they are not perfect for every situation. For example, some professions (e.g. judicial workers) rely on precise knowledge of texts and terminology, so it is too risky to change, shorten, or simplify existing texts.
In conclusion, the structural approach will often serve you best when the information you need to deliver must remain unaltered, and when you are sure that it is already comprehensible to users. In such situations, structural additions will retain the app's focus on the serious and important materials while making the learning process smoother and more dynamic.
A content-based approach is best for drastic upgrades to work/learning apps. If your users are not interested in the mechanics or materials of the current app, you can turn the boring or complex experience into a game that they will be eager to use. This will completely reimagine the content while conserving the important points that users need to get out of the experience.
Structural gamification
Content-based gamification
New texts and materials required
No
Yes
Game element locations
Interspersed with text
In all app features and sections
Progress-based rewards
Yes
Yes
Use of storytelling
No
Yes
Promotes skill training
Yes
Yes
Objectives
Mix work and fun
Make work/learning fun
5 Great Examples of Business Gamification
It never hurts to take inspiration from pioneers and those who came before you. Thus, you might find it helpful to check out some of the popular gamified apps mentioned below:
Gamification App Services
While gamification can be integrated into a variety of physical and digital experiences, apps are the most accessible and convenient option. They allow you to build a unified experience that can be delivered on mobile devices, web browsers, and sometimes even VR headsets.
If you opt to create such an app, it can help to have a partner like Program-Ace by your side. Our software development outsourcing company has over a decade of experience in creating custom games for businesses, so you can count on us to properly assess your business needs and create a fulfilling and fun experience for your audience.
To begin discussing your project, feel free to contact us!
Want to get more stories to your email?