Once thought to be only an instrument of amusement, virtual reality is now making its way into much more than our home entertainment systems – mainly our offices and industries. We've seen the use of VR in real estate, workplace safety training, and other fields, but is there a place for it in interior design? Unquestionably yes.
Virtual reality interior design solutions already exist, and their effectiveness has proven why home/room design is a natural choice for virtual reality development. In this article, we'll show you how much of a mark VR has left on the interior design market and what you can achieve with it in your business.
Already know which virtual reality solution you need? It's time to choose a VR app development company to bring it to life!
How Virtual Reality Impacts Interior Design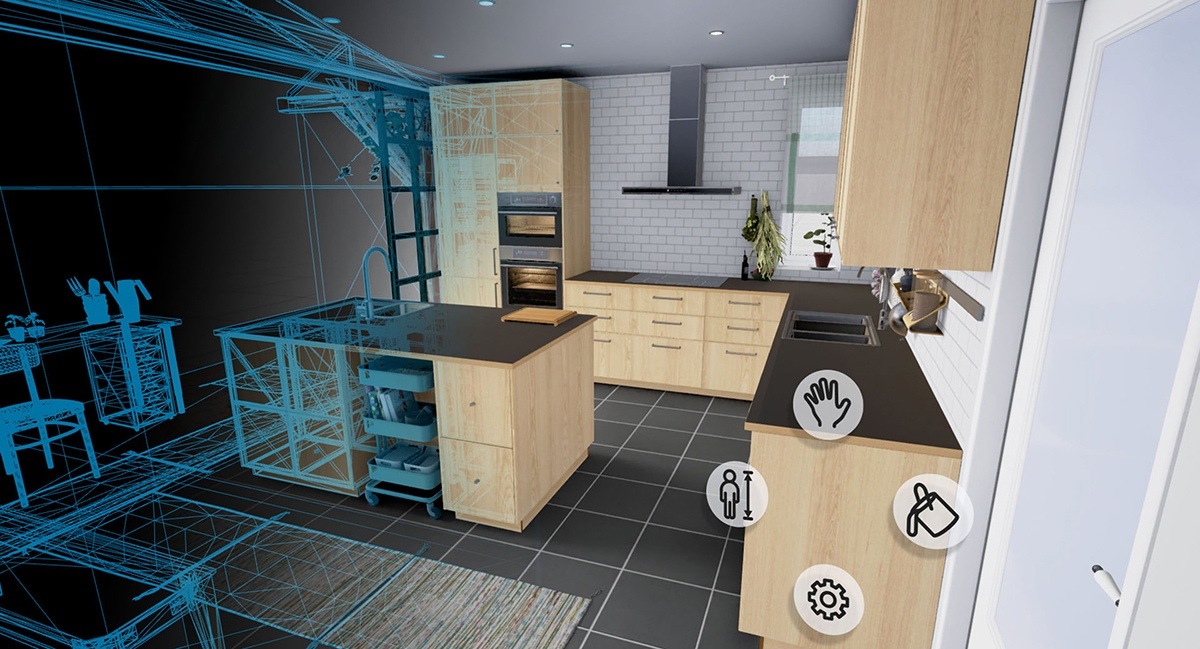 Because VR presents a virtual world, you might be thinking "Wait, how does this affect the physical world and real life?". This is a valid point, and the answer has a bit of nuance. It all has to do with data transfer.
When a user launches a VR app and starts using it, new knowledge and skills are planted in their mind. Perhaps more importantly, user choices and interactions can be saved and transmitted to a web server or website. In both cases, the user's experience in VR has an impact on their further interior design experience in the physical world. Let's look at some examples of virtual reality implementation in this industry:
Home presentations

When choosing a new interior design for a home, many people like to see complete visuals instead of just a list of items that undergo change/replacement. Thus, virtual reality software can be built to include a full visual presentation of a home in a particular design or style. Interior designers might even create an entire catalog of interior designs and styles featured in a catalog, so customers wearing a virtual reality helmet can quickly find an assortment of options.

Previewing furniture/accessory purchases

TThis is one of the most common uses of virtual reality when it comes to home decoration and renovation. If an interior design agency wants to give customers complete freedom to customize, they can add various furniture and accessory items (from actual stores or generic models) that can be placed and moved within the room visualized in a VR application. The same can be done by furniture/accessory vendors, cutting out the middleman.

Testing color changes and major redesigns

Some interior design changes are a lot bigger and more impactful than just adding things or moving them around. For example, a full paint job is an expensive and labor-intensive process that people don't want to get wrong. Thus, it can be helpful to clients and designers to preview how walls, ceilings, etc. will look with different colors and hues before they buy any of the materials or spend days painting. Similarly, structural redesigns are costly and complex, so previewing them reduces the likelihood of mistakes.

Learning about the location

A virtual interior design app does not necessarily need customization options to be useful. Some customers want to begin decorating jointly with a home purchase, so a VR interior design app can just give them a tour of the premises before they begin the process or travel there for the first time. On the flip side, such virtual reality tours can also be helpful to designers, who can get acquainted with the interior of a building before they visit and start offering suggestions.

Calculating space/light/compatibility

One of the biggest challenges in interior design is predicting how well a particular change will contribute to or detract from the overall visual impression. Oftentimes, consumers buy too many or not enough furnishings/accessories or choose colors that do not match well or even dim sources of light. On the other hand, with the right virtual reality software, they can calculate and see with their own eyes how much space new items will take up, how well they fit an overall aesthetic, and how much light will proliferate throughout the day.
5 Reasons to Create a Virtual Room Design
If the compelling applications of the virtual reality technologies above weren't enough to impress, you will want to look at all the benefits that open up to interior design agencies and their customers who use a VR app for interior design:
A reduction of costs

When an application is able to offer users a range of customization options with instant visual feedback, this can substantially cut costs both for designers and those who make the choices. For interior designers, this means fewer materials and reference items that they have to procure. For tenants and homeowners, this is a much higher chance that their decorating purchases will be precise, with no returns, replacements, or extra items left over.

More efficient use of time

The design and customization process can move along much faster with the proper tools. For example, interior designers will need to make fewer visits to a location to learn about it and come up with recommendations – they might do the bulk of the work sitting leisurely with a headset. The client will also have a much easier time choosing their changes and upgrades with the option to preview them digitally.

More options to share and discuss

Traditionally, the recommendations and discussion process takes place on-site, with only the most involved people attending. However, with the shift of some features and processes to virtual reality, people can share their experiences, ask for feedback on choices, and otherwise involve people who normally wouldn't visit the location. For example, this could be a question to a friend about a new wall color: the friend would launch the app on their own headset or open the experience in a browser (if available), and see the choices that their friend had made.

Purchases become more informed

Even the finest interior designer is prone to forget things and make small mistakes every once in a while. On the other hand, a comprehensive app can feature detailed descriptions about every accessory, upgrade, material, etc., and keep customers better informed. Additionally, virtual reality software will be able to analyze room and building conditions and make accurate estimations about which changes will be possible and how they will affect the overall atmosphere of the place.

High reusability

Even after virtual decorating apps with 3D models are built, they can be used as many times as necessary, replacing the interior designers or saving people a trip to the building. Additionally, the 3D models in the virtual reality software can be applied in other digital mediums, such as renders, video clips, and custom software with other useful purposes.
Having some questions regarding VR interior app development?
Top Features of a Virtual Reality Interior Design App
If you choose to build a virtual reality interior design app for your business and customers, you will need to establish business goals for it and define how the functionality and application as a whole will achieve them. In this regard, you can come up with your own features or take inspiration from some of the best interior design features already used in virtual reality:
Floor planning

A floor plan feature like the one included in the "Visualize Your Space" app helps visualize the layout of individual rooms and calculate available floor space. Accordingly, new additions to the interior can be approved based on precise measurements and easy visual representation.

Room and furniture view

This is the classic yet indispensable feature found in most such apps. After you buy the helmet and launch the app, you are placed inside a room (usually matching a real place) with the camera at eye level. This feature is present in the Visualize Your Space app and several others listed.

Walkthrough

A walking feature lets you virtually move throughout a building (usually at walking speed) and pause to focus on certain areas. This feature was implemented well in the VR Hotel app from Program-Ace, with users also having the option to interact with various objects as they move around.

Light management

The interior of a building can look profoundly different at various times of the day and depending on the light sources available. Thus, you can add day and night modes, as well as other lighting customizations like the ones offered in VR Hotel's virtual room design software.

Real-time customization

With real-time customization, you can see changes reflected on the digital environment within seconds of selecting the interactive option, so you only see a blink in a selected area/object. This feature is demonstrated to great effect in the Design Experience from Oneiros. from Oneiros.

Change replication

If you like a change that you made to one object or area of the house (e.g. painting a wall yellow), a replication feature like the one implemented in the Oneiros app can make it easy to test and apply changes elsewhere.

Realistic physics

Lifelike physics eats away at the divide between what is digital and what is real, making the experience more relatable and valuable. For instance, the ID Pro application makes moving and carrying heavy objects a challenge, just as it would be in reality.

Map teleport

We have discussed realistic movement in virtual simulations, but teleporting is a much faster solution. With a teleportation feature (like the one in ID Pro), you can quickly select the needed room/area that you want to go to and the camera will appear there in seconds.
What is the Best VR Headset for an Interior Design App?
10 years ago, the VR headset market was quite barren, but today it is thriving. Over a dozen virtual reality headsets have received global acclaim and recognition, so there is quite a selection of platforms that you can use to target your VR application. For the sake of brevity, we will only be looking at Meta Quest 2 (Oculus Quest 2), HTC Vive, and Valve Index, but if you want an in-depth analysis of other virtual reality devices, be sure to check out our review of VR headsets for development.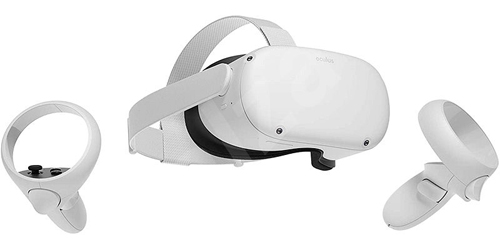 Meta Quest 2 (Oculus Quest 2)
Released in: 2020
Price: $299+
Display size: 1832 x 1920/eye
Field of View: 94°
Refresh rate: 120 Hz
RAM: 6 GB
Ease of development: Medium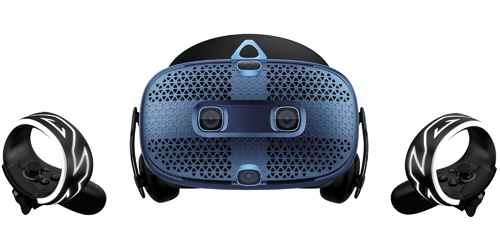 HTC Vive Cosmos
Released in: 2019
Price: $699
Display size: 1440 x 1700/eye
Field of View: 110°
Refresh rate: 90 Hz
RAM: 8 GB
Ease of development: Medium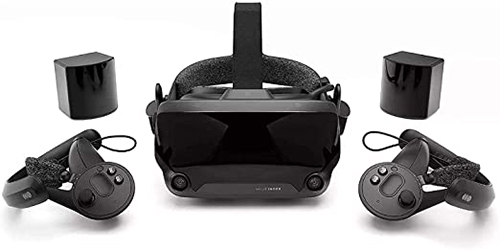 Valve Index
Released in: 2019
Price: $999
Display size: 1440 x 1600/eye
Field of View: 130°
Refresh rate: 80-144 Hz
RAM: 8GB
Ease of development: Difficult
Analysis of the Chosen Virtual Reality Headsets
The Valve Index offers unparalleled VR performance but is a good fit for only the most niche, powerful, and demanding apps. Furthermore, it is exorbitantly priced beyond the means of most consumers and has few materials for developers.
Meta Quest 2 (Oculus Quest 2) and Vive are much better suited for general VR use and enterprise development. Both offer powerful next-gen specs that surpass their predecessors and a better infrastructure/support system for development. You can easily accomplish VR interior design with Meta Quest (Oculus Quest) or Vive, and the app will look great if you put in the effort.
It is important to mention that the Cosmos is more than twice the cost of a Quest 2, so this might be a disqualifying factor for some businesses interested in virtual reality development. Still, it is possible to find a better price for older and simpler Vive variants, some of which offer Quest 2-level performance.
Preparing VR Models for an Interior Design App
VR-ready models developed by Program-Ace
There are two main expert sides of development when building an immersive virtual reality app – the coding side and the 3D art side. On the art side, you will probably need to implement dozens if not hundreds of 3D models for a single house, provided you want to add furniture, accessories, etc. One option is modeling the assets yourself or with a capable 3D artist on your team, and the alternative is to buy VR-ready models.
VR-ready 3D models are available on services like CGTrader, Turbosquid, and Sketchfab, but keep in mind that it is unlikely that you will find the exact models that match the building included in your VR applications and the items/accessories you will add for customization.
Thus, an easy alternative for an architect or a designer is to hire an agency or modeler to create custom models according to your references and specifications.
What is the cost of a VR model for interior design?
Depending on the complexity and uniqueness of the model, the virtual reality model price on a marketplace usually ranges between tens to hundreds of dollars, with the average "room interior" model priced around $90 and whole buildings around $150.
In cases where you are hiring VR specialists to create models, the cost will typically go into paying the specialists' fees and not be determined by the VR model itself. Most freelance modelers charge upwards of $30/hour, but you may be able to get a better deal by hiring an outsourcing virtual reality development partner and setting the terms most favorable to you.
With regard to the time to make a single virtual reality model, it is also hard to calculate. This might be a matter of hours for a rudimentary item with flat surfaces (e.g., a table) to weeks for an entire multi-story building with lots of fine details.
Interior App Development Services
If you're searching for a reliable VR interior design company that can assist you with app development, look no further than Program-Ace!
Our company is ready to offer:
A large team of developers skilled in Unity, Unreal, and other VR-supporting engines.
Multiple artists and modelers that can handle your 2D and 3D asset needs.
Project managers and business development experts that will keep work on the right track.
10 years of experience in creating VR software and 30 years of software development in general.
A large portfolio of VR and Interior Design projects.
Want to know more? Ready to discuss your project? Just contact us and we can get started.
Want to get more stories to your email?