As the new Web 3.0 paradigm is drawing closer, metaverse software development is becoming the global trend. Considering the metaverse is still a somewhat vague term for a lot of internet visitors, it's gradually turning into a MacGuffin, a metaphor used to describe an object or device essential for the plot and characters but whose nature is concealed.
Once Mark Zuckerberg announced the rebranding of Facebook to Meta, the metaverse craze morphed into a game-changing phenomenon. Nowadays, more and more companies are transforming their business strategies to adapt to the new reality of metaverse developments. Just look at how NVIDIA employed Pixar's Universal Scene Description, the so-called "HTML of 3D," to create its Omniverse, which currently is at the industry's frontier.
Interestingly, as the market evolves, professional software developers come to provide a higher number of metaverse development services. In this article, we explain the metaverse building phenomenon and dive deeply into its business nature, benefits, and creation.
How to Develop for Metaverses? — Essential Tips
There isn't a single universal metaverse in development right now. Instead, the more influential the tech trend, the greater the variety of global companies defy new challenges in this area. Meta, NVIDIA, and Microsoft aren't the only players here. A wide range of companies don't develop metaverses for themselves. Instead, they do it for their clients.
Since you can have a plethora of software options to develop in the metaverse, chances are you may get confused. But no worries, we'll help you out. So, what are the essential tips you can count on as you inquire about the gist of developing in the metaverse? In order to enter the metaverse and start its development, you need to make sure that:
You've got a team consisting of experienced 3D artists, animators, blockchain experts, developers specialized in game engines like Unreal Engine or Unity, business analysts, etc.
Your business strategy implies betting on gradual long-term growth because developing metaverses and apps on top of them is time-consuming.
Your team researches the market and carries out the discovery phase to gain insight into the industry and learn what features are missing in the available metaverses.
In case you need to add microservices or complementary software to your finished metaverse, refer to XR SDKs and try to keep the functionality within the scope of your chosen blockchain, be it Ethereum or any other platform. Beyond question, you can develop for the metaverse without integrating blockchain technology, but what you lose is more impactful — interoperability, decentralization, and almost guaranteed cybersecurity.

Benefits of Developing Software Solutions for Your Metaverse
Since you already know how to develop for the metaverse, it's high time we've discussed the benefits of this whole new thing. There's no denying that a finished metaverse doesn't presuppose the end of development. Your virtual world users will certainly demand broader functionality, a metaverse marketplace, attractive events, and the rest. Hence, you definitely need to know all the benefits of adding these features to your virtual environment:
if you integrate blockchain, the development in metaverses is decentralized, meaning all your corporate and user data won't ever disappear without a trace;
you can cooperate with different businesses and service providers to include their functionality into your metaverse, thereby earning profit from fees;
by adding e-learning activities and training simulators, you can significantly expand the audience of your metaverse users as well as facilitate smoother onboarding;
when you launch the new software development for metaverse or updates, you demonstrate corporate social responsibility, loyalty, and attention to your audience;
as you contribute to your metaverse and broaden its horizons, you increase the revenue as well as other performance metrics, thereby attracting new partners.
As soon as you are done with how to develop metaverses, it's time to proceed with expanding your 3D environment. One of the crucial aspects of the metaverse phenomenon is that you aren't tied to XR experiences.
Furthermore, you can broaden the scope of your influence on smartphones, gaming consoles, PCs, tablets, or almost any other device on which your presence can be ensured. In-built stores, mini-games, and the like are manifestations of interoperability, inasmuch as you aren't limited to a single platform.
Primary Approach to Metaverse Development
In case you run your metaverse for business, you probably want to know more about the approaches to metaverse development that will allow you to maximize the revenue and value for end-users. Primarily, one of the best approaches to creating your own metaverse is to rely on the experience of those who have been doing this for quite a long time. At any rate, outsourcing the development of metaverses is a practical approach at its core.
Why, you may ask? Because you:
don't need to worry about how to develop in the metaverse for later, with free hands to complete more creative tasks;
save costs and time as you aren't directly involved in the technical aspect of development because you count on professionals who know the score;
increase the overall quality of your metaverse because a metaverse development studio of your choice definitely already has everything at hand to complete it;
reduce the risks related to in-house employees who can experience burnout, take regular sick leaves, etc.;
free yourself from the need to build a team, hire personnel, and buy all the hardware, inasmuch as a metaverse developer already has it all at disposal.
Developing for the metaverse on different platforms
As we've mentioned above, one of the weightiest advantages of the metaverse concept is operability, enabling entrepreneurs to create one solution to rule all the platforms. Notably, the major difference between an XR app and metaverse is that the former is usually adapted to one or two platforms like, for instance, PC and console, while the latter is meant to function correctly on all user's devices.
Those who developed the metaverse are already aware that there's a small percentage of niche dApp solutions that require orientation toward a certain platform. If your metaverse is already connected with a blockchain, you don't need to worry about platforms.
The Power of Program-Ace's MR Experience Metaverse Platform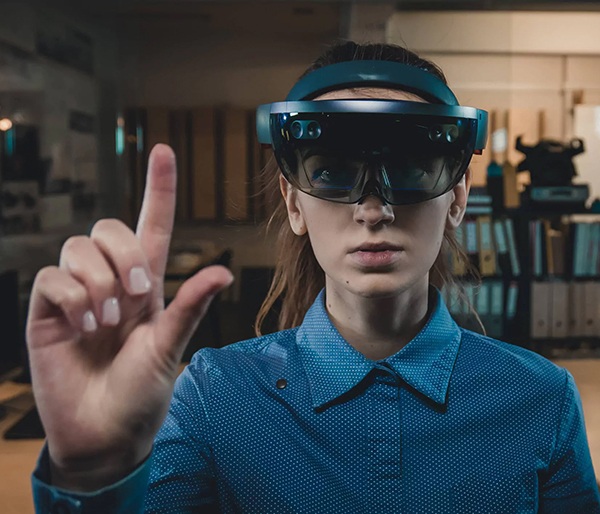 This cloud-based VR platform enables experts from various fields to create spatial training applications without any coding experience. With the help of this custom solution, you can quickly and effectively visualize all of your ideas, putting them to good use.
Development metaverse by industries
Whether you build your metaverse for the event industry or decentralized real estate, you should be ready to spend much time researching the market. Nowadays, there's a wide range of metaverses being developed for various industries. What is the most widespread of them?
1. Retail. No doubt, a high proportion of companies who developed metaverse came from the retail industry as this is an incredibly profitable one.
2. Gaming. According to recent research, the gaming industry has outperformed cinematography, indicating the advent of the new era, so developing a game-based metaverse is still a worthy endeavor.
3. Education. E-learning and training simulators are gaining momentum in the VR market, so it's a matter of time when there will emerge even more education-oriented metaverses.
4. Workspaces. Following Microsoft's conferencing metaverse, more players have announced their own metaverse development projects to create universal, all-in-one virtual workspaces.
5. Advertising. Commercials are everywhere, and their presence in almost each and every metaverse is a matter of time because that's how the internet works.
Most Widely Used Metaverse Development Tools
Nowadays, you can refer to more metaverse development tools than ever before. It's pretty evident that the number of available technologies to build more diverse metaverses is increasing on an annual basis, with more open-source frameworks and tools to genuinely expand the scope of involved businesses.
Without a doubt, you don't need to dive into all the free software tools, inasmuch as these are likely to put the complete project in peril. It's enough to be aware of the most widely used safe metaverse development tools. Fundamentally, you'll need a game engine or a recently announced XREngine, which is, by the way, still in progress.
Unity metaverse development capabilities or Unreal Engine ones will unquestionably respond to your need in this relation. A decent game engine will serve as a platform where you build your virtual worlds out of assets, putting together the entire system with the help of code. Then you may require 3D editing software like Blender, Autodesk Maya, or any other to create 3D assets as well as avatars for your upcoming metaverse.
In addition, you'll need an XR SDK (software development kit) and multiple frameworks to integrate blockchain technology, along with a crypto wallet, into your metaverse. There are many open-source frameworks out there, including JanusWeb or Webaverse, but you should better address a professional metaverse development studio to do things right from start to finish. Managing all the aspects on your own isn't the right decision when it comes to such a large-scale project that needs to combine almost every single technology in the industry.
Be the First to Know How Program-Ace Has Built the DeFi VR World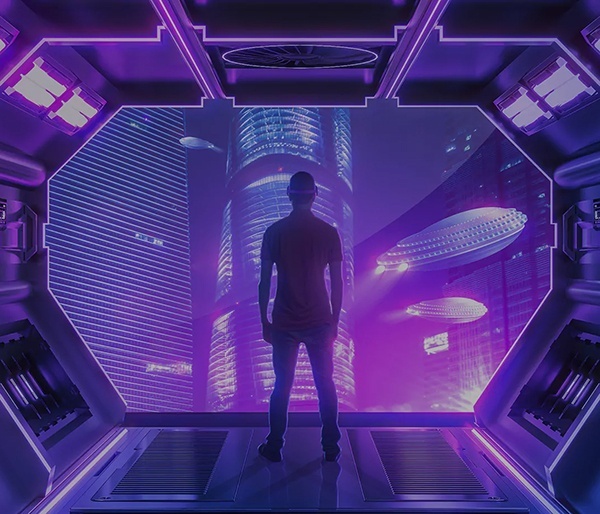 As a metaverse featuring an NFT marketplace and social networking solutions, the DeFi VR World is one example of how humanity will perceive virtual environments. Our team has developed a reliable platform where users can experience genuine immersion.
Rely on Program-Ace as Your Metaverse Developer
To meet your metaverse development ambition, you'll need a reliable software development service provider who is developing the metaverse and does it successfully. Luckily, Program-Ace has been on the market for more than 30 years, and our team is perfectly aware of what it takes to complete a metaverse project within limited timeframes. With a capable team of specialists, you get rid of all the redundancies and focus on the essential.
If you want an integral and complete metaverse filled with many in-built services, what you can do is simply contact us. That's how we discuss your future metaverse and start our cooperation, establishing the first milestone on your way to success.
Want to get more stories to your email?