Whenever a new and exciting technology becomes well-known, many businesses pay attention. Some like to quickly shift gears and think of how to use the tech to better their business, while others prefer a more cautious approach – waiting to see whether any of their competitors have luck using the technology. Nowadays, many of these discussions are about augmented reality app development services, and whether there is a place for augmented reality in business.
Why is AR Being Used by Businesses?
The main selling point of AR is not cool visuals or comedic value, but rather the endless interactive options that can be added to these reality-warping apps. In games, these options usually include finding virtual objects and characters in a user's neighborhood and interacting with them, but enterprises have found more practical uses and benefits (more on that later).
In 2020, use of AR technology brought businesses over $5 billion in projected revenues.
Another major selling point is that the technology is widely accessible. Nearly everyone owns a smartphone nowadays and can enjoy the full benefits of AR. Unlike other forms of innovative tech, fancy hardware, doodads, and accessories are not needed. One form of AR (WebAR) doesn't even require downloading an app, and can be accessed in a web browser.
Sounds great so far, right? Before you run off and build a startup based on AR, you might want to consider whether AR can even help your business, and how. Below, we list some of the industries where augmented reality is used with real-world examples.
Uses of Augmented Reality in Business
AR has been accessible on mobile devices for over a decade. Over this time, it has made its way into practically every industry and line of business. For the sake of brevity, we will cover the most common ones.
Manufacturing
In the manufacturing industry, AR has a wide range of benefits. Firstly, it can help workers engaged in R&D prototype and test designs in a realistic spatial setting. As for assembly line workers, it can aid in their training for the job (e.g. creating an AR manual to safely teach procedures) and even help them in their job tasks. For example, they can use the software to quickly scan manufactured products and pull up needed information/schematics or transmit data.
Example – CMPC
CMPC is a South American paper company that faced staffing issues at certain plants due to pandemic restrictions. Though certain workers could not visit their factory in person, the specialists could still check up on it and troubleshoot with AR. Staff present at the location used AR glasses to transmit data and interact with the specialists. The operational tasks were completed successfully, and the plant even experienced record growth of production.
---
Energy
The energy industry encompasses all businesses and government facilities connected with providing energy to society, from oil rigs to electric grids, wind farms, and beyond. Among different facilities, AR tackles some of their common needs, including safe education and training, improved communication, and remote assistance. Additionally, workers can use the camera/scan feature of their hardware to identify and get detailed information about components and infrastructure elements.
Example – MidAmerican Energy Co.
MidAmerican Energy Co. serves hundreds of thousands of homes across the US, and engineers of this company sometimes have to deal with tricky hardware like Source Transfer Controllers. These devices have many wires and switches, so improper handling can lead to outages and infrastructure damage. To reduce risk and make engineers' work easier, they commissioned the creation of an AR app that lets engineers preview and test operations with the hardware before they physically engage with them.
---
Automotive
There is a lot of overlap between the Automotive industry and Manufacturing, but Automotive does more than just produce cars – it is also focused on selling them, upgrading them, and providing auxiliary services like software and logistic improvements. In addition to standard production uses like remote training and prototyping, AR makes it easier for brands to showcase models, improves the driving experience through visual guides, and visualizes driving data like weather and road conditions.
Example – BMW Group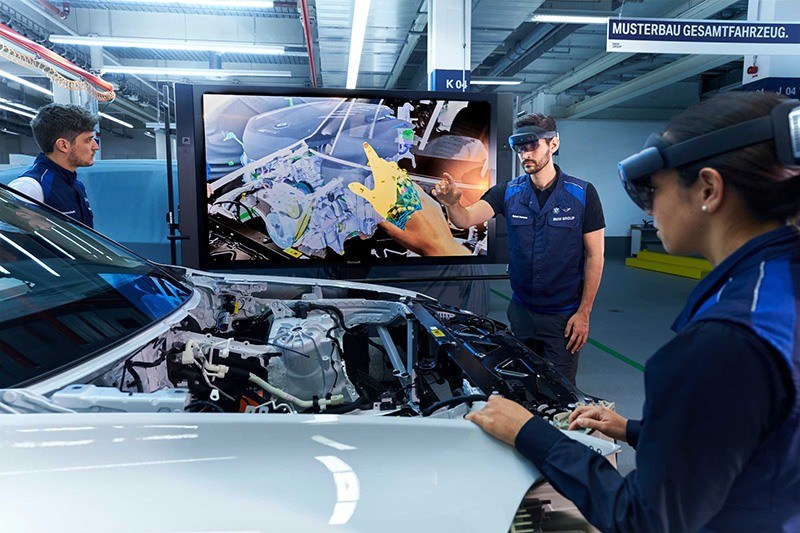 The famous German automaker is using AR goggles and a custom app to speed up prototyping of vehicles and car parts. The application is mainly focused on determining which designs will fit properly in car frames in different angles and methods. It also measures the theoretical assembly time to more easily find the most viable designs. The company claims that this immersive approach speeds up vehicle module validation by up to a year.
---
Buildings and Interior Design
Dozens of modern professions revolve around buildings, including their design, construction, sales, decoration, etc. Considering that most of these buildings are sizable and not easy to show off with 2D images or photos, AR can greatly help people in this industry.
Architects and construction planners can use these apps to maintain an accurate sense of scale and take quick measurements. For actual construction and revision, the technology can be part of a BIM strategy and be used for remote inspections. Finally, realtors and interior designers can use such apps to showcase properties to clients, even offering customization options.
Example – FurnitARe
FurnitARe is an augmented reality application available to businesses and consumers alike. It was developed by Program-Ace, and lets users choose a piece of furniture that they would like to preview in their immediate surroundings. The app then analyzes the surfaces and places a full-scale model of the furniture in a suitable spot. Users can even add custom 3D models for reference. Using this approach, people have a much easier time planning space and choosing how to customize a building.
---
Education
One of the biggest complaints about education systems around the world has to do with their outdated materials and teaching approaches. In this regard, AR serves as a perfect instrument in conveying information and helping students pick up new skills. More specifically, it can make learning accessible anywhere, with no textbooks or special hardware required. Students just use an app with all the information conveyed through interesting 3D visuals.
Example – Ryerson University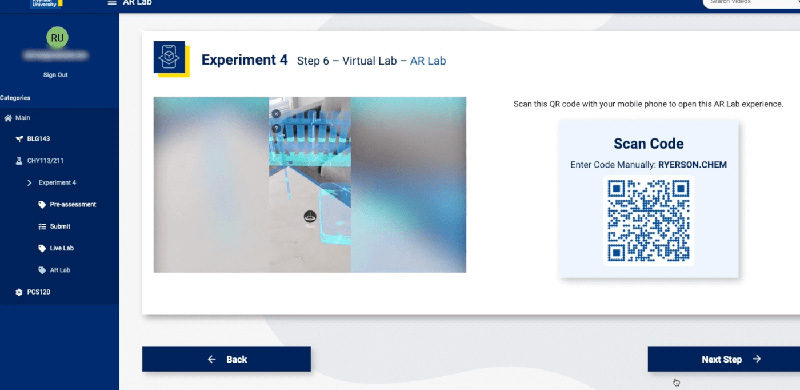 Ryerson University in Toronto, Canada has chosen to implement AR in a big way. With students stuck studying remotely due to lockdown, the school has shifted many lessons to an augmented reality platform. This platform features lab assignments that can be performed at home, and with the associated learning materials. Students just scan a QR code, and can then access a visualization of relevant lab equipment and objects with interactive options.
---
Healthcare
In healthcare, AR primarily takes on the role of connecting doctors and patients, as well as standard stuff like professional training and education. In some cases, it can be helpful to real-life operations that require precision, such as surgery and dentistry. Additionally, it can make medical information more accessible to the visually impaired, and visualize health scans (MRI, X-ray) in a more understandable light.
Example – Hospital for Special Surgery
Kneecap surgery is notoriously difficult, but it got a little bit easier when the surgeons at the HSS used AR as an aid to their operation. The AR program (which was approved for use by the US medical authority) runs on smart glasses and is worn by surgeons. Using data from CT scans, it shows a detailed visualization of the knee structures, allowing the doctor to work with more information than he could with just his eyes. The operation was a major success.
---
Sales and Marketing
You could say that this category applies to all of the previously listed industries, as most of them focus on promoting products or services. Furthermore, most of the companies in the industries have a marketing department that could benefit from AR integration. It could be something like showcasing a product in a 3D configurator/showroom or a more sophisticated solution like an AR user guide with remote support/troubleshooting. There is plenty of room in this field for other solutions.
Examples:
How Difficult Is It to Create an AR Application for Business?
Creating any mobile application is a rather expensive and time-consuming process, but the addition of AR makes it even more difficult, as knowledge of relevant AR SDKs is needed, along with a broader understanding of how the technology works.
We recommend that companies that do not specialize in software development find development partners to handle the creation for them. It is the fastest and most convenient approach.
If you choose this approach, you will first need to establish which business goal you want to achieve with the app (e.g. marketing your product, teaching employee skills, improving operating efficiency). This stage is highly important, as it will make your augmented reality app's target market more appreciative of the personalized approach. After you have formulated this goal, you will just need to consider the main features and functionality you want to integrate and can hand the development over to your partner.
Time & Cost

~1-6 months* ~$10K-500K*

* will be determined by functionality, hardware and software requirements, the number of specialists, and other factors.

Main challenges

Creation of accurate and detailed 3D models
Setting up a marker-based tracking system
Optimizing performance for different devices
Adding networking and social features

Long-term benefits

Add value to your products/services
Outshine competitors through technological innovation
Boost engagement with immersive experiences
Make learning materials more accessible and interactive
Shift certain tasks and operations to remote fulfillment
Program-Ace is a star in the field of AR development. Our company knows how to create an augmented reality app that fulfills all targeted business goals and works intuitively. We have a long history of development in this field and a solid track record with dozens of successful projects, including the aforementioned FurnitARe and Oishi AiR. If you trust us with your app idea, we will prove to you just how smart the decision to switch to AR is.
Explore our recent AR projects in a portfolio
To begin discussing your project and how we can cooperate, just send us a message. We are ready to get started!
Want to get more stories to your email?