As we become more and more used to doing things remotely, eCommerce is thriving. Consumers have embraced online shopping, and it currently accounts for about 18% of all retail sales. With these numbers, creating a fulfilling shopping experience online should be a top priority for retail providers, and virtual reality is one of the greatest tools they have in accomplishing it.
What is virtual marketing and retail?
Virtual reality in the retail industry delivers simulations to shoppers and retail workers through special hardware (headsets) and software (3D applications). Because of the nature of the industry, these simulations tend to focus on the products of the company or other business processes. While headsets can be easily purchased online, the software is usually built by professional VR app development company.
In this article, we will examine how VR is used in retail and how it might help your business if you choose to implement it. We can also help you get started with your own virtual reality shopping app.
4 Groovy Virtual Reality Use Cases in Retail (the Customer's Experience)
Customer-focused VR experiences have come a long way since the early days of the technology, when it was just seen as something new and flashy. Today, they bring tangible benefits to shoppers:
What about Retail Businesses? Does VR Help Them too?
If you choose to build an app for your store/website, you don't necessarily need to keep the virtual shopping experience focused on the customer. Below are a few other ways that such software can help you achieve internal business goals:
Grocery store VR aids employee training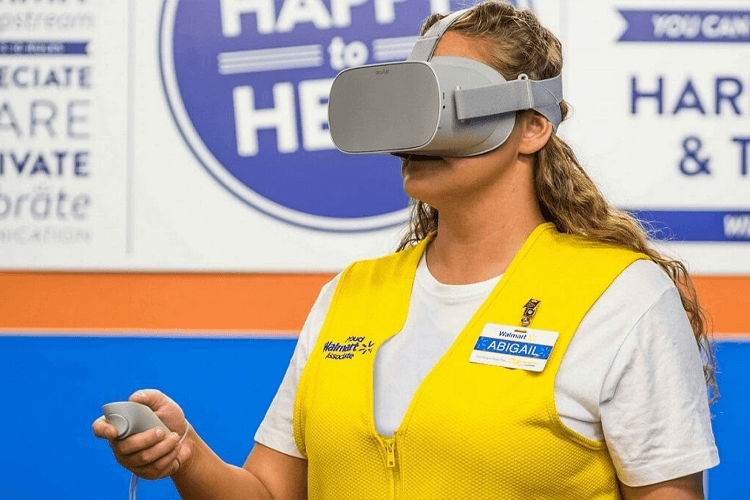 Though you won't be able to get VR headsets into the hands of all your customers, this is much more feasible for employees. In this case, immersive training is one of the best things you can do with the hardware. Your grocery employees will be able to pick up professional knowledge and skills at any time through simulation, and you won't waste any time/resources on actual trainers. Walmart made great use of this approach by equipping cashiers, managers, and other associates with Oculus Go headsets running a custom application that helped them strengthen their skills.
A buzz-worthy marketing tool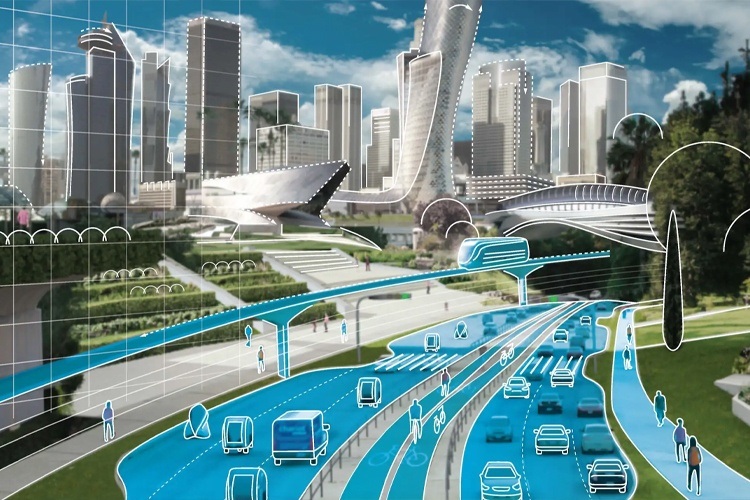 Immersive tech is a hot topic in society, so even a minimal VR experience featuring your product is sure to generate plenty of interest, buzz, and brand awareness. The Ford Motor Company would probably agree with this statement, as their "City of Tomorrow" VR experience made a splash at an auto show in Detroit, generating headlines. This is a flashy experience where the user flies above the city and gets to see many transportation products built by the company in a casual setting.
Virtual showroom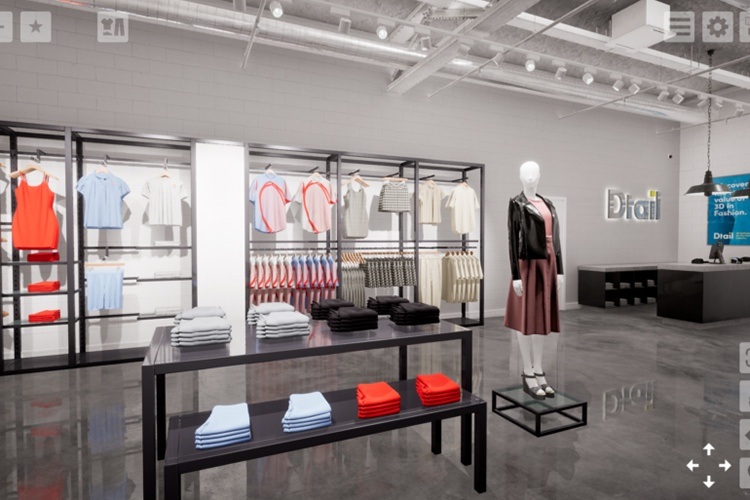 Some companies believe that a good product sells itself, but they forget the pesky need to make it seen in the first place. VR showrooms are very handy in this regard, since they let people see your inventory up close and in the best light without asking them to visit any show or physical store. Asics (the famous shoemaker) tried this approach with their launch of 3 "Meta" shoe models. Their shoe fashion virtual showroom is accessible on some VR devices, as well as in the format of 360-degree video.
Virtual reality clothes shopping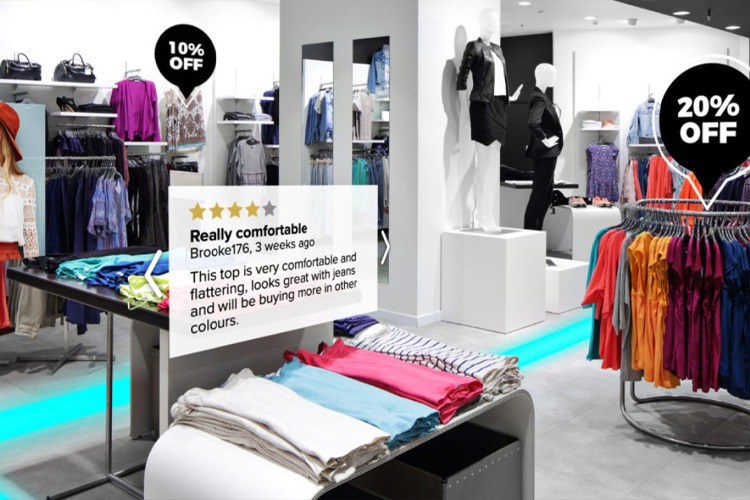 Sometimes, VR is used as a replacement for boring product pages on a website. In other words, customers have their first interaction with an item virtually, and it impresses them so much that they proceed to order the item from the website/by phone/etc. For instance, Kilkenny Design (an Irish retailer) adapted its catalog to VR (Google Cardboard) in response to a surge of new online shoppers.
Virtual Store vs Online Shopping: Which is Better?
Some retail companies are hesitant to invest in immersive solutions because they have already devoted loads of resources to their web sites and platforms, and believe that many of the potential uses of VR can also be achieved through their web offerings. Indeed, there is some overlap between the platforms' potential, but big differences as well. Let's take a closer look:
VR Store
Web store

Benefits of virtual reality in retail:

VR stores can be accessed anywhere, anytime
A pressure-free environment to explore
Very unique interactions with a product are possible
The VR store experience can also serve as a valuable reference for employees

Limitations of virtual reality in retail

Usually impossible to make purchases
Clothing and accessories can't be tried on physically
Top-notch headsets are expensive and inaccessible to most consumers

Benefits of a web store:

Supports numerous media types (photos, video, apps, etc.)
Users can easily make purchases, contact support
Accessible on most devices (mobile, PC, etc.)
Supports numerous analytic features for additional insights about customers

Web store limitations:

Demonstrating product scale/size can be difficult
Hard to keep users engaged
Visibility requires constant optimization and marketing

Conclusion

Web stores are a good place to tell about your product and sell it, while VR stores are great for showing it off and letting people feel it (almost). VR also provides unique avenues of improving brand awareness and making business processes (like training) more effective.
How to Make Your Own Virtual Store
If you choose VR as the platform for your next app or marketplace, keep in mind that building such a solution may not be cheap or easy.
First of all, you will need to do a lot of planning, deciding which business goals (e.g. presenting a product/training workers/demonstrating customizations/etc.) you want the application to fulfill. Obviously, during planning, you will also need to choose which platform you want the software to run on and the tech stack you will use during development.
For successful development, you will probably need to learn coding, 3D modeling, and QA if you don't have anybody at the company doing these things already. Even with a simplified approach like Shopify VR, you'll still be working with complex APIs and 3D content. Of course, the alternative here is to hire a team that will handle it for you.
Hire VR developers
To get all the specialists necessary quickly and from one place, you can consider Program-Ace. Not only do we have a talented team of VR developers, but we also provide 3D artists, business analysts, QA engineers, and many other experts.
Magrabi VR Store - Explore Our Latest Portfolio Project
Magrabi VR store is an immersive application allowing customers to visit a real Magrabi eyewear store virtually and examine its products. This innovative solution was developed by Program-Ace and made accessible to thousands of existing and potential Magrabi customers.
We have been creating versatile VR solutions for close to a decade now, and our work in retail with brands like Magrabi, FashionTek, and PM-International has given us valuable perspective into the needs of retail providers. You can count on us to build a custom virtual shopping platform that will help your brand and products shine!
To learn more and discuss your project, just contact us!
Want to get more stories to your email?